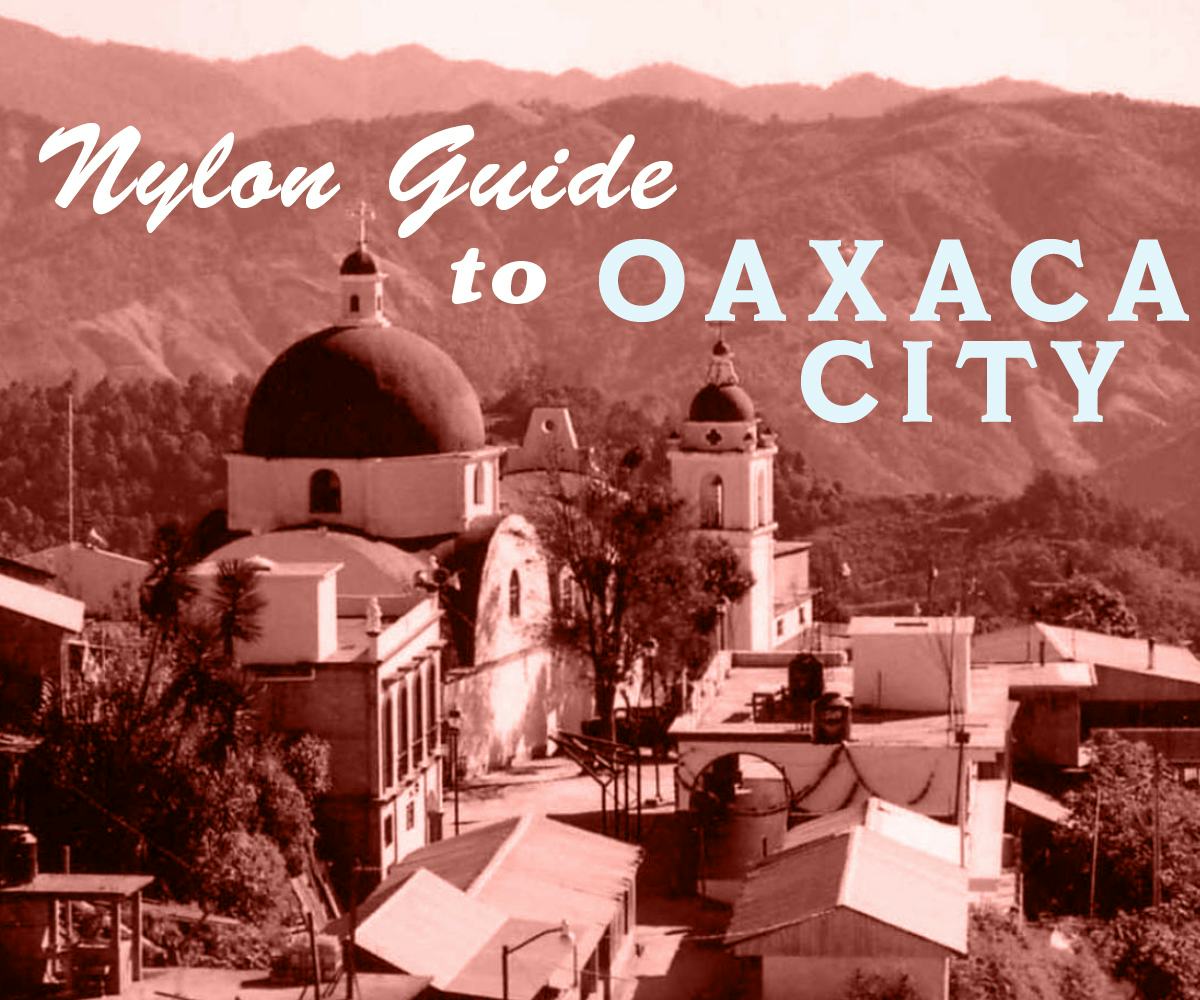 The NYLON Guide To Oaxaca City, Mexico
Where to go, where to eat, and where to stay
The Mexican state of Oaxaca is known for its arts, food, and mezcal. But this summer, it made the news after a serious and devastating earthquake, stories about which have kept some travelers away, negatively affecting the region's tourist industry. What many people don't know, though, is that the capital city was largely unaffected. So now might actually be the perfect time to visit, especially because supporting the local economy will really count. Considered a UNESCO World Heritage Site, Oaxaca City is filled with culture and great things to eat and drink, so it definitely won't disappoint those who venture there.
If you are going, you'll want to skip the guided tours catering to tourists, so that you can really discover the beauty of one of Mexico's most treasured states. From art galleries and fancy cocktail bars to campsites in forested mountains and well-loved markets, Oaxaca City is the perfect blend of culture and nature. Find out more in our guide, below.
WHERE TO STAY
Chicatana Hostal: This is a lovely, cozy apartment that's available through Airbnb at a reasonable price. It offers a private patio, a kitchen, and lots of natural light. The apartment is right in the middle of Centro, or downtown, and is just a few blocks from Santo Domingo, a beautiful church and former monastery, as well as all the bars and restaurants you can handle. 
Al Sol Studios and Apartments: Al Sol is a great option if you plan on visiting Oaxaca for more than a week. They specialize in short-term rentals, and the small apartments come with cute, functional kitchens and a rooftop terrace that offers an amazing view of the city and the mountains. It offers the luxuries of a hotel, like a house cleaning service, but the comfort of your own place. 
Hotel Casa Oaxaca: For a traditional hotel experience, this one can't be beat. It's housed in a colonial building with an open-air patio and features local art and lots of greenery. It's also right in the middle of downtown area.
WHAT TO DO
Visit Santo Domingo Cathedral: Smack-dab in the middle of Oaxaca's city center, this church was built between 1570 and 1608 as part of the city's Dominican monastery. The interior is elaborately lined with gold accents and beautiful paintings. Next to the church is also a cultural center. Because the church is located along the center's pedestrian-only street, this is a popular gathering place for Oaxacans. 
Shop at the local markets: Make sure to find your way to three of Oaxaca's most well-known markets: Mercado 20 de Noviembre, which is almost exclusively for food; Mercado Benito Juárez, an artisanal food and produce market; and Mercado de Artesanias, the main artisan's market for textiles. But also venture out to Central de Abastos, the city's main market with a wide variety of produce and goods, as well as Mercado de la Merced, a smaller neighborhood market in Centro with some of Oaxaca's best food. 
Go to the Sierra Norte mountains: One of the best things about Oaxaca is being able to see the mountains from the middle of the city. There's no reason you shouldn't actually go to the mountains, though; in fact, the mountains offer some of the most amazing views. Many of the small villages in the Sierra Norte, which you can get to within 30 or 40 minutes from downtown Oaxaca City, boast ecotourism sites with cabins, activities, and trails. There are several options when deciding where to go, but Expediciones Sierra Norte, the tourism arm of a group of mountain villages, is a good place to start. 
Take a colectivo or bus to nearby towns: Among the most worthy of a visit are Teotitlán del Valle, known as the textile capital of Oaxaca where artisans weave traditional wool rugs by hand, and Tlacolula, which boots an epic Sunday market with food, goods, and even live animals. The small town of Tule is home to the largest tree in the world, and Hierve el Agua offers a beautiful natural spring. Most colectivos, a network of shared taxis, are around 20 pesos.
WHERE TO EAT
Pasillo de las Carnes at Mercado 20 de Noviembre: This literally means the aisle of the meats, so you know it's good. Located inside one of the city's main markets, this aisle can feel overwhelming. Vendors from each meat stall will try to get you to buy from them, but once you choose, you can also pick your salsas, veggies, and drinks at your table. 
La Güerita at Mercado de la Merced: One of the best spots for a quick bite is inside la Merced market at a small stall called La Güerita. Usually manned by several women, this place offers two items: empanadas and memelitas, a sort of tortilla made of masa and topped with meats and cheeses. The shredded chicken empanadas are some of the best around. 
Tobaziche: This restaurant offers a variety of dishes, like delicious pork ribs and simple tortas, tlayudas (an Oaxacan specialty), and enchiladas. They usually have live music a couple of nights a week, too. 
La Biznaga: If you're looking for something nicer, try this place. With unique takes on local classics, like mole, it doesn't disappoint. The restaurant, an open-air patio, is alone worth the visit. 
Taqueria El Trompo: While street tacos aren't as popular here as they are in Mexico City, this place does them well. The pastor tacos are wonderful, but the pork option is one of the best. Bonus: They're open until 4am on weekends for all of your late-night cravings.
WHERE TO DRINK
Santísima Flor de Lupulo: This local microbrewery offers beers on tap, affordable food, and a quiet, cozy atmosphere. The IPA is particularly good.
Sabina Sabe: One of the best cocktail and mezcal bars in Oaxaca, this place offers tasty drinks in a cool setting. It's usually packed on weekends and regularly frequented by locals as well as visitors. 
Mezcaloteca: If you want to not only sample a variety of mezcals but also learn about the spirit's roots and making process, this is the place for you. Drinking here requires a reservation because bartenders spend time with you one-on-one; it's really an educational experience. 
Agavero: This is a low-key cocktail bar that offers fantastic drinks, as well as craft beers and mezcal. The bar itself is cozy and decorated with plants and paintings. They have a daily happy hour, too. 
Tastavins: This is a tiny and lovely place to grab a glass of wine when you need a break from a busy day. Their wine variety is great and prices are reasonable.