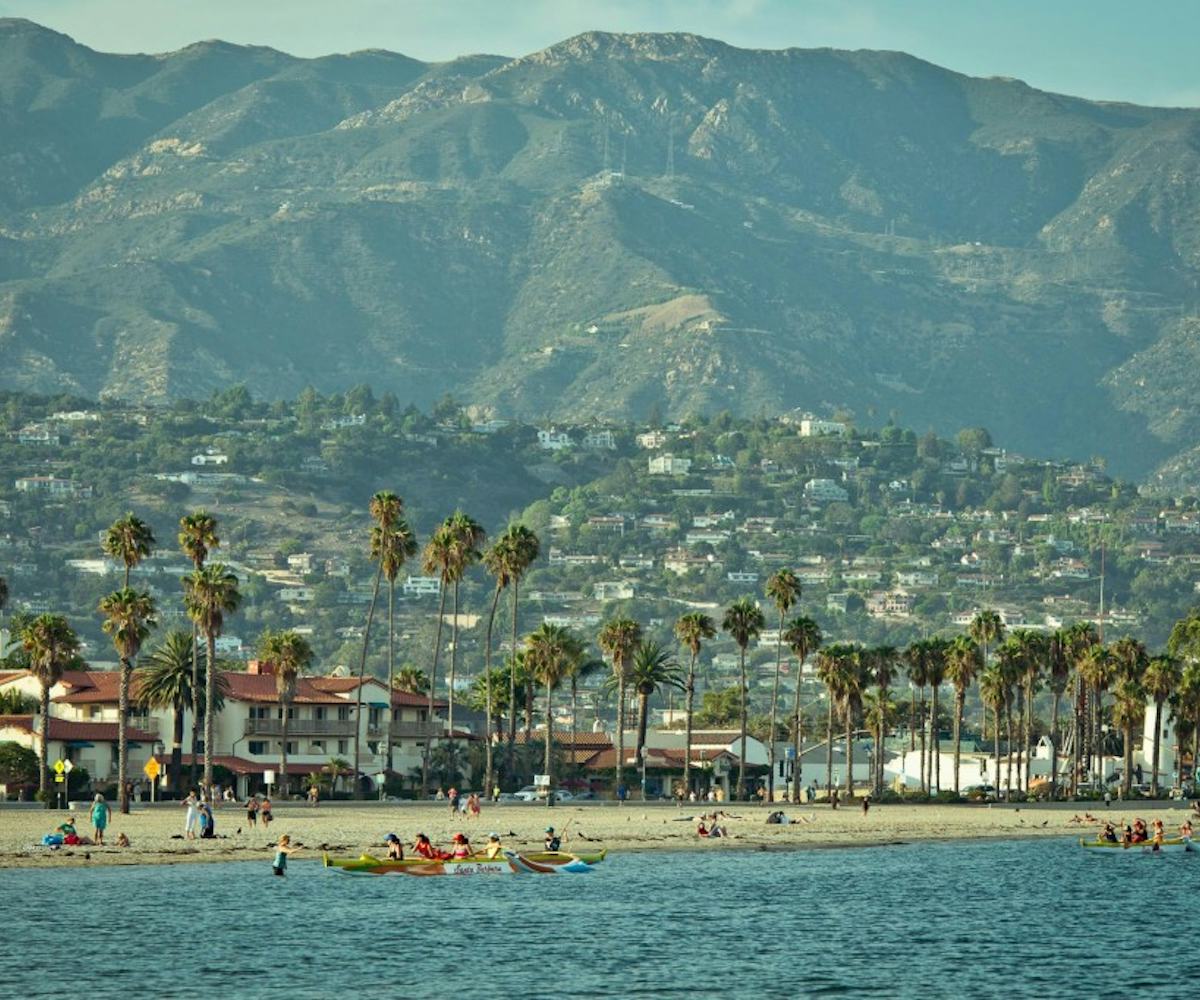 Photo courtesy of santabarbaraca.com
The Cool Girl's Guide To Santa Barbara
Soak up the sun without being a beach bum
Los Angeles might be where all the celebrities roam, but that only makes nearby Santa Barbara feel like a secret, safe haven. Out here, folks really embrace the Golden State and enjoy every aspect of the leisurely life that this part of the West Coast offers. Don't be caught off guard when you see someone riding to the beach on horseback with a boombox—apparently, that's normal round these parts. (After all, it is Katy Perry's hometown.)
Famous for its gorgeous homes complete with red-tile roof tops and fine, local wines (if you're lucky, your visit might align with a wine festival), Santa Barbara is full of natural wonders in the form of the beautiful beaches and the Santa Ynez Mountains, which are never far from sight. 
But even if the waves are calling, there's no need to be a total beach bum while in Santa Barbara. Here are 14 spots must-see spots to check out while you're there. There's so much to do in so little time, so hop in a car and hit the road!
WHERE TO GO: The Santa Barbara Botanic Garden
These grounds are referred to as a "living museum" and will blow your mind. (Wait until you stumble across the turtles!) There's so much beauty contained within these 78 acres, but you can cover a lot of it in about an hour or less if you're in a rush. During the week, visitors are allowed to stop in the Tea House Garden.
WHERE TO GO: Lizards's Mouth
If you're about that hike life, this is where you need to go. This quarter-of-a-mile trail overlooks the Pacific Ocean and the beautiful city of Goleta, giving the perfect location for a late hike to watch the sun set over the horizon.
Even if you're not the religious type, you'll feel blessed that you made it to this landmark founded by the Spanish Franciscans. If you've ever wanted to crash wedding photos, this is your golden opportunity. Every day, artists draw amazing masterpieces on the concrete with chalk—it's so pretty that you won't want to step on it. Instead, roam through the various gardens on-site and catch the spirit of these lovely grounds. 
WHERE TO DRINK: Jamie Slone Wines
Wander over to the wineries in El Paseo for the ultimate wind down. At this joint, you'll find comfort in the wine-scented candles and an adorable dog named Sophie. It's the ultimate wine-tasting experience, and we highly recommend it.
WHERE TO SHOP: Renaissance Fine Consignment
You're doing yourself a disservice if you don't mosey on down to State Street where you'll find Renaissance Fine Consignment. With an entire section devoted to vintage Chanel, this store is of what dreams are made. And? It's reasonably priced. A rarity indeed.
WHERE TO EAT: La Super-Rica Taqueria
Santa Barbara is loaded with great Mexican food, but nothing compares to this spot. Hands down, they have the best tacos and tamales in town. If authenticity is a major factor for you in food, look no further. Even the late, great Julia Childs swore by La Super-Rica, so you should too.
WHERE TO EAT: McConnell's Fine Ice Cream
Considered the best frozen dairy in the whole radius, McConnell's ice cream has over 60 flavors to chose from that go way beyond the classic chocolate and vanilla twist. All the homemade ice cream is created onsite with milk from grass-fed cows. If you're looking to please your sweet tooth, head over there and pick up one of their famous flavors like Sea Salt Cream and Cookies.
WHERE TO STAY: Bacara Resort & Spa
If you're in a position to splurge, it's worth treating yourself to the services at Bacara. Relax at one of the villas for a night or two, and have the experience of a lifetime.
WHERE TO DRINK: Blenders In The Grass
If you want something different than your typical Starbucks order, Blenders in the Grass offers well-priced, healthful options that will help you beat the heat and feel great. They even offer a trendy açai bowl for all your Instagram needs.
WHERE TO EAT: Freeb!rds
Although a chain, the OG Freeb!rds is in Santa Barbara and is the place where their fresh and tasty burrito was born. Freeb!rds strives to use natural, fresh ingredients in all of their food. You can also download the app to order online if you're not big on lines.
WHERE TO DRINK: Lama Dog
This craft beer spot features 20 beers and three wines on tap from local breweries and small-scale labels, and also has a range of specialty bottled beers. As owner Pete Burnham says, "Beer is fun," so check it out if you're looking for a low-key spot to unwind with friends.
WHERE TO DRINK: Seven Bar and Kitchen
This low-key spot beckons all twenty-somethings looking for a fun night out. With happy hour served every night and gourmet food to complement your drinks, Seven Bar and Kitchen is definitely the place to try out on a Friday night.
WHERE TO GO: The Santa Barbara Bowl
If you have time to catch a show here, it's worth your while. Seating a little under 5,000 people, this amphitheater creates a relatively intimate outdoor concert. It's the next best thing to a private performance. 
WHERE TO GO: Wildcat Lounge
If you're a Katy Perry stan, you absolutely have to make an effort to come to this spot. Apparently, this is where the pop star spent many a night out on the town. What we wouldn't give to go back in time and experience the Funk Zone with her back in the day. "California Gurls," right?