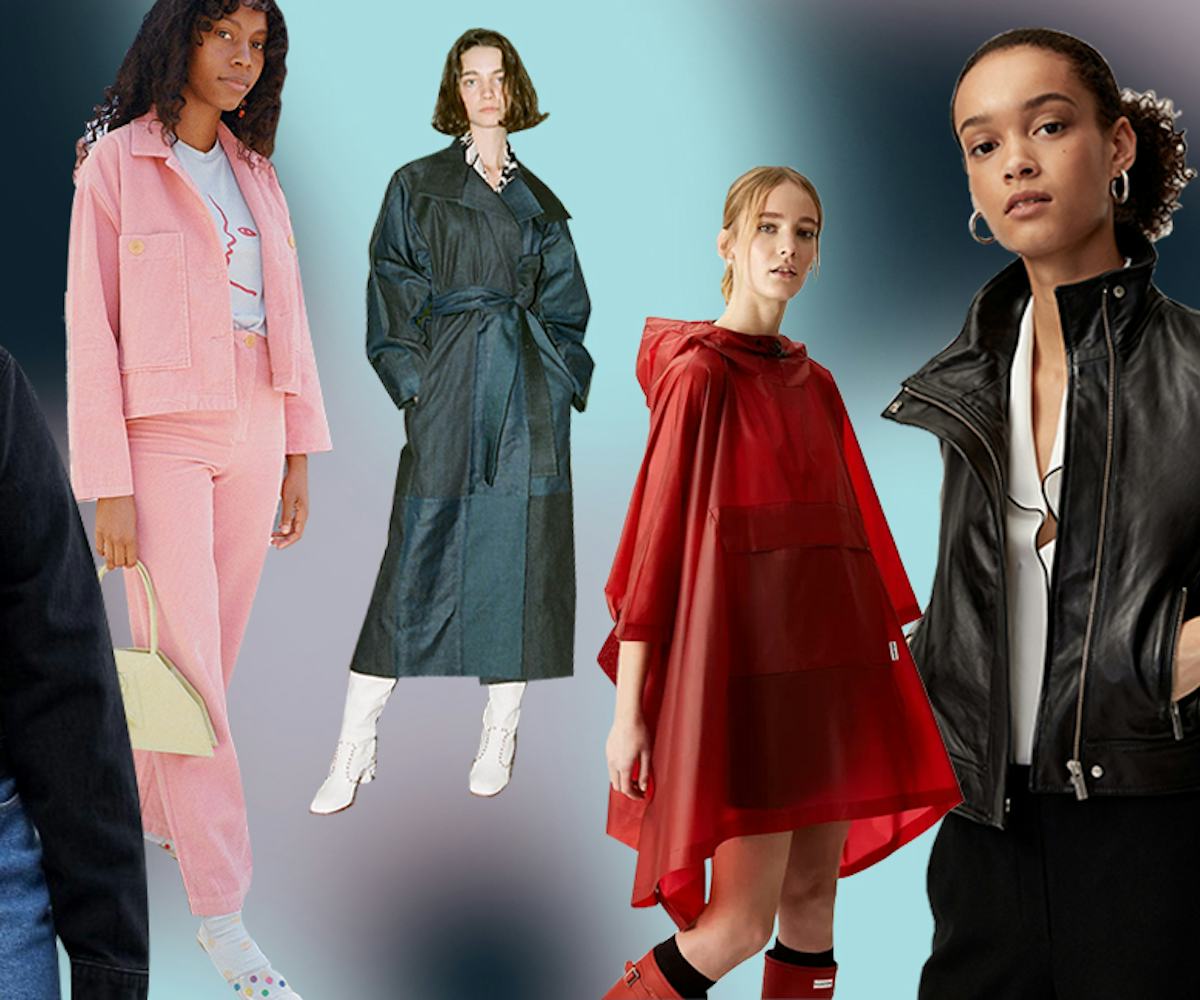 Here's The Best Outerwear For Fall's In-Between Weather
For when we're not quite ready to bust out our parkas
Say what you will about summer's oppressive heat and winter's punishing chill, at least you know what you're in for. Fall? It's confusing! Which is why we rounded up the season's best outerwear offerings, perfect for all of those not-quite-hot-but-not-quite-cold days ahead. Check them out, below.
The denim jacket
Trade in your sleeveless tops for the classic denim jacket. Some of our favorites for Fall 2018 include vibrant colors, patchwork details, and belted silhouettes.
ASOS, Curve Denim Shrunken Jacket, $64, available at ASOS; Topshop, Purple Denim Jacket, $80, available at Topshop; Calvin Luo, Wave Denim Jacket, $374, available at Maimoun; Pixie Market, Denim Belted Jacket, $135, available at Pixie Market.
The corduroy jacket
Slightly warmer than your classic denim, corduroy is having a moment this season in a variety of neutrals and brights.
Zara, Corduroy Jacket, $49.90, available at Zara; Ganni, Ridgewood Corduroy Jacket, $360, available at Need Supply Co.; Paloma Wool, Dori Jacket in Pink, $179, available at Lisa Says Gah; Another A, Corduroy Ribbon Jacket Yellow, $179, available at W Concept.
The raincoat
When it rains, it pours—so we might as well look cute while trudging through puddles. This season's best offerings feature vibrant prints and colors, as well as the ever-trendy PVC.
Hunter, Original Vinyl Poncho in Military Red, $150, available at Hunter; Happy Socks x Stutterheim, Dream Raincoat, $410, available at Happy Socks; Herschel, Rainwear Parka, $99.99, available at Herschel; ASOS, Clear Mac, $119, available at ASOS.
The trench coat
Fall 2018's trench coat offering includes a variety of textures, patterns, and silhouettes, taking the wardrobe staple to totally new levels.
Missguided, Navy Pinstripe Longline Jacket, $75, available at Missguided; Frankie Shop, Khaki Belted Trench Cape, $225, available at Frankie Shop; Bevza, Denim Patchwork Trench Coat, $715, available at Either And; Ohheygirl., Green Faux Leather Jacket, $157.87, available at Ohheygirl;
The blazer
When we're not quite ready to throw on our long, wool coats, an oversized blazer is the perfect alternative.
Free People, Sporty Uptown Girl Blazer, $168, available at Free People; & Other Stories, Double-Breasted Blazer, $219, available at & Other Stories; Mijeong Park, Oversized Plaid Jacket, $250, available at Need Supply Co; 1159Studio, Mh7 Back Slit Check Jacket, $276, available at W Concept. 
The moto jacket
The moto jacket is a fall wardrobe staple—need we say more?
DSTLD, Women's Leather Moto Jacket in White, $350, available at DSTLD; Topshop, Motocross Leather Biker Jacket, $320, available at Topshop; Aritzia, Jagger Leather Moto, $475, available at Aritzia; BlankNYC, El Dorado Jacket, $198, available at BlankNYC.