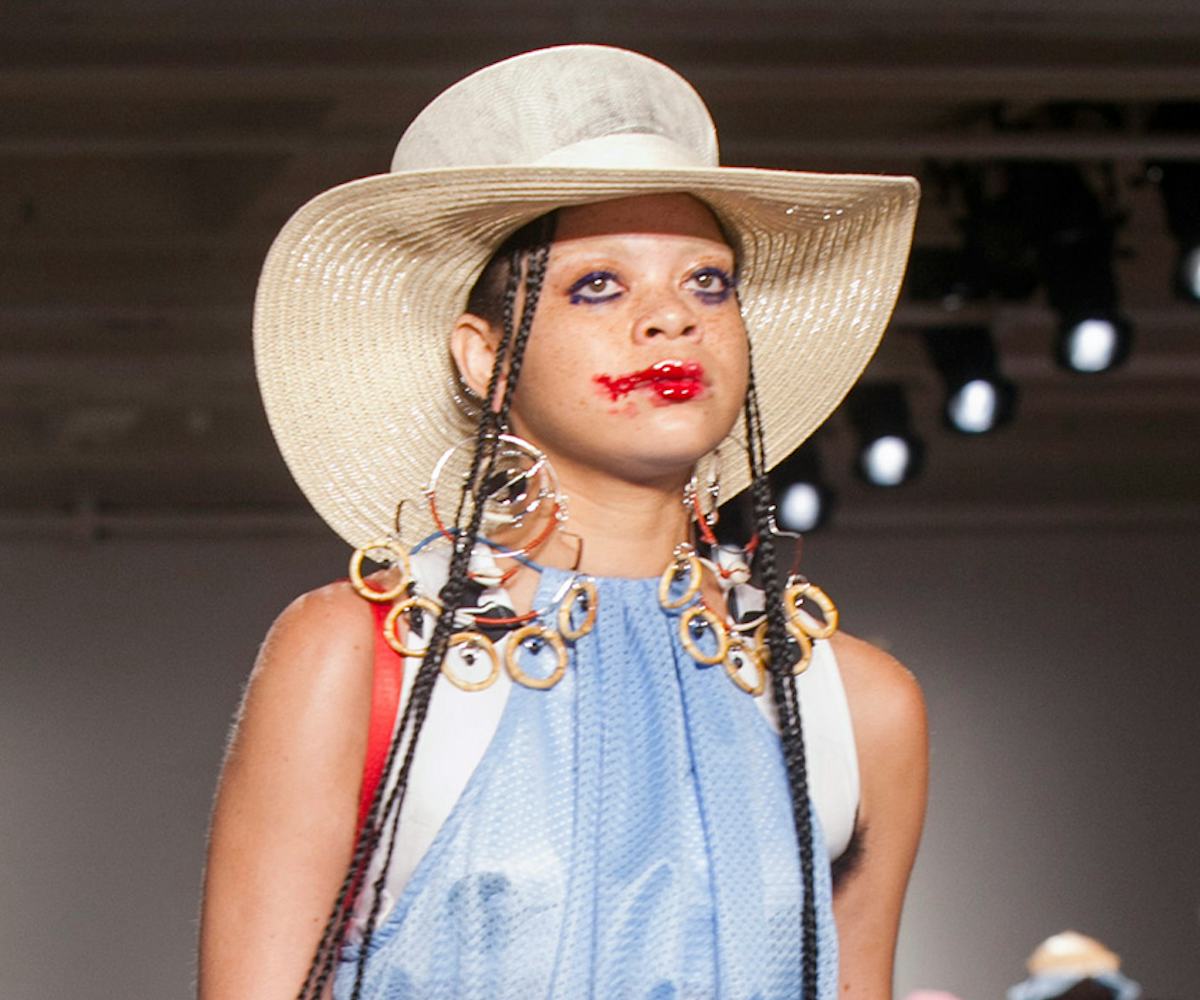 Photo: Courtesy of Gypsy Sport.
Cult Worthy: Gypsy Sport Designs For All
welcome to planet haturn.
There was something electric about the morning of September 15, 2015. New York Fashion Week was nearing its end, but Rio Uribe was just getting started. Thanks to a little push from Anna Wintour herself, he was about make Gypsy Sport's official Fashion Week runway debut down at Milk MADE studios in Chelsea. Three years after its conception, the New York-based-but-forever-global street-smart brand was moving away from the presentation game and getting itself a bonafide runway. A few weeks later, Gypsy Sport was showing at the CFDA/Vogue Fashion Fund show. Casual.
With a riff on the iconic I Heart New York logo illuminating the runway, Uribe sent down the season's most eclectic and diverse model lineup wearing designs that celebrated the body and the freedom of movement. Men, women, and every gender in between walked, strutted, and break-danced before a stunned audience. There were no inhibitions. Satin mixed with raffia, athletic mesh and jersey kicked off with exaggerated septum rings, and tops were cut to reveal plenty of torso. "Gender-less" was a popular term thrown around this season, but Gypsy Sport captured it to a 'T'. The brand has been breathing life into the movement since its inception.
We caught up with Rio Uribe after he returned to New York following the aforementioned CFDA/Vogue Fashion Fund show in Los Angeles, to find out what makes the world of Gypsy Sport so compelling and so refreshingly welcome.
First off, congrats on the CFDA Show. It's so refreshing to see fashion bigwigs giving a platform to what could be considered the underground. How was that experience?
It's really something special to be given a place to stand on. The support of Vogue and the CFDA is validation that I should keep going forward with Gypsy Sport.
What is "underground" fashion anyway, these days?
Underground is what comes from sub-cultures. Down here, we don't have rules or restrictions. So inter-gender/inter-generational dressing is very normal.
What was the inspiration behind your S/S16 collection and its show?
The SS16 collection was all about New York City, all of its cultures and cliches. Chinatown, tourism, Spanish Harlem, bag ladies, punks, freaks, and outsiders. For the show, we cast lots of authentic NY personalities. We allowed them to express themselves on the runway, through dance, vogue, and just being brilliant.
You're from L.A., but design in New York—how do you balance the two? Do you find one has more of an influence on you than the other?
I think NY is more of a conscious inspiration to me, where LA comes through subconsciously because I grew up there. I also study a lot of third world fashion.
How do you make it work in New York? It's so expensive to be a creative.
I'm barely getting by, but I don't give up. You have to hustle hard to make it in here.
How has your vision for the brand changed since you began? Has the fashion world become more welcoming?
My vision for Gypsy Sport has not really changed. It's always been about bringing people together. Fashion has so many social divides related to economic status, gender, geography, etc. I'm over all that. The industry is quickly warming up to us, but they still insist on dividing the men's and women's fashion weeks.
When you're designing, do you have a specific person in mind?
I always imagine my customer is more likely to save up money to visit Jordan rather than to buy the latest Jordans.
I read somewhere that you said film is where true experimentation happens and that there is no experimentation in fashion. Do you still believe that to be true?
As designers, we are pressured to make commercial/sellable clothes. But I have more fun designing clothes for fantasy worlds, like in film.
In terms of designing for a gender, is creating gender-less clothes rebellious anymore? How do you differentiate between "womenswear" and "menswear"? How do you want to challenge the common understandings of each?
I don't think creating gender-less clothes is about being rebellious. A t-shirt is already the most "gender-less" thing I can think of. I don't want to challenge anything. I'm just taking ideas from Eastern cultures where men have worn dresses long before it was a Western trend. In the end, it's always very exciting for me to know that someone digs my designs; whether they are male, female, trans, queer, intersex, or alien. It's all good.