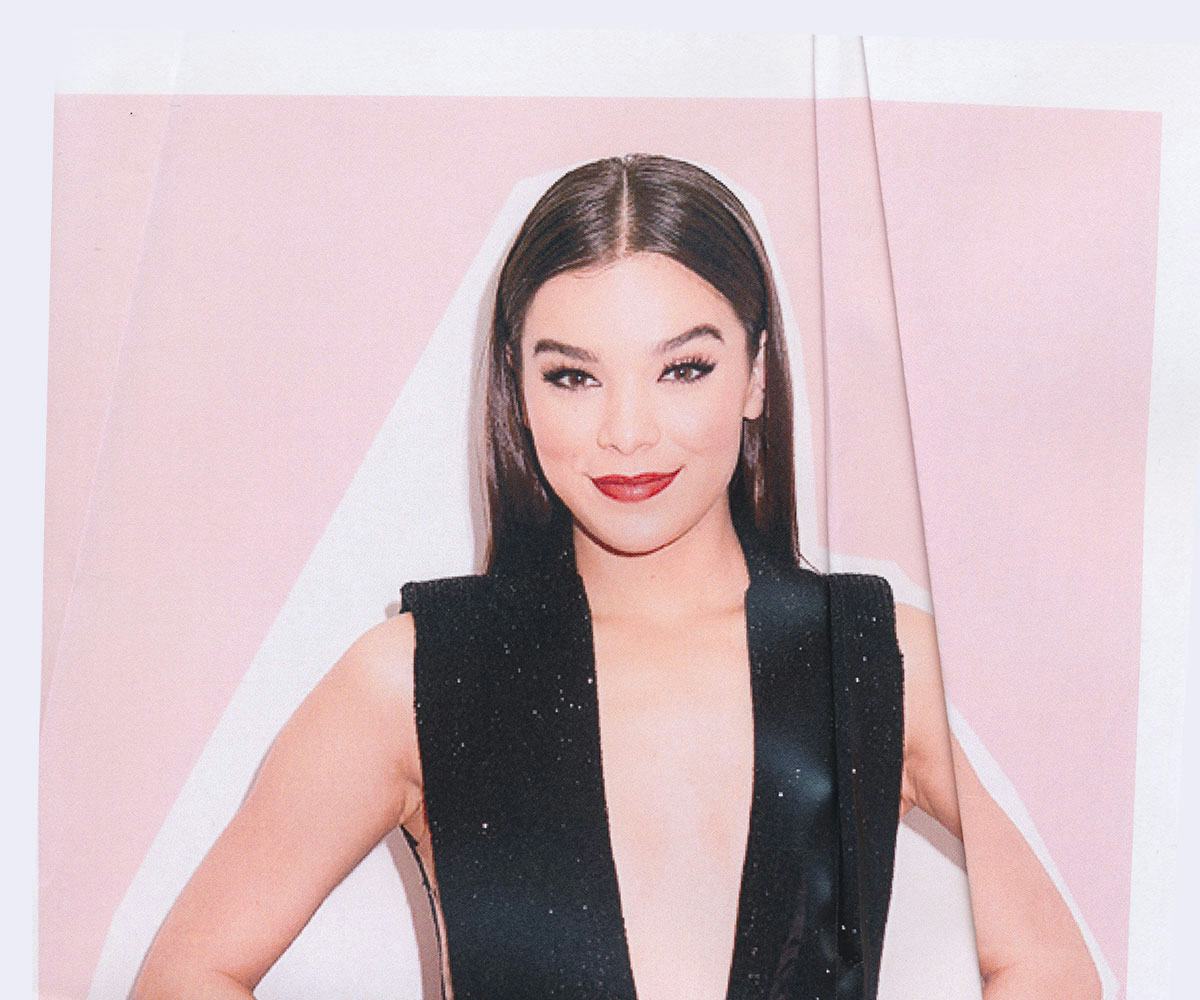 Hailee Steinfeld On Touring With Meghan Trainor, 'Edge Of Seventeen,' And Her Constantly Evolving Style
Most of us, when watching a movie, have had the sensation of witnessing a star being born. In 2010, that's how I felt about Hailee Steinfeld when I first saw her in the Coen Brothers' Western flick True Grit. The then-13-year-old actress more than held her own alongside seasoned pros Jeff Bridges and Josh Brolin, playing a young farm girl determined to avenge her father, a role that rightfully earned the newcomer a nomination for Best Supporting Actress.
Her star factor was only further solidified when I spotted her next in Begin Again as the rebellious daughter to Mark Ruffalo's deadbeat dad. When in 2015, it was announced that she would star in Pitch Perfect 2, I have to admit I was more than a little perplexed by this choice. Despite the success of the first musical comedy installment, why would Steinfeld step away from playing more complex roles in favor of playing a happy-go-lucky college girl dying to join an a cappella club? Soon after she flawlessly belted out the lyrics to "Flashlight" in the film's final scene, the answer to came in the form of the launch of Steinfeld's music career: The now-19-year-old's debut EP, Haiz, dropped that November.
Her first single, "Love Myself," proved to be an effortlessly catchy self-empowerment anthem, with not-so-subtle innuendos alluding to masturbation. The second single off of the EP found her collaborating with Joe Jonas' band, DNCE, on an explosive electro-pop banger, "Rock Bottom." With sounds this infectious, it's no wonder that Steinfeld already scored a tour opening up for Meghan Trainor.
On the heels of her most recent single, a collaboration with Zedd titled "Starving," we caught up with multihyphenate at the Swarovski Crystaldust collection celebration in the midst of New York Fashion Week—a day after her performance at NYLON's very own Rebel Fashion Party and ahead of the Toronto Film Festival which sees the premiere of her new coming-of-age film, TheEdge of Seventeen. Dazzling in a crystal-embellished jumpsuit and rocking the shimmery Crystaldust bangles, she gave us the scoop on her tour with Trainor, the meaning behind "Starving," and what it was like to work with Woody Harrelson.
How did you like performing at our party last night?
Oh, my god, that was so fun! It was so cool. I've never performed during New York Fashion Week, so it was like two different worlds of mine colliding—it was a great time.
And this morning, you are here, celebrating Swarovski's Crystaldust collection.
It's amazing to think that my affiliation with Swarovski goes back a couple of years. They worked on my film Romeo & Juliet—it was my second film I ever did—and I was 14 when I met the Swarovski team. They are one massive family, and to be a part of that, and to be here today, feels amazing. The Crystaldust bracelets look so gorgeous on display, and I'm very excited I get to wear them.
You are currently on tour with Meghan Trainor, what has that been like?
It's been amazing. It's really crazy, again, to be here on tour during New York Fashion Week because coming for New York Fashion is like enough craziness, but now it's like double the madness. The tour has been awesome, so it's very bittersweet that it's almost over.
Can you tell me how it came about?It happened kind of quickly. I met Meghan Trainor a little while back. We ran in the same circles, and we talked about collaborating and getting together and hanging out. And we kind of got to the point where we were like, "Okay, we need to stop talking about it and actually do it." And, she sent me a message like, "Hey, what are you doing this summer?" I was like, "I mean, it depends, I could be free." She asked me to go on the road with her, and I was like, "Absolutely," and it really has been the best summer, it has been amazing.
What is your latest song, "Starving," about?
"Starving" is a song about sort of knowing someone, or getting to know that certain someone, to [the point] where even though you were somebody before that person came along, they have given you this whole new outlook on yourself and on life. It's this idea that since you came into my life everything is different, and I didn't know that it could be this different since you came into my life.
You also have a new movie coming out that's going to show at the Toronto Film Festival, could you tell me about the movie and what drew you to it?I can't believe I'm going back to Toronto, that's one of my favorite festivals. So TheEdge of Seventeen is an incredibly honest telling of growing up as a teenager, and being in high school and feeling like every little thing is the end of the world. So many things drew me to the project: they people that were involved obviously, the story itself, and sort of knowing that I'd be able to express so many feelings and things that I had gone through even though I wasn't in a brick and mortar school during high school.
A lot of people would come up to me and tell me how I would totally bypass all of the school drama and all of the this and the that, and I really didn't. I have experienced it and I still go through it, and I think everybody does regardless of where they are from or what they do or who they are. So being able to express so many things that I have gone through, like those experiences that were similar to her, was very liberating.
What was it like working with Woody Harrelson on the film?He's great and so much fun. I mean, he's a legend. He's so funny—he has got the best sense of humor—and he's so generous as an actor and is just a great person.
How do you find the balance between making music and acting?You know, it's—knock on wood somewhere—been pretty seamless so far. I really do believe that it's doable. It's obviously crazy and sometimes when the two conflict, it's hard to work things out. But I don't know, it's working, I'm making it happen.
What do you find is more challenging? Singing live for an audience or acting in a movie with a difficult or vulnerable part?I think there's a huge level of vulnerability within both. I do think, though, there is more pressure with a [part] that calls for a certain emotionally demanding [performance], and you have your director who is counting on you and the other actors that are relying on you. When I'm in it, it doesn't feel like that, but thinking about it, it feels like there is a lot of pressure to deliver in that circumstance as opposed to going out on stage and having fun and connecting with people and being yourself. It feels a little bit more light-hearted than like a dark set where people are, like, trying to be emotional.
Since you started performing on stage, I feel like your fashion has changed too—I loved what you wore at the VMAs and yesterday at the party. How would you describe your style today?I feel like it's just constantly evolving. I think that learning the music side of things and finding what I want to look like on stage and what I feel comfortable in and what I can move in. Then walking a carpet and feeling… I don't know, I'm learning so much about myself and what I feel good in. I think that it's evolving.
Since you got into the music industry, the public really embraced you. What has it been like getting this positive feedback, especially give how hard it's for some actors to go into music after films?It's been overwhelming. I mean, it's amazing how positive it's been. And I have so many incredible supporters. I have learned so much along the way from artists that I admire and I have been very influenced by in music for so long. Especially as an actor, it's been a huge part of my process. So, to be able to create music is really amazing, I feel very lucky.