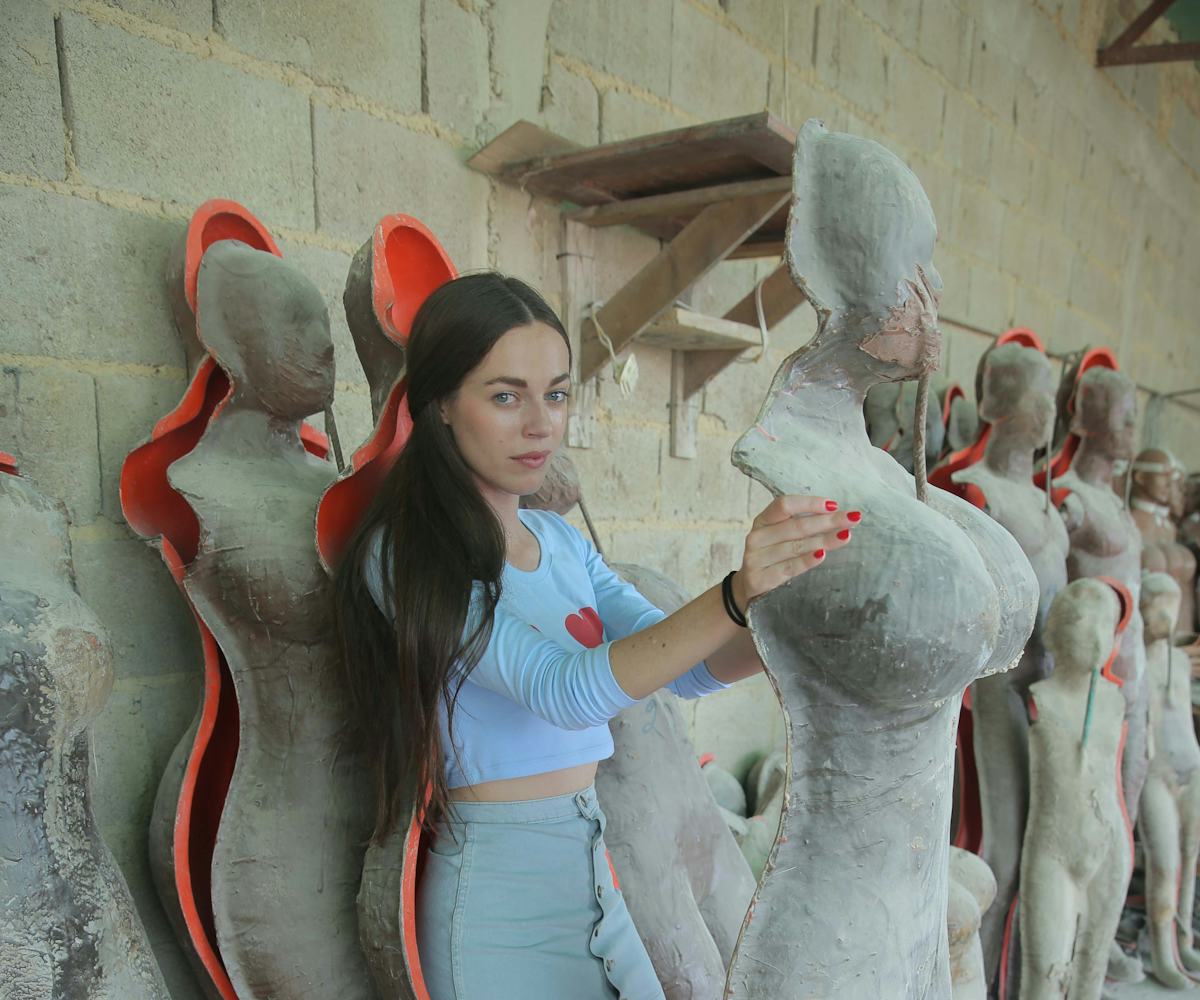 Photo courtesy of VICELAND
Hailey Gates On Her Sometimes Dangerous, Sometimes Devastating New Job
The model goes behind the seams on 'States of Undress,' her new show on Viceland
At only 26 years old, Hailey Gates has studied theater at NYU, appeared in major modeling campaigns, worked at The Paris Review, and acted in a movie opposite Meryl Streep. So when asked what she does for a living, what's her response? "I guess it depends where I am. I've always done a lot of things and it's always been really important for me to be stimulated in lots of different areas."
It's no surprise then, that Gates leapt at the chance to host States of Undress, a six-part documentary series on Vice's new Viceland channel. The show, which premiered last month, sees her travel to Pakistan, Venezuela, the Congo, Palestine, Russia, and China—all countries with local fashion weeks—to investigate the political, cultural, and socioeconomic factors contributing to the often sinister fashion and beauty practices. "The point of the show is to go to these unexpected places where fashion weeks are occurring, and find out why that's happening," she tells us. The show's unflinching examination of identity politics, race, and culture, seen through the lens of fashion, follows Vice's 2011 series Fashion Week Internationale, hosted by Charlet Duboc, who worked with Gates as a producer on States of Undress. "Vice called me in and said they'd like to make a show with me," Gates says. "I thought they were totally insane, but it turns out they were totally serious. After our initial meeting, they called me back on a Tuesday and then by Friday I was in Pakistan."
Which is where we find her in the series premiere. We follow Gates to a fashion week in Karachi, a women's foundation in Lahore, and to a madrassa in Islamabad. "To be able to travel the world, in that way, is unbelievable, but initially, I was hesitant," says Gates. "I didn't know if fashion would offer enough in terms of avenues to explore, but I quickly learned that we were able to explore a lot of things just through this entry point alone." Indeed, the first few minutes of the episode sees Gates in her hotel room debating what to wear and wondering aloud about the efficacy of modest dressing: "I might be wearing a burka, but I still masturbate," she quips.
Along with a skeletal crew (two camera people, a sound person, and a producer, plus a local translator or "fixer"), Gates meets local industry fixtures like models, designers, local It Boys, and journalists, but also tackles heavier sartorial topics with a prominent Muslim cleric with ties to Al-Qaeda, and discusses Pakistan's energy crisis with the textile ministry's joint secretary, Hassan Baig. Gates says that one of the coolest things about doing the show is working alongside a group of other women. "That was exciting and important for all of us. While it's hard in a lot of these places, because generally male fixers don't want to take direction from women, I think we were all better off for pushing on and getting through it."
In one of the show's more moving scenes, Gates speaks to both the victims of acid attacks provoked by "immodesty," and an unrepentant perpetrator who disfigured his own wife. She calls the experience harrowing: "I was just a mess. I couldn't do anything that day," she says. "It's so difficult it makes me cry even talking about it now. The reasoning behind these attacks is so unbelievable, something as simple as a woman wearing a short-sleeve shirt or cutting her hair. You can buy a litre of acid for less than a dollar and it takes two seconds to ruin someone's life."
It's an intense but apt beginning to a series that doesn't pull any punches when it comes to talking about clothes. Throughout the course of States of Undress, Gates comes to learn that fashion "is about defending a choice," but admits that before the project, she took the subject lightly.  "I think the word fashion is sometimes embarrassing to people because they think it's kind of elitist, or they think if you're involved in fashion that you're sort of admitting to participating in some kind of frivolity. But there's so much information in the clothing that we wear."
Another trip that altered Gates' perspective was her time spent in Palestine. She had no idea what to expect when "the only young Palestinians that came through the news [to her] were dead ones," and figured there had to be a community whose story was not getting out to the world at large. But she didn't expect to discover a landscape that reminded her of home. "I felt sort of ashamed by my surprise at that," she says. "You think of it as a war zone, but it's on the same coveted waters as the south of France—it's a beach town. And it's really beautiful. I felt really comfortable until there were airstrikes. "
Gates grew up in the relative calm of Los Angeles, the eldest of six. "I moved around a lot growing up and lived in lots of strange houses. Everywhere from Elvis Presley's old Bel Air bachelor pad to across from the Tate house on Cielo [Drive], where Sharon Tate was murdered [by Charles Manson's followers]." At one point, she and her sister decided to have a seance to contact Presley's ghost. "My sister was so obsessed with Elvis dying on the toilet. We lit candles. I actually managed to light myself on fire. There was a lot of L.A. folklore, a lot of weird '70s ghosts in my upbringing."
Part of what makes Gates such a great host is her hesitance to insert herself into other people's narratives. She's playful and breezy, but strikingly earnest too, and often visibly affected by the people she meets. You can't help but wonder how she coped with some of the things she encountered. "There's really no way to prepare yourself for these situations. I know some people are able to reserve their feelings and judgements in these circumstances, but I don't have that ability, for better or for worse." Her wide-eyed charisma has also drawn hundreds of supportive comments on Instagram, although she doesn't like social media much. "I guess I'm kind of a private person, which might be shocking considering this show that's so intimate in some ways. I don't like to be that available I guess." So why did Instagram make the cut? "Actually, because I lost a bet. I've always been kind of a Luddite."
Her unaffected manner is underpinned by her background in theatre, made clear by her composure during her more challenging encounters on the show. She's a trained actress and also counts notable filmmakers, writers, and artists in a family that traces its time in California back through seven generations. "I was the eldest, and my parents are both the eldest in their families, so there weren't a lot of kids around that were my age. I spent a lot of time at the dinner table trying to keep up with adults."
Her family was surprisingly supportive of their firstborn's dangerous itinerary. "My mom said, 'As your friend I'm really stoked for you, but as your mother I'm not so into this.' There was this one moment in Gaza that my phone miraculously worked, and my mom called and was like, 'Where are you?' I was like, 'Er, I just got out the shower,' and she's like, 'No, where are you?' and I'm like, 'er...Gaza?' She had woken up to news about airstrikes, so she was sufficiently terrified."
When asked how the experience has changed the way she looks at life back home, Gates pauses to gather her thoughts before saying: "It's funny. Before I left , I used to think of New York as this shithole. Like, 'ugh, I just live in this trash heap and it's disgusting.' And now when I come back, I just can't believe the place that I get to live in. It's remarkable."
States of Undress airs Wednesdays at 10PM on VICELAND.