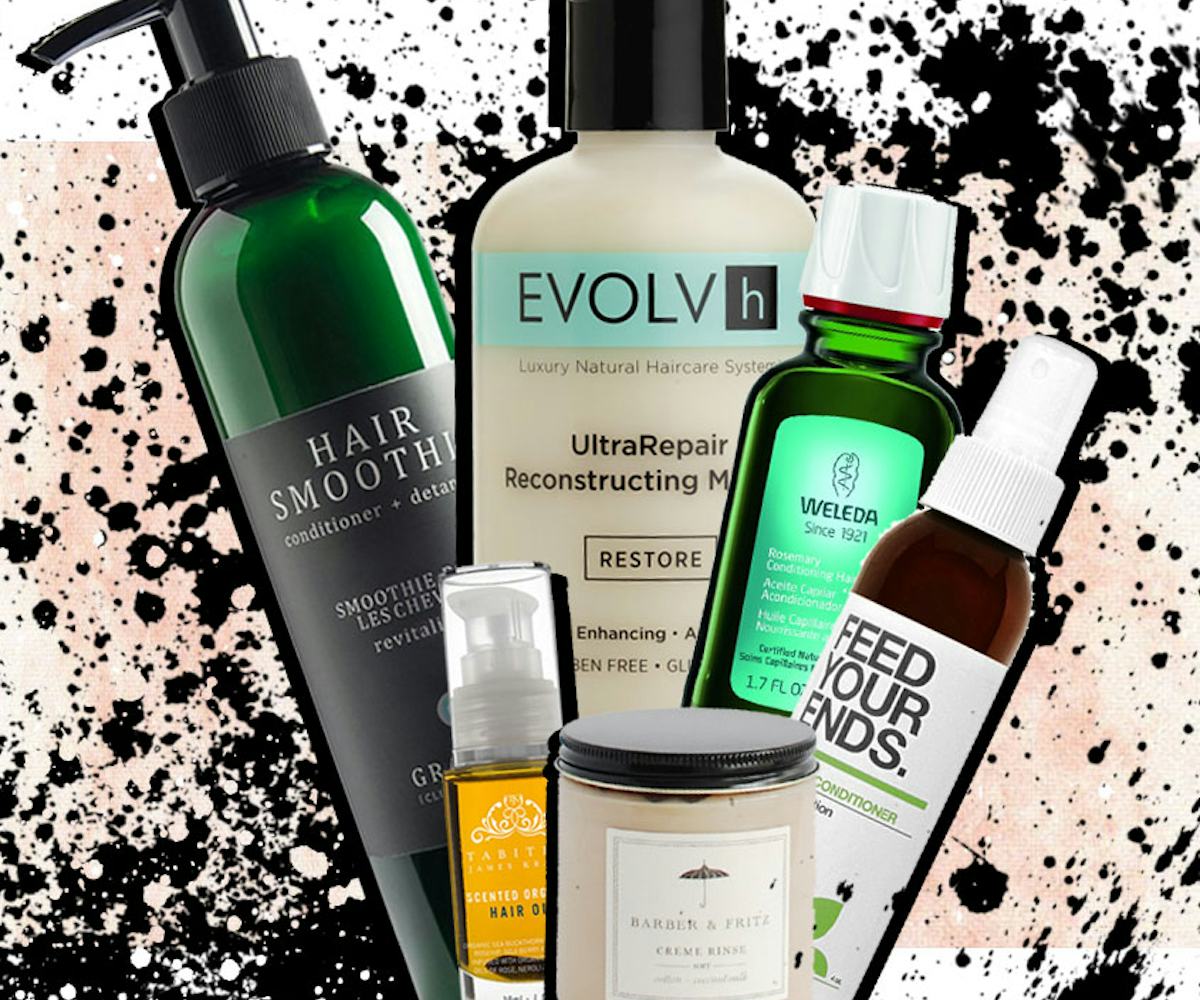 6 Life-Changing Hair Products You've Never Heard Of
2015 was a year of big changes, and not just the mental, emotional, and financial variety. It's not just your spirit that weathered a lot—if you're anything like us, your hair's been through some pretty major milestones as well. Whether you went mermaid, pastel, full-on platinum or back to black, chances are your strands are screaming for a little TLC now that the party's over. Not to fear: If your hair's taken a beating, look no further than these superstar products to help you refresh and reset for the new year.
Hair salvation in a tub. Chock full of proteins and powerful botanicals, Barber & Fritz Creme Rinse does what you wish your regular conditioner would do—it smoothes, moisturizes, and adds tons of shine, all without weighing hair down. Our bleached and abused hair felt healthy and manageable after just one use and has gotten better since, thanks to the pure oils in the formula that improve hair health over time rather than surface-smoothing silicones. Bonus: The luxe-looking products will turn every grooming session into a sacred ritual.
Barber & Fritz, Dry Creme Rinse, $30, available at The Cure Apothecary.
So you've resolved to eat more greens, but how about your hair? Fortunately, this garden-in-a-bottle will save even the most sensitive of strands. Phytonutrients and essential oils in this lightweight formula nourish hair and stimulate growth, all while detangling and providing much-needed moisture. Even the thinnest, most conditioner-shy hair will reap the benefits.
Graydon Clinical Luxury, All Natural Hair Smoothie / Conditioner, $25, available at Graydon Skincare.
Love the heat? Then your ends will love this. If you just can't step away from the iron, this heavenly-smelling spray is chock full of all-natural oils, vitamins, and minerals to protect the most vulnerable part of your hair. Even better? It's vegan and cruelty-free, and a percentage of sales is donated to help protect the Amazon rainforest.
Yarok, Feed Your Ends Leave-In Conditioner, from $13.20, available at Yarok Hair.
For hair that's in need of some daily deep conditioning, this oil will do the trick. Made with certified organic oils including sea buckthorn, safflower, argan, rose hip, and neroli, this all-purpose elixir is a pre-shampooing treatment, heat protectant, frizz tamer, and deep conditioner in one. If that weren't impressive enough, there's an amethyst stone inside every bottle.
Tabitha James Kraan, Scented Organic Hair Oil, $53.78, available at Tabitha James Kraan.
If your scalp finds itself stressed by winter weather and aggressive styling, look no further than this restorative hair oil from Swiss company Weleda. It's the perfect hair solution for the effortlessly chic and/or lazy: Simply massage a few drops into scalp and hair, go to sleep, then wash out in the morning to find soft, luxurious locks that are shiny, strong, and dandruff-free.
Weleda, Rosemary Conditioning Hair Oil, $14.94, available at Amazon.
Some damage cannot be undone. Fortunately for us, hair damage is no longer on the list. This potent protein cream turns back time for abused hair, rebuilding strands on a molecular level to bring them back to their former glory, rather than working on the surface like most products. We hardly believe in miracles, but after this weekly treatment made our over-processed hair stronger and way less gummy after just one use, we found ourselves converted.
EVOLVh, UltraRepair Reconstructing Masque, $48, available at EVOLVh.