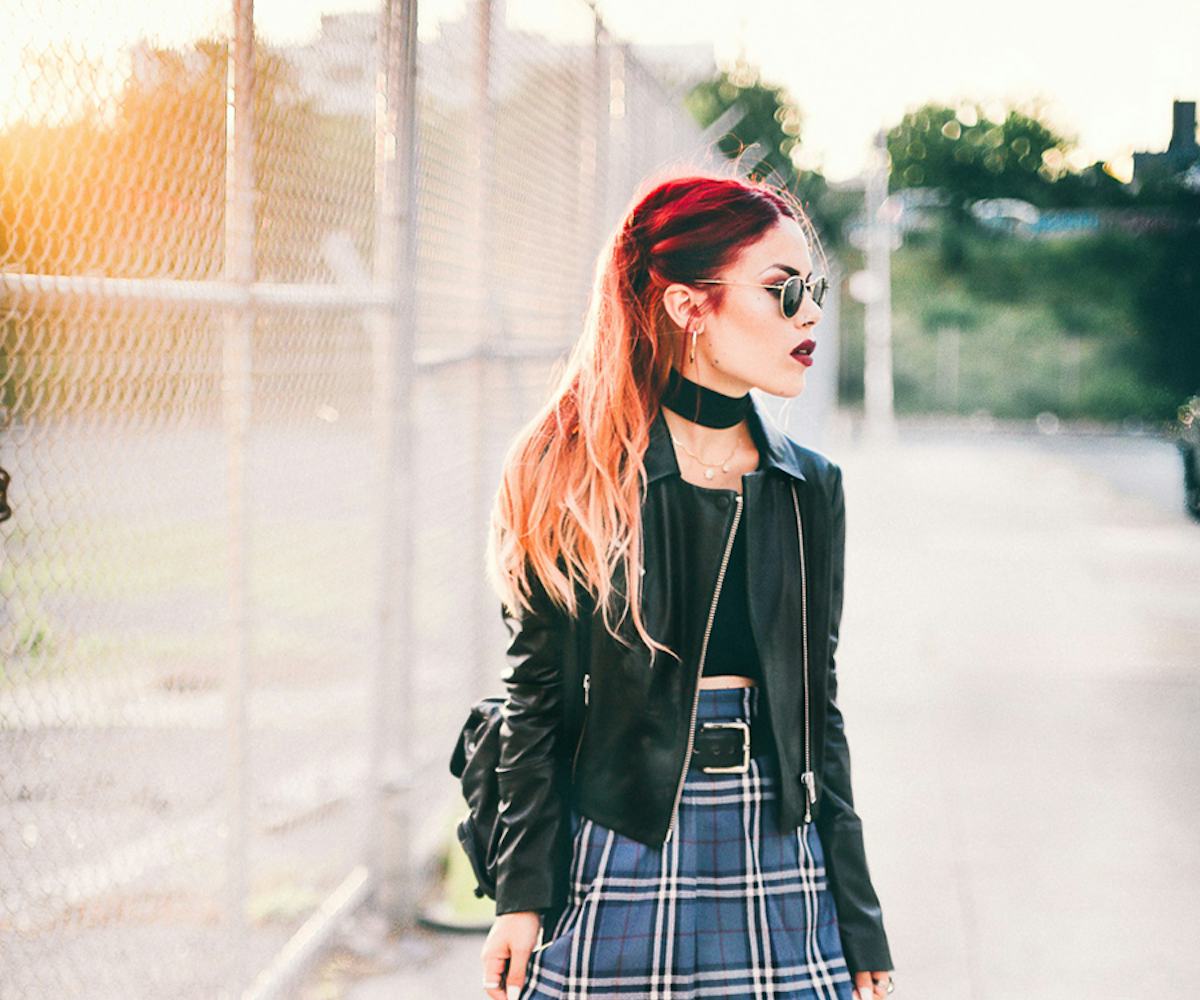 Photo courtesy of Le Happy
Brace Yourselves For The New Ombré
Like contouring, but for your hair
The ombré just got a major upgrade. Meet eclipting, the new hair color trend that's most definitely going to take off this fall.
Intrigued, we caught up with David Adams at FourteenJay in NYC to chat more about the new technique, the name of which was coined by Aveda. Turns out, he recently worked with style blogger Luanna Perez-Garreaud of Le Happy, transforming her hair into a fiery burst of reds and blondes using this method.
So, what exactly is eclipting, you ask? Eclipting is a new way of coloring hair that's designed to illuminate facial features with varying placements of shadow and light. In so many words, it's kind of like contouring, but for your hair. It highlights specific aspects of a hairstyle with the use of contrasting colors to draw in or bring out an individual's specific features and contours—meaning that no one customer's eclipted style will ever look at the same.
"Just like makeup can be used for highlighting and contouring, eclipting creates the same type of effect with hair color," says Adams. "By focusing on placement of contrasting colors, whether bold or subtle, eclipting works with the guest's skin tone, eye color, haircut, and face shape to create the desired effect." The desired effect can mean a whole range of things—whether you want to narrow your face, see less of a prominent chin, or accentuate the color of your eyes. The possibilities are endless.
For Perez-Garreaud, Adams used the technique to highlight her cheekbones and eyes. Using Aveda color, he applied a lighter shade of orange to the bottom of Perez-Garreaud's hair, while using a more vibrant red on the top. Finally, he lifted the color on her ends before rinsing, blowing out, and styling. "The deeper contrast between the lighter and darker shades of my hair accentuates my features—my eyes and cheekbones really pop!" says Perez-Garraud. "My roots now look much richer and pigmented, while the tips are more neutral. Before, my hair felt pretty dull, and now I feel like it has so much more life." 
To watch Adams transform Perez-Garreaud's hair into a fiery eclipse, check out the video below. Be sure to get your own dose of eclipting at your nearest Aveda salon.