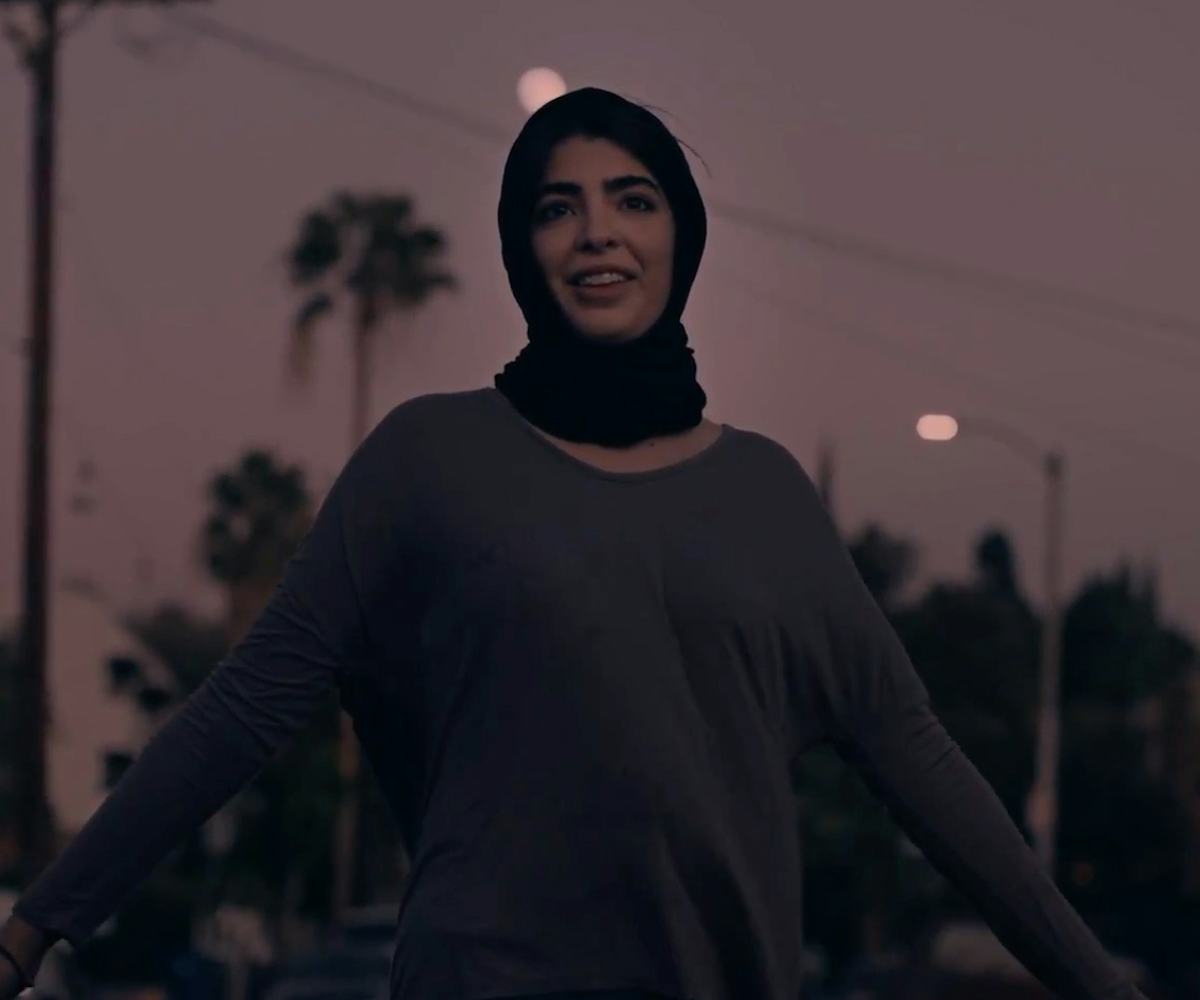 Short Film 'Hala' Explores A Muslim Teenager's Coming-Of-Age Sexuality
Watch the powerful film here
As far as films go, the coming-of-age theme is by far one of the most populated and predictable. Typically, we follow the protagonist as they navigate the complications that come with school, friendships, crushes, and a few "wacky" family members. Soundtracked by some pop star's take on an indie classic, they pick up some very clear life lessons, and by the end of the film, they either figure out exactly who they are as a person or leave it all open-ended as they stare up and smile at a starry sky. And while they're all well and entertaining to watch in a crowded theater, there's an inherent lack of authenticity that happens when you burnish over and censor the true teenage existence. Whether it's intending to or not, Hala is challenging this status quo.
The new short film, written and directed by Minhal Baig, follows a 16-year-old Muslim teenager Hala (Tess Granfield) as she attempts to explore her sexuality and identity while growing up in a conservative, religious household. The film starkly opens as we see Hala masturbate, only to be interrupted by her mother asking why she missed suhoor, a pre-dawn meal eaten while fasting during Ramadan. Then, while skateboarding at a park, she meets Jesse (Jasper Newman), and the two share an immediate connection. While she embarks on a relationship with him, she sees her parents' relationship disintegrate as they argue about religious guidelines and the way they raise Hala. Eventually, it becomes impossible for Hala to exist between her two separate "lives." In 14 minutes, the film somehow captures more than the aforementioned feature films do in their entirety.
"Hala is a sexual awakening through an intimate, subjective, and underrepresented perspective," Baig explains. As producer Constanza Castro adds, the film "is a candid portrayal of the struggles one goes through while discovering sexuality and yourself under a religious and strict roof."
It is also a film based on Baig's personal experiences. "The film grew out of a desire to express the sexual anxieties of my personal adolescence," she says. "My parents immigrated to the United States from Pakistan over 30 years ago and, for as long as I remember, were struggling to reconcile how 'American' they wanted to be. The topic of sex was expressly forbidden in our household, which created a real and serious anxiety when I began high school. I grew up feeling like I had to have a double identity—the quieter, socially conservative version of myself that my parents approved of, and the 'real' me that could only exist when my family wasn't around. I slipped in and out of these two identities quite easily, until my family found out about a relationship I'd hid from them. The collision of these two disparate identities, the anxiety of never quite feeling understood, and the feeling that I was neither 'Muslim' or 'American' enough inspired the story of Hala."
This short film is only a small glimpse into Hala, which Baig wrote as a feature film. With Hala, she hopes to attract the interest of financiers and executives who would be interested in helping make the full version. Any interest or inquiries regarding the feature length film should be directed to Ari Lubet at 3 Arts Entertainment or Minhal Baig on Twitter.