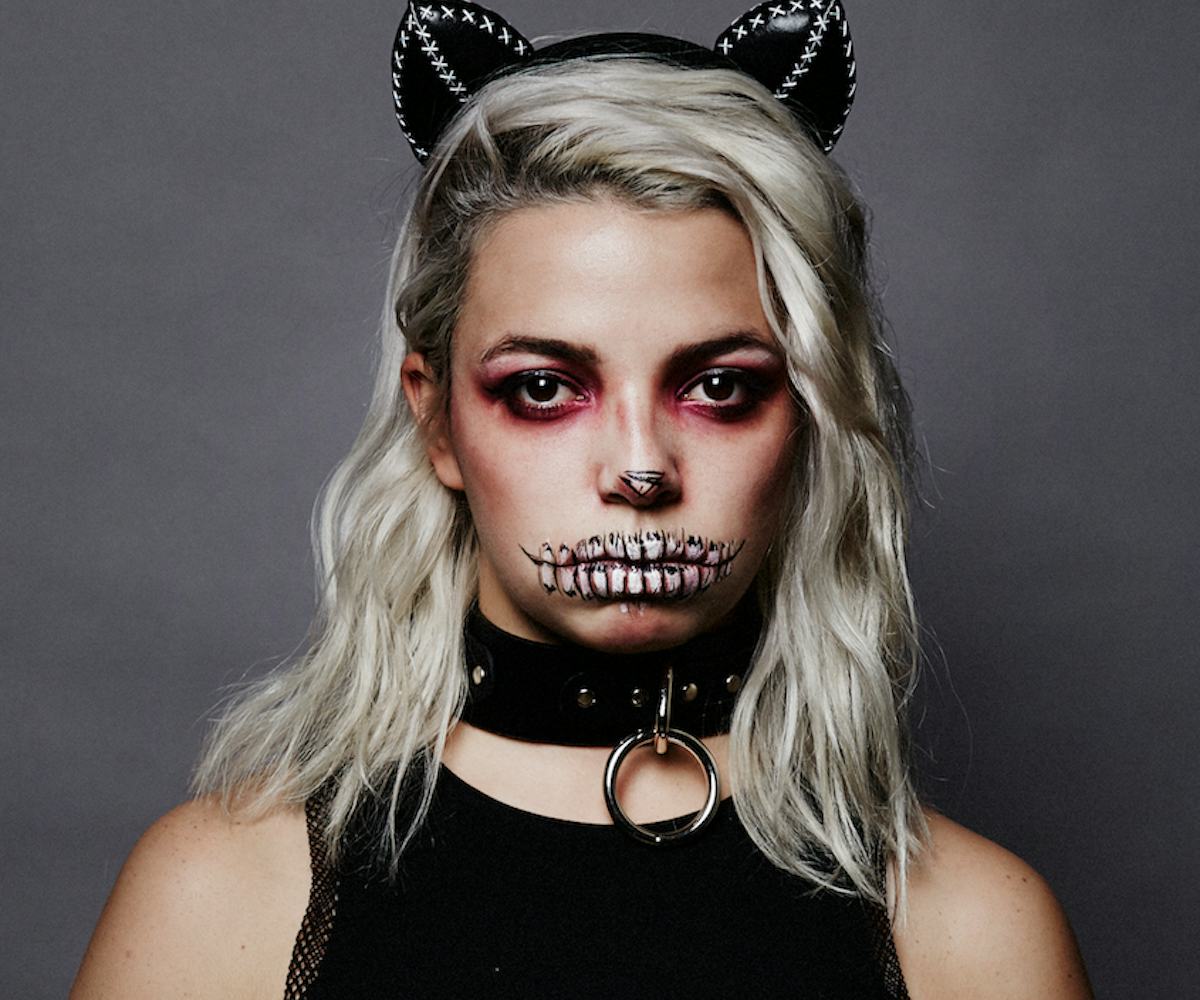 Photographed by Roman Yee.
3 New Ways To Upgrade Your Cat Costume
In the real world, Halloween is when kids dress up in costumes and beg for candy. In Girl World, Halloween is the one day a year when a girl can dress up like a total cat. If you're well-versed in Girl World, you'd know the hardcore girls wear lingerie and some form of cat ears. But to avoid having someone ask what you are and forcing you to point to your furry headband, apathetically replying that you're "a cat, duh," here's a way to upgrade your feline look—actually, make that three ways. 
This year, leave the cut-and-paste costumes for the warehouse stores and folks who don't want to think outside the box. The following looks are easy enough to do yourself and only require a quick shop of your own closet. (You'll probably have to buy cat ears, though.) No need to wait in an obscenely long line to purchase that costume you'll never wear again. Paws up, kittens.
Photographed by Roman Yee; Makeup by Anthony Tulve; Hair by Netty Jordan; Styled by Nicole Draga.
The Fashion CatFierce, sassy, and a little, well, catty, this fashionable feline is perhaps the sleekest of the three here.
To begin, Tulve advises to highlight and subtly contour the face. He then applied a shimmering grey eyeshadow across the lid, and used an shadow pencil to make it pop. From there, exaggerate your go-to cat-eye towards the corner of the brow. Pro Tip: Tulve suggests using a Q-tip to clean up the line if it's not straight.
Now comes the fun part. Using a waterproof black eyeliner, draw on a triangular nose. Use a waterproof black pencil and fill in your eye's waterline. Then, exaggerate the mouth's lip line with a bold, black liner.
Finally, Tulve wanted to add a bit of glamour to the look, so he blended a matte purple lip with the liner to shape the mouth. He then punk'd it up using Ardency Inn Punker Studs for whiskers. To lock the makeup in, spray some Ben Nye final seal on. Then add on the ears, and boom: Fashion Cat. Meow.
The Sad CatThere's no denying the ambrosial charm of a down-looking cat. (Just look at any Internet cat for proof.) For this look, hair stylist Netty Jordan swapped rigid cat ears for D.I.Y. ones made out of floppy top knots. From there, Tulve applied a solid foundation and ferocious blush onto the cheeks. To give the brows a bleached look, he combed the foundation through the eyebrows.
Next, Tulve pulled from influence from Korean beauty books and brought the blush up to right underneath the eye. Clumpy mascara was added to give a just-wept effect. Using matte browns along the eye's crease and lower lash line, he created a rounded, downturned effect that gives off a sunken look. To enhance the sadness, foundation was swept across the lips.
To bring the cat to life, Tulve pressed a bright, matte pink lip in the center of the mouth, making it pop. He then used Wolfe Hydrocolor face paint to draw on the nose, tears, and whiskers. A spritz of Ben Nye's final seal was added to keep the makeup looking real fresh. Then, if you're really feeling like being down, a cone was added. How very…sad.
The Back Alley Horror CatSome cats just want to watch the world burn. That, or they just really can't get out of their Evanescence phase. (If it's the latter, own it. Evanescence rules.)
To begin this look, mix white foundation to pale out whatever foundation you use regularly. Tulve also suggests going two shades lighter if you can't find white foundation. Don't worry about concealing under the eye, either. You want this to look ghostly.
Next, hollow out the eye by mixing pink, purple, and red eye shadow together and smudging it across the lid. (For added hollowness, contour your face with a bit of the mixture.) Then, draw a line of black eyeliner across the lid and flick it off and away from the eye.
The "horror" comes in the form of the grin. Using black face paint, Tulve suggests outlining the mouth first before filling in the teeth with white face paint. Go as accurate or as sketchy as you want! This look is meant to be a little wrangled.
Finally, draw on the nose with black, white, and a flick of pink face paint. Spray from Ben Nye final seal to keep it cute. Then, add on the ears and prepare for questions like, "Why are you dressed so scary?" Just hiss and walk away.