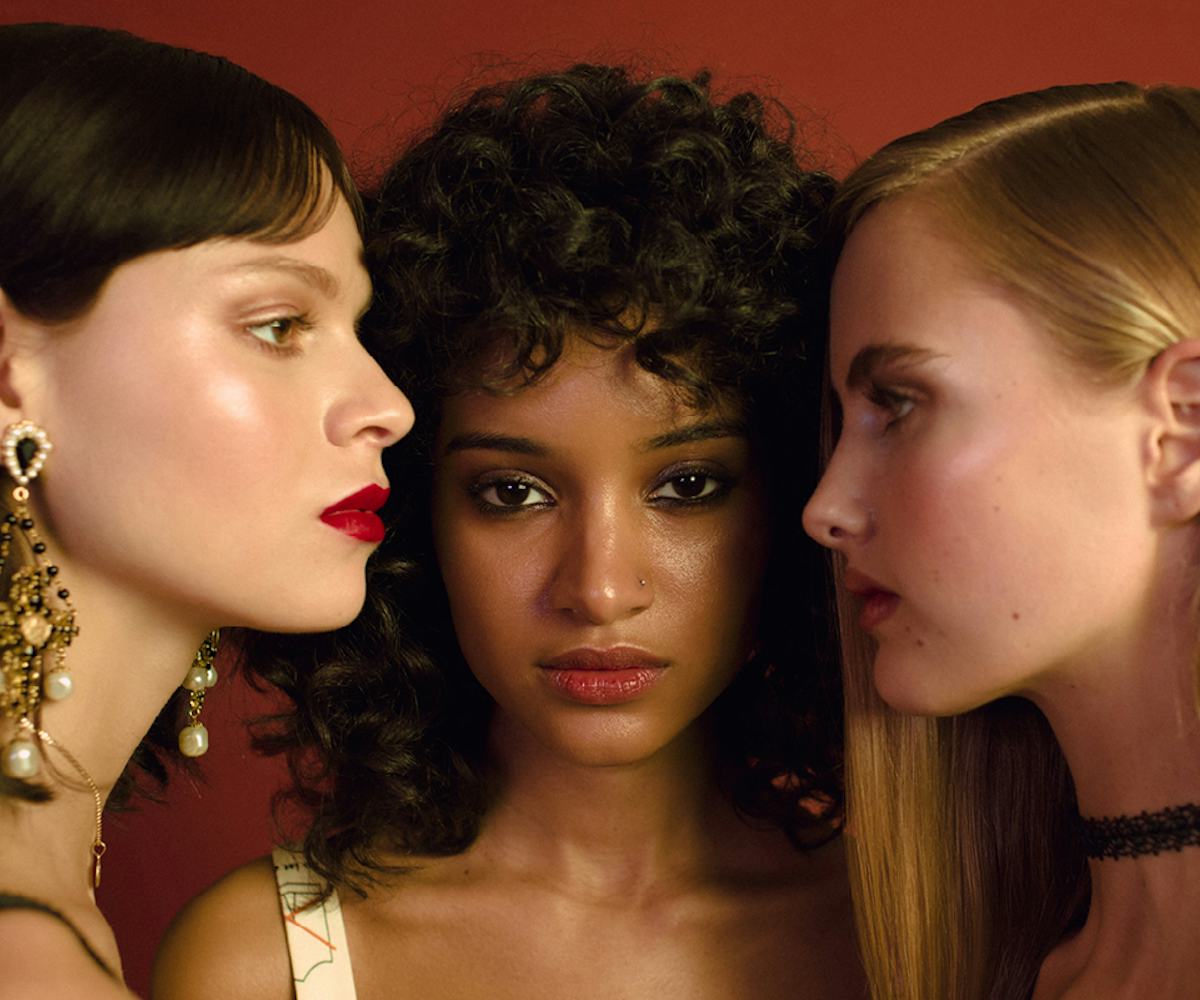 Photo by Erika Astrid. Ana is wearing a Dolce & Gabbana dress, boots, and earrings. Derlyn is wearing a Monse dress. Skye is wearing a Theory top.
How To Dress Like Iconic TV Horror Heroines This Halloween
From the 'Charmed' sisters to Buffy Summers
Halloween is just two weeks away—do you know what you're going to be yet?
If you're not one to plan too far ahead (we can relate), fear not: You don't have to scramble to put together a killer last-minute costume. With so many of our favorite TV shows from the '90s and early aughts getting reboots, from last weekend's premiere of Charmed to The Chilling Adventures Of Sabrina airing later this month, there's no better time than now to recreate some of the coolest TV heroines of our childhood. The best part of all? You likely have everything you need already in your closet.
To celebrate everyone from the Halliwell sisters to the badass Buffy Summers, we reimagined some of our favorite leading ladies, with a modern twist. Feast your eyes on all the All Hallows' Eve inspiration you'll need, below.
Photos by Erika Astrid
Styled by Heather Newberger
Makeup by Tony Tulve
Hair by Kazuhide Katahira
Models: Andreena Thompson at Fenton, Camille Rong and Sam Woelfel at State, Rute Bock at Industry, Skye Robinson, Ana Cristina, and Derlyn Perez at New York Models
Sabrina Spellman
Although we're dying to see Kiernan Shipka's goth update of Sabrina Spellman in The Chilling Adventures Of Sabrina, we still stan the OG TV Sabrina, aka the slightly grungy-yet-preppy Melissa Joan Hart. Channel a late '90s teen witch vibe by pairing a dark cropped sweater with a plaid mini skirt (and, as stylist Heather Newberger points out, don't forget a '90s choker). In terms of makeup, artist Tony Tulve suggests updating Sabrina's '90s color palette with a bit of spellbinding sparkle with glitter shadow and a dusting of highlighter. And don't forget a classic half-up, half-down 'do, complete with some wispy tendrils.
Rute is wearing a GREY by Jason Wu top, a Fendi skirt, and an Amazon necklace.
The Charmed Sisters
This month's Charmed reboot brings us Maggie, Mel, and Macy, but we're still here for the original spellbinding trio: Phoebe, Piper, and Prue (later replaced by Paige). Bring on the '90s silhouettes (like camis and ruched slips) and moody makeup.
"My strongest memory of Charmed is that the ladies always seemed to ooze sex appeal. By mixing different sensual materials like silk, leather, and lace, you can give your costume that same lush quality," says Newberger. In terms of makeup, depending on who your character is, Tulve suggests that you "find your focus, like Phoebe's bolder lip or Paige's lived-in eye, and build from there. Or, keep it simple like Prue, and use delicate touches of color to catch your own Whitelighter."
Buffy Summers
While Buffy Summers may have been known to wear an iconic leather trench or two in her day, Newberger gave today's Buffy a 2018 twist—a shiny, vinyl finish. "She also wasn't afraid to kick ass in a mini skirt," so don't feel like you need to dress in activewear to play the part of a vampire slayer. In terms of makeup? "No fuss neutrals are perfect for fighting off the undead, or dealing with the day-to-day," says Tulve.
Andreena is wearing a Marc Jacobs trench coat, a Frame top, and an & Other Stories skirt.
Angel or Spike
Of course, you can complete your Buffy Summers look by being accompanied by your own complicated vampire love interest. Whether they're more of an Angel or a Spike, a leather jacket and the iconic prosthetic vampire brow will do.
Andreena is wearing a Frame top, and an & Other Stories skirt. Sam is wearing a Nicholas K coat.
Dana Scully
Okay, so maybe The X-Files falls more into the sci-fi category than horror, but either way, Special Agent Dana Scully is forever one of our favorites. How do we recreate Gillian Anderson's iconic character? She's known for her pantsuits that, as Newberger points out, are always slightly oversized. Even if you don't have a perfectly coifed red lob, a neutral color palette with warm rust tones, as Tulve points out, "will make a believer out of anyone."
Camille is wearing a Monse suit, a Uniqlo top, and her own earrings.