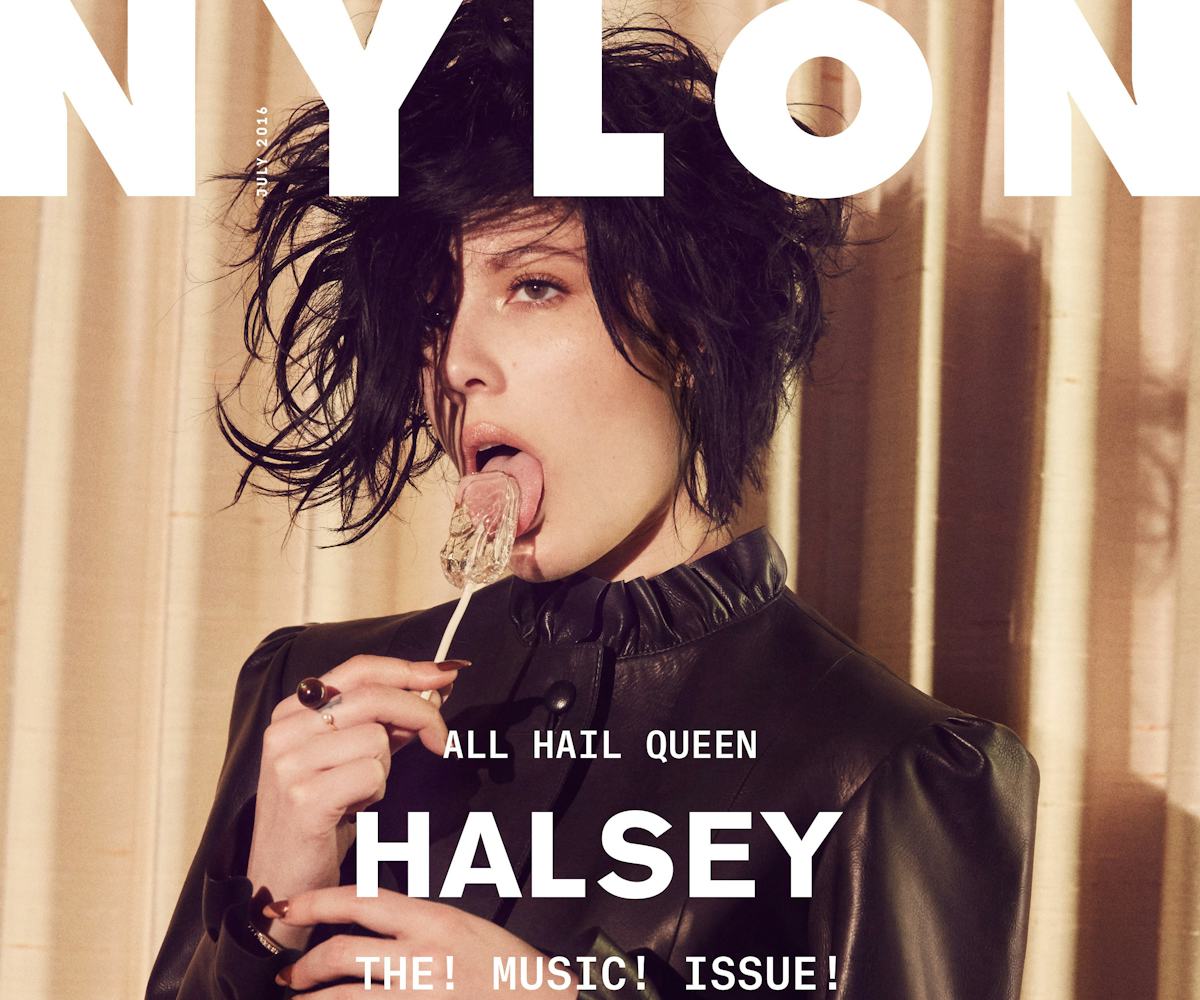 Photographed by Olivia Malone. Styled by Sean Knight. Dress by J.W. Anderson, earrings and ring by Delfina Delettrez, belt from The Way We Wore, Halsey's own bracelet.
Halsey Is Our June/July Cover Star
She's heading straight for the castle
"OMG, is that Halsey?" asks the young reporter next to me, craning her neck. We're working the red carpet at Los Angeles' MTV Movie Awards, and the piercing shrieks of teens and a staccato assault of camera flashes indicate that yes, the 21-year-old musician is making her way along the carpet. She looks downright stunning in coral shorts, a sequined bra, and matching jacket, her close-cropped hair its natural dark brown. Ensconced by a small entourage of publicists, Halsey bobs and weaves down the line of journalists vying for her attention, but throws her arms around me when I introduce myself amid the chaos. "What does your button say?" she asks immediately, pointing to the pin on my denim jacket. "Winona Forever. Ooooh, I love that! My merch used to say 'Rap Game Winona Ryder.' She's my style icon." As quickly as she drops this nugget of info our conversation's over. There are too many fans to hug on the other side of the carpet, not to mention a performance to give. With a promise that we'll see each other again soon she moves on, and the arrival of celebs like Tyler Posey and Chris Pratt elicit a new round of frenzy. 
Within the hour, Chris Hemsworth and Jessica Chastain introduce the rising star to the Warner Bros. studio lot stage, where she struts around in a strappy leotard and dramatic white cape as if she were born to do so. With fake snow floating in the air, she launches into a tune that's featured in The Huntsman: Winter's War. "I'm headed straight for the caaaaaaaastle…," she sings to a crowd that's singing right along with her.
Click through the gallery to read the rest of the feature.
Hair: Serena Radaelli at Cloutier Remix using Kérastase Paris Nutritive Magistral. Makeup: Lottie at Streeters using Tom Ford Beauty. Manicurist: Whitney Gibson at Nailing Hollywood using Marc Jacobs Enamored High Shine Polish in Gatsby and Cora.