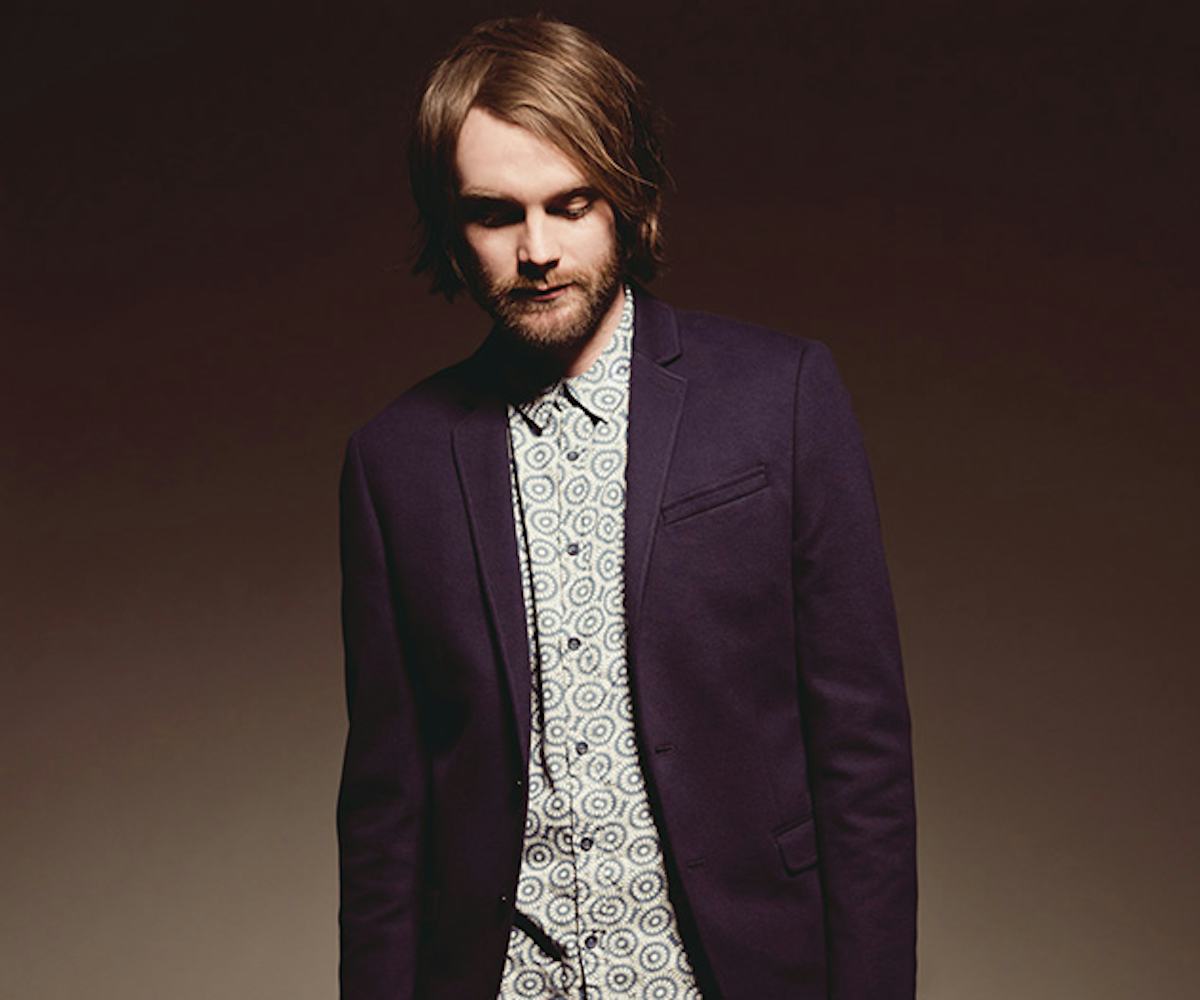 photographed by meredith truax
band crush: handsome ghost
synth-pop's trapeze swinger
Four years ago, Tim Noyes was standing at a fork in the road. The high school English teacher was moonlighting as a musician, and balancing both was becoming difficult. But the scratch for writing folk music that began in college was getting itchier, so he dove into music.
"I'll definitely miss it," Noyes told us over the phone about teaching. But there's really no turning back—especially after one demo track (a demo track!) racked up over 7 million plays on Spotify. Though it often seems it, this kind of success doesn't happen overnight. Noyes' began his music career in folk, but, like anyone, found his interests evolving. Synth-pop intrigued him, the song "Blood Stutter" was born, and suddenly Handsome Ghost was on the map.
Notes' interpretation of the genre dances with his folk roots. There's a delicacy to it that shines on tracks like "Bloodshot" and "Believers." It's youthful without being young. He infuses atmospheric elements, but doesn't get lost in them. Let's call it grounded synth-pop: songs that tip their hats to the past, but are firmly set in the present. Think The Postal Service without the grandiose poetics. Handsome Ghost doesn't rely on the figurative to get its point across because reality is often stranger and more compelling than fiction. Now, with the successful release of the Steps EP (and stellar covers of Iron & Wine and his latest, a cover of The 1975's "Sex"), Noyes is slated to make something special out of a viral Spotify hit. 
How did Handsome Ghost come about?
Well, I played in a New York based folk band for a few years, but it started to run its course. I had always loved doing production; I loved the synth stuff that wasn't allowed in the folk band. So when I had the break, I sat down and wrote some songs. I let myself break the folk rules. I had a blast, enjoyed where the music was going, and that transitioned into Handsome Ghost.
If you've always had a knack for electronic music, why try folk?
It was a slow developing love. When I started the folk band, I was straight folk, alt-rock, country. Honestly, I closed myself off to anything in the synth-pop world. I just decided to like it over time. It's what I found myself listening to. I figured I'd give it a try.
How did you get into the synths, then?
It was through friends introducing me to new music. I blame part of it on the long band drives where we'd get tired of listening to the same playlist over and over again. We started to introduce new music into the cycle. The stuff I was gravitating towards was the synth-pop. It took a couple years, but I finally decided it's what I loved and wanted to make.
You taught high school before all this. Was music secondary to you?
To tell you the truth, I wanted to do both. I wanted to balance music with teaching. I thought I could do it after school or on the weekends. It got more difficult to balance the two as the music became more of a serious endeavor—something I could potentially do full time. Teaching is so demanding. You think teachers leave at 3 o'clock, but it's so much work. I felt like I couldn't quite balance the two and had to give music a shot.
One of the first songs of yours I was introduced to was "The Trapeze Swinger." Why cover it?
That's been a favorite of mine for years. There's one lyric he (Samuel Beam of Iron & Wine) repeats over and over again that I love: 'Please remember me." It's such a crusher. There's so much emotion in his delivery. It's a beautifully written song. I wanted to put our spin on it.
Why choose this song by The 1975 for your next cover?
A friend introduced me to The 1975 and I was immediately hooked. The songs seem so raw and genuine. When Matthew Healy sings, I believe every word. "Sex" became my favorite of theirs: There is so much heart packed into such a short song.
What about it made you think it fit Handsome Ghost?
I thought if we were to slow it down, strip away the guitars and give the song our own feel it would still hold up. It's that good of a song. I sing in an entirely different way than Healy does, and I think that makes for a cool contrast between the original and our interpretation.
What kind of themes are you exploring on the new album?
More or less the same. It's a past and present contrast. When you're stagnant, I find it difficult to write with passion. Being on the road with different experiences every night has been a blessing. I pulled a lot from the last few months, but also all the stuff I had to go through over the past few years.
How do you hope to inspire people with your music?
The biggest compliment for me is when people can connect to the lyrics. Whether it's sad, happy, angry, whatever it is, I love hearing people connect to the words I've written. Hopefully, a listener can feel something. And feel it honestly.