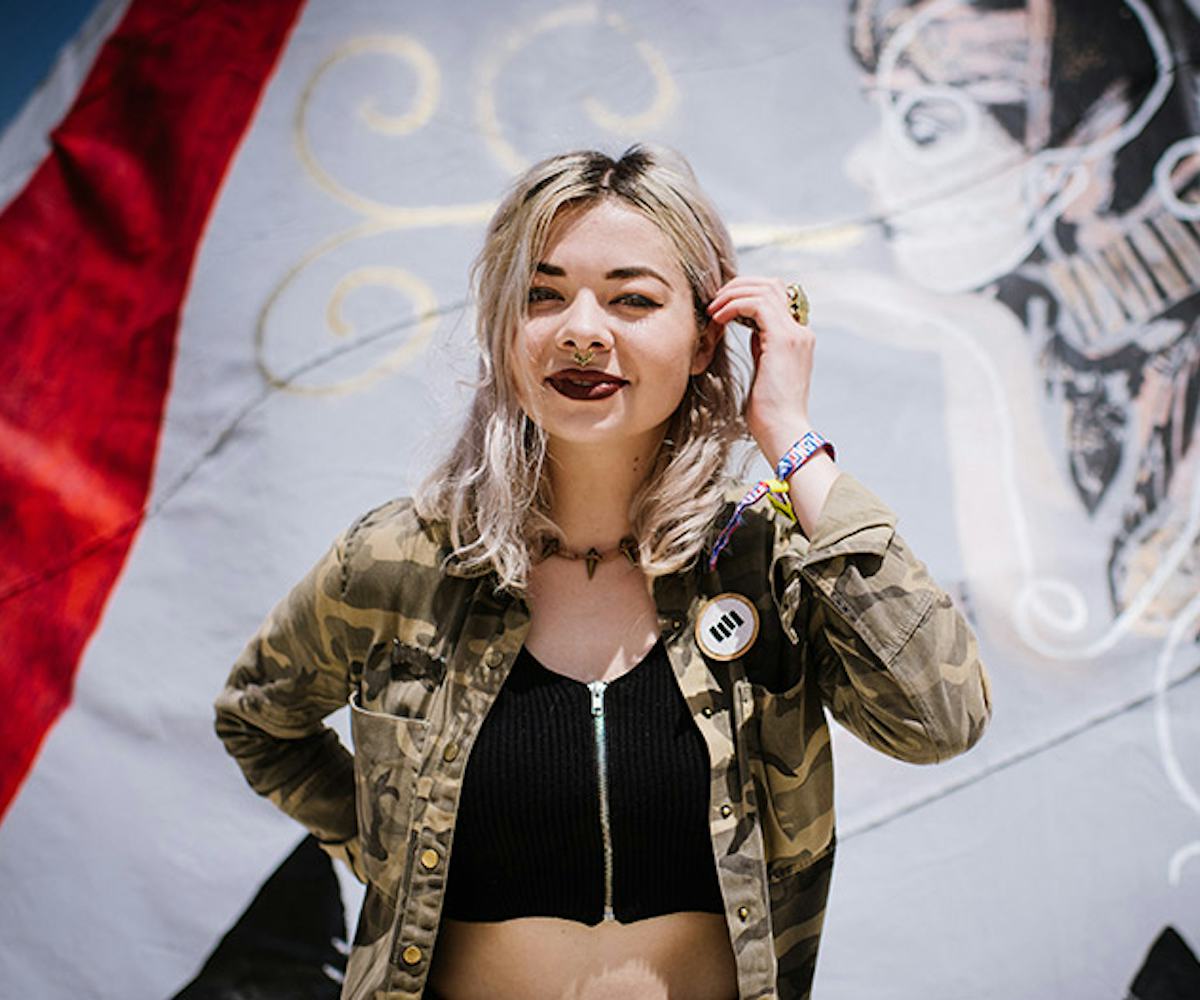 Photographed by Nina Westervelt
The Coolest Beach Beauty Looks From Hangout Fest
AKA the cool girl's guide to standing out
Some might say the beach is where style goes to die. Those people have to look beyond the swimsuit and cover-ups. The beach is perfect stomping ground for really experimenting with your favorite beauty styles. If you can make your go-to lip work for a day spent under the sun, and possibly in and out of the ocean, you can make it work anywhere.
This year, the Cool Girls came out to play at Alabama's Hangout Fest. They brought dark beauty, mysterious allure, and pastel power. While the street style was more function than form (hey, there are only so many shoes you can wear to dance in while The Weeknd plays a set in the sand), the glam was rich and playful. Candy-colored hair, bright lips, and French braids for days abounded. See for yourself in the gallery below, and, you know, maybe take some notes. Memorial Day is just around the corner, which means beach weather—aka summer—is coming. Prepare accordingly.
PHASES' Z Berg is an angelic beach goddess who knows a red lip is really all you need to make a statement.
Whoever said you can't rock a little dark mystery on the sand has never met Meg Mac.
NYLON's own Catherine Rardin brought the pastel magic.
Vintage vibes.
A moment, please, for this perfect cat eye.
Channel Emmie and match your nail polish to your bobby pins. 
Peach perfect.
This is what happens when SXSW meets Hangout Fest: a little country, a little punk, and a whole lotta cool.
Burgundy beautiful.
GIVERS' Tiffany Lamson's two-toned hair is the future of beach cool.
When in doubt, make like Jack Novak and accessorize with gold.
Steak's ocean blue-cool makes a case for rocking orange.
Sophia Eris and Quinn Wilson, two members of Lizzo's ultra-cool squad, live by the "sun's out, buns out" rule.
The Muddy Magnolias brought a refined sense of Southern charm.
Braids for days.
When your hair matches your lipstick, you know you're doing something right.
Two top knots are better than one.
Friends that dye together, stay together. Just ask Alison and The Griswolds' Chris Whitehall.
Of course Grimes' dancer Alyson Van rocked a look that was out of this world.
Mermaids are real and they happen to love cat ears.
We're so down for summer reds and browns.
Is this season the summer of French braids? If Hangout Fest is any indication, it so is.
Here's how to rock 'em with short hair.
Spotted this tattoo on the beach and, like, thought it was too cool to be true.
POWERS' Crista Ru's comic book hair is f*cking fantastic, and those nails are what festival season deserves.