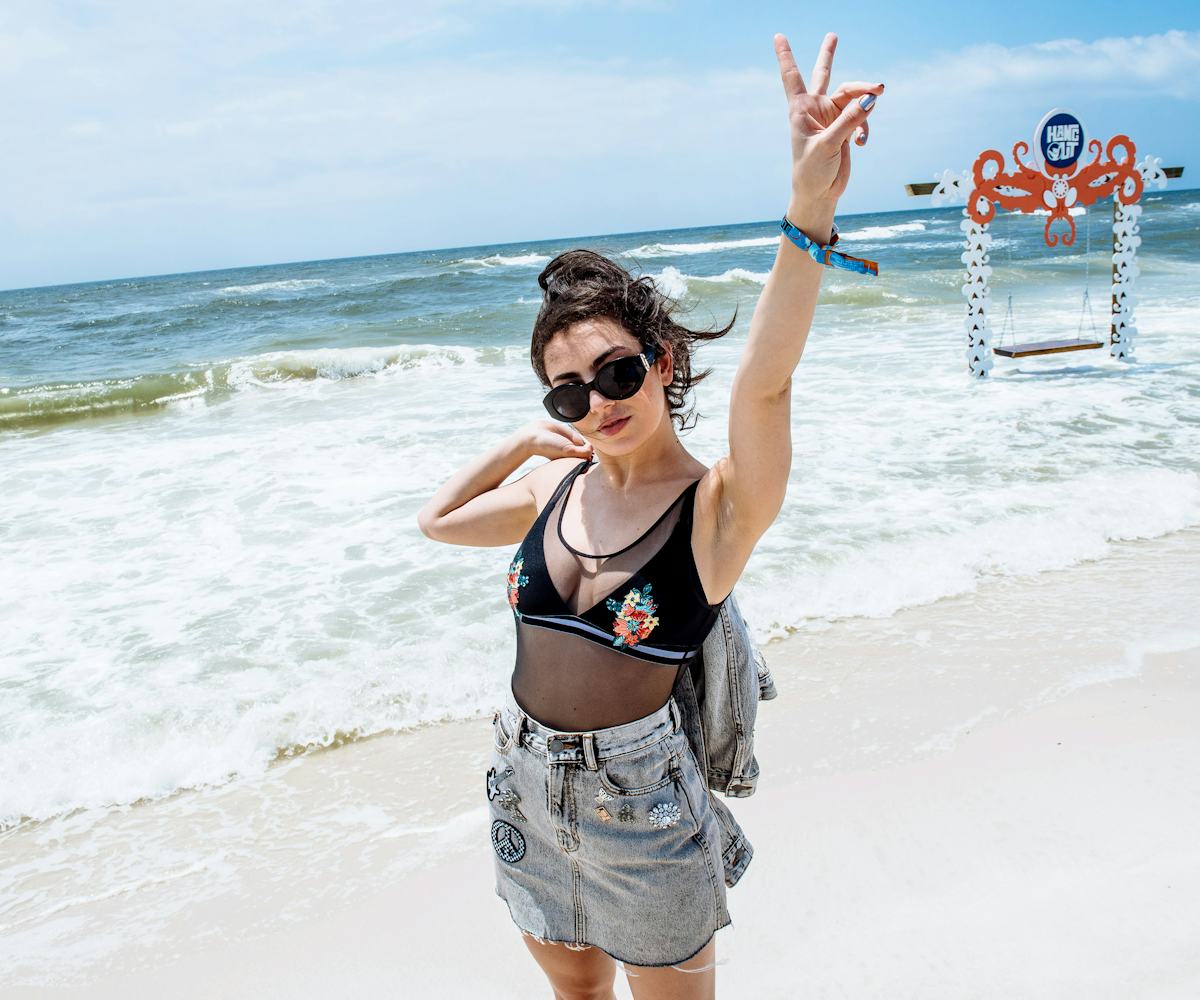 Photo by Nina Westervelt
All The People We Hung Out With At Hangout Fest
Let's kick it beach style
Hangout Fest lives up to its name. It is, perhaps, the one festival that encourages kicking back and living your beach fantasy. That is if your beach fantasy consists of stellar live performances from Major Lazer, Charli XCX, Chance The Rapper, and more. Throw in a couple thousand people into the mix, too, and you've got the recipe for an experience unlike any other—a sandy one, at that.
For the third year in a row, we ventured down to Gulf Shores, Alabama, to hang out at Hangout. It was a wild ride, to say the least, filled with surprise birthday celebrations with Young The Giant, ping-pong with The New Respects, and more inflatable objects than we could have imagined. The rest of the summer has a lot to live up to after this weekend. 
As we continue to dust off all the sand from the past couple of days, let's look back at all the people we met, saw, cut the cake with, cut a rug with, and then some. On to the next one! See you next year, Hangout. 
If Grace Mitchell were any cooler, she'd be frozen solid.
We meet again, Bishop Briggs!
F-f-FLETCHER!
Paradise is Charli XCX's denim number.
The sisters JOSEPH.
A moment with Tkay Maidza.
Wam, bam, it's Kam Franklin.
Fact: You will be hit by one of these at some point in your festival experience, and it will knock your drink all over unsuspecting strangers.
If your name is Charli, bounce.
Mac DeMarco is the man.
Spot the crystals on Barns Courtney.
Do you feel the electric with MGMT?
PVRIS straight-up rocks.
This crowd gets it.
Weezer!
Weezer's Brian Bell's hair is full of wonderful secrets.
Phoenix rises.
Twenty One Pilots are the future.
A wild Louis The Child appears!
Get that COIN.
Kungs, post-turn-up.
Cash Cash us outside, how 'bout that?
Phantoms for the win.
The Suffers go classical.
This dog!!!!!!!!
Peace up, The Head and the Heart.
A reading with RÜFÜS DU SOL.
It's always a revolution when Major Lazer comes through.
See what we mean?
What the duck is up, Bob Moses?
Ayeee!
The New Respects are angels, for real.
Those In-N-Out socks on LANY make the world a better place.
NGHTMRE's not sinking anytime soon.
Franz Ferdinand is back, y'all.
Sometimes you happen to stumble into a birthday celebration with Young The Giant.
Then sometimes you have a moment like this with Young The Giant, too.
We see you, Chance The Rapper. We see you.
A Mumford, but where are the sons?
A casual Sunday night.
That's all she wrote, friends!