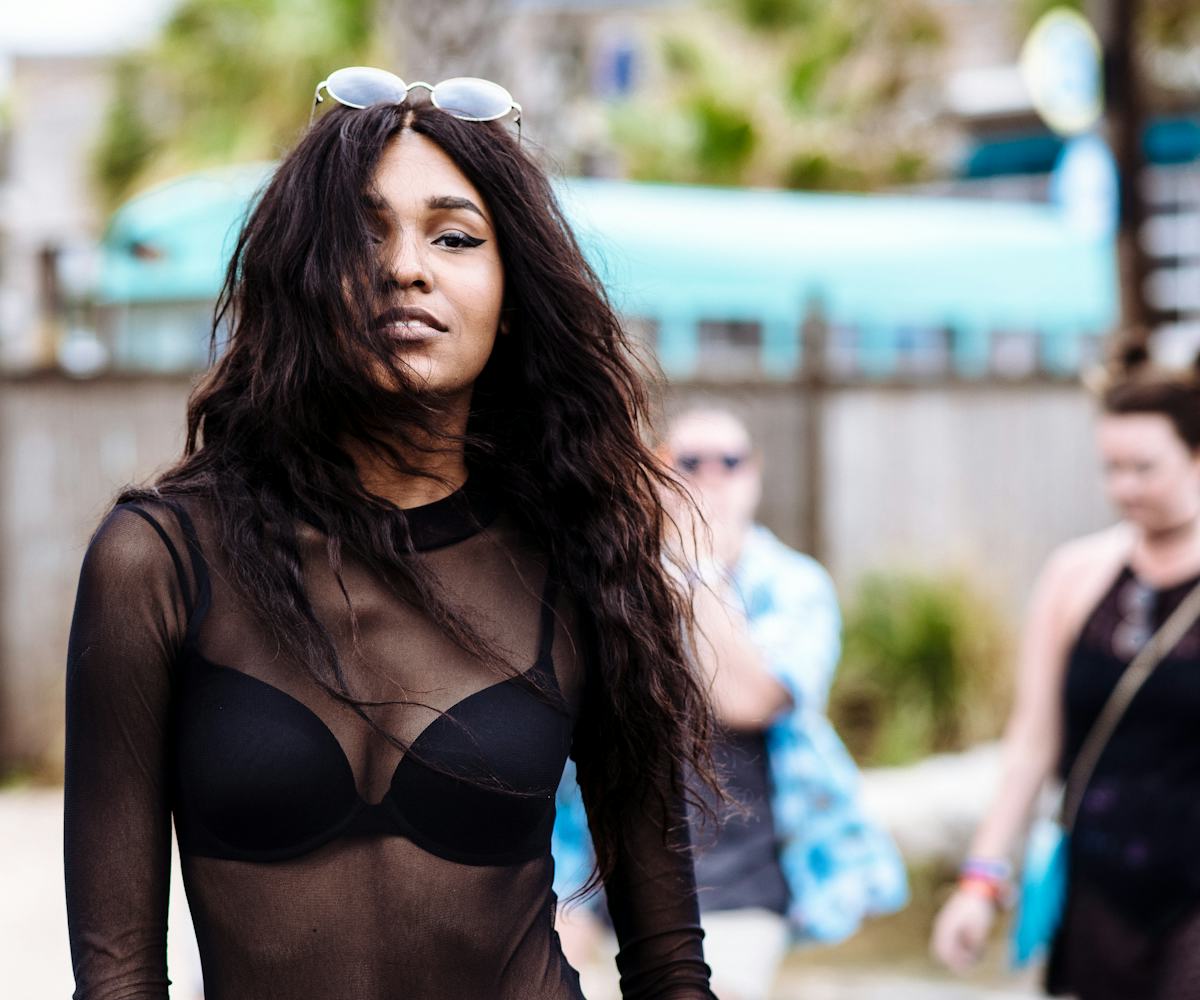 Photo by Nina Westervelt
The Best Beach Beauty, Straight From Hangout Fest
As far as music festivals go, Hangout Fest is truly unique. From a logistical standpoint, putting two main stages mere yards from the unpredictable Gulf of Mexico is a bold risk. From a street style standpoint, you're going to be met with more swimsuits and sandals than fringe bags, boots, or impressive takes on onesies. Function comes before form underneath the blazing sun of Gulf Shores, Alabama. This makes Hangout Fest a haven for bold summer beauty looks. Hey, if the temperatures prevent you from rocking that skirt, you can always express yourself through hair, makeup, nails, or what have you.
From street goth to effortlessly undone, we found some of the coolest beauty looks this year while traveling between Franz Ferdinand sets, Chance The Rapper turn-ups, and interviews with musicians. The heat never bothered these beauties' beauty in the first place, which is enough inspiration for us to make this summer one where the heat won't beat us either. Warm weather beauty class is open.
Cruella-inspired hair forever.
Talk about effortless cool.
Hurray for the Riff Raff's Alynda Lee Segarra's magenta look is perfectly playful.
If we could, we'd rock Fletcher's braids every day.
Think pink, always.
X marks the spot for the best CD-inspired hair, ever.
Sometimes all you need is a killer back tattoo to complete a look.
A bold lip does the trick, too.
Cool tip: Pair your disco drink with your neon nails, like Kam Franklin did here.
A muted lip, mirrored sunnies, and stars in the ears—consider this the Summer 2K17 look.
My jaw is on the ground in awe.
Remember what we said earlier about tattoos?
Now this is how you make the scarf trend work.
This is straight-up royal.
AIRHORN!
Buzzed and beautiful.
A look that's both intellectual and completely covetable.
The couple that bleaches together, stays together.
Nora En Pure has all the beach vibes.
That New Respects glow, though.