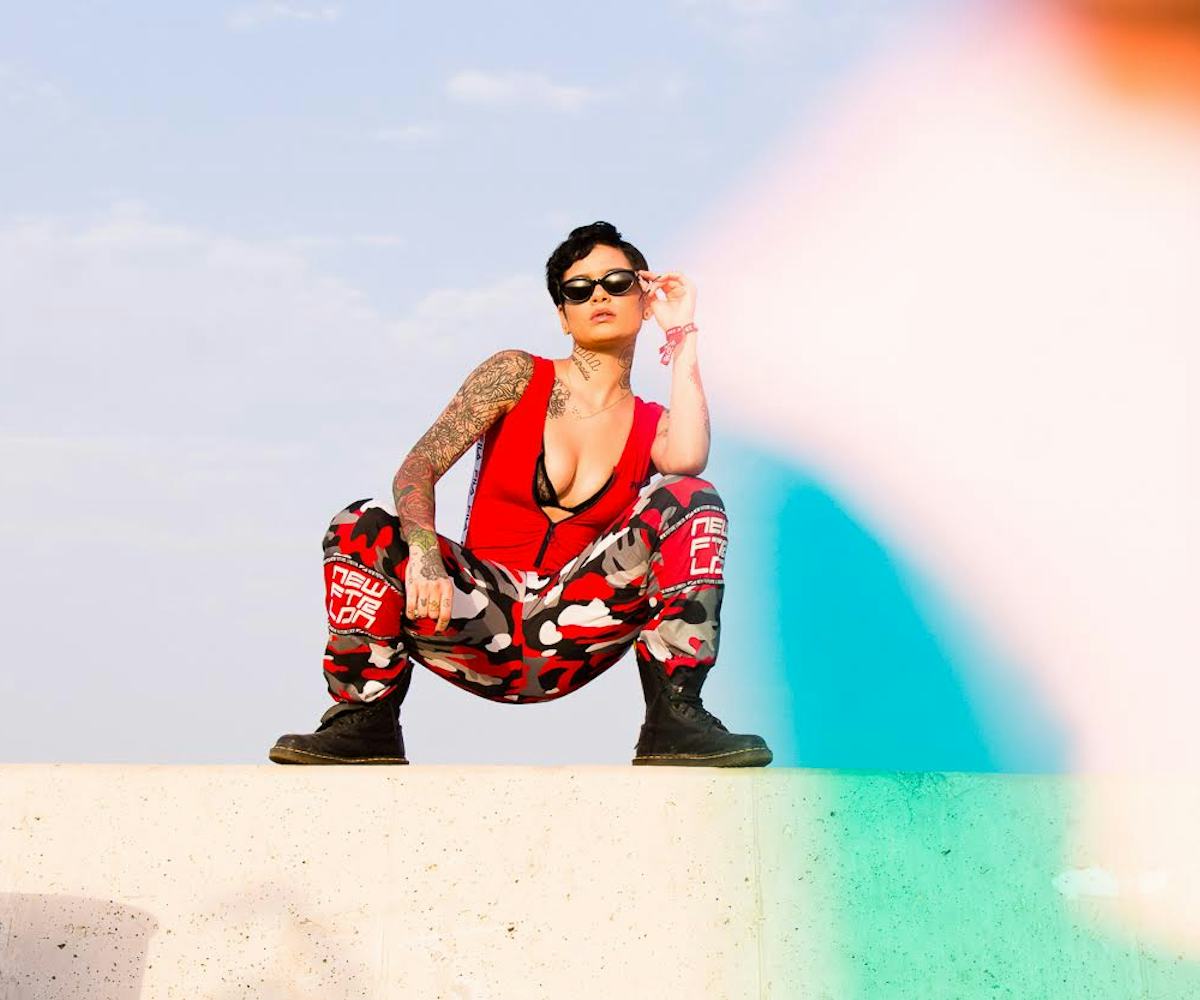 Photo by Myles Pettengill
At Hard Fest, 10 Artists Reveal The Hardest Thing They've Ever Done
Featuring an exclusive portrait gallery
The Hard Summer festival rumbled through Fontana, California, last weekend, bringing with it a stacked lineup of some of the biggest names in hip-hop, dance, electro, and R&B. Photographer Myles Pettengill was backstage with his trusty hand-held camera, capturing some of the festival's biggest stars—Khelani, Fat Joe, and Ty Dolla $ign among them—before and after their blistering sets. Check them out in the exclusive gallery below, along with an answer to the question: "What's the hardest thing you've ever done?"
Follow Myles Pettengill on Instagram here. 
FLOSSTRADAMUS
"Floss is the hardest thing that I've ever done. It's 10 years of making music, and all the failures and all the moments that have come with that. There was a moment for us that was a turning point where we played a show in Denver, and tried to book a whole tour, and no one would even book us on a tour. The only place that would book us was in Denver. This is at the beginning of 2011. My mom's there, and, literally, there were six people and four of them were my mom and three of her friends, so it was embarrassing. There was a point where we almost said, "Let's give up." But we kept pushing through, and now here we are headlining the HARD festival."
BOB MOSES
"Eating 13 slices of pizza from Boston Pizza at one time."
SAINT JHN
"I've had a thousand challenges, but the hardest thing I've ever done hasn't come yet, and I don't know how to prepare for it. I could foresee that it would be a challenge where I have to choose me over the people I love."
ALUNAGEORGE
"I'm not a virgin anymore."
TY DOLLA $IGN
"Missing Jakasa's funeral."
ANNA LUNOE
"I feel like the hardest thing I've done in my life is continuously do stuff that I'm afraid of, and it happens all the time. But being at peace with fear is the hardest thing I've ever done."
LIL UZI VERT
"Nothing's really hard in life, I got this shit figured out, manifestation and all that. But the only thing that's been hard for me [was haird] because I was overthinking it—I learnt how to wheelie a four-wheeler and a dirt bike. It was real hard because I couldn't get the motion, but once I got it, I got it."
DESTRUCTO
"Trying to come up with an answer to this question."
APE DRUMS
"Shit. The hardest thing I've ever done? It was probably trying to bench press four 45-[pounder]s, so 90 on each side."
KEHLANI
"The hardest thing I've ever had to do was stand up and sing in front of an entire audience that was booing me and keep a straight face, and I've never been more proud of myself."
FAT JOE
"I would go all the way back to my graffiti days, running from the cops on the train tracks. Then we had to hide under the train for like three hours. But at six in the morning the trains start running, so they could fucking kill you. That was probably the hardest, scariest shit I ever did in my life."