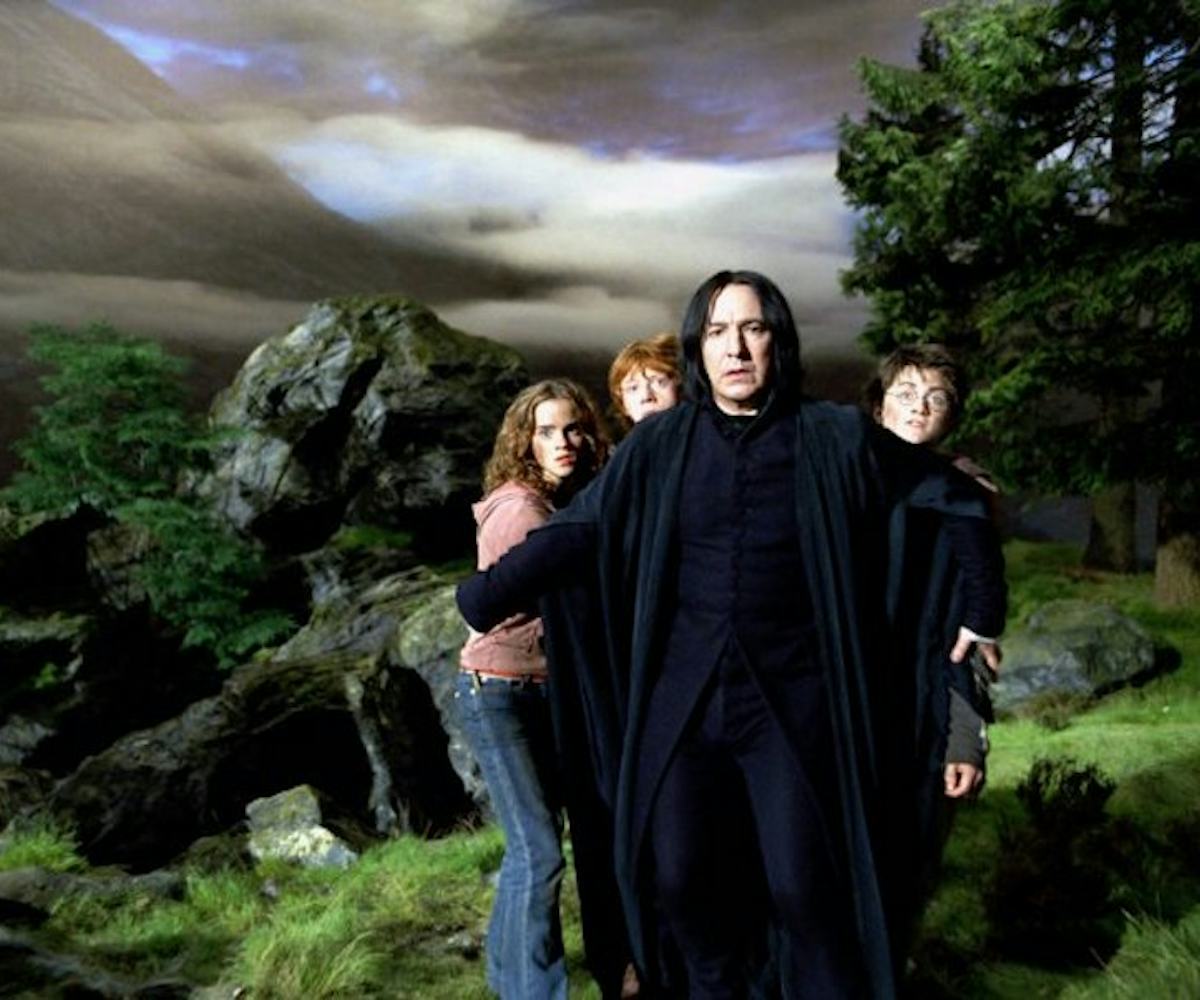 Photo credit: 2004 Warner Bros. Entertainment, Harry Potter Publishing Rights J.K.R.
The 'Harry Potter' Family Pays Tribute to the Late Alan Rickman
saying goodbye to a legend
This morning, Alan Rickman's family confirmed that the actor, who had been battling cancer, passed away at the age of 69. News of Rickman's death stunned fans of the British actor and director, who immediately took to social media to share an outpouring of love and appreciation for his work and talent.
Though Rickman's impact could certainly be felt from afar, as anyone who sat in a theater and watched him perform could attest to, we imagine the news is particularly devastating to those who were fortunate to collaborate and learn from him. This morning, his Harry Potter family—because, to them and to us, they are a supportive, loving family—are paying tribute to the late actor, who shaped the series with his portrayal of Severus Snape, and sharing just how incredible a man he was. Ahead, see how stars of the franchise are remembering the man who, in Daniel Radcliffe's words, was "one of the loyalest and most supportive people I've ever met in the film industry."
J.K. Rowling
Daniel Radcliffe
Emma Watson
I'm very sad to hear about Alan today. I feel so lucky to have worked and spent time with such a special man and actor. I'll really miss our conversations. RIP Alan. We love you
Harry Potter
We are deeply saddened to hear of the passing of our beloved Alan Rickman who played Professor Severus Snape. Harry Potter fans will miss him very much. He was a wonderful actor and a very dear friend.
Jason Isaacs
Emma Thompson
"Alan was my friend and so this is hard to write because I have just kissed him goodbye," the actress wrote in Newsweek. "What I remember most in this moment of painful leave-taking is his humor, intelligence, wisdom and kindness. His capacity to fell you with a look or lift you with a word. The intransigence which made him the great artist he was—his ineffable and cynical wit, the clarity with which he saw most things, including me, and the fact that he never spared me the view. I learned a lot from him.
He was the finest of actors and directors. I couldn't wait to see what he was going to do with his face next. I consider myself hugely privileged to have worked with him so many times and to have been directed by him.
He was the ultimate ally. In life, art and politics. I trusted him absolutely.
He was, above all things, a rare and unique human being and we shall not see his like again."
Bonnie Wright
Alan. The energy shifted every time you walked onto set. You were an inspiration to us all. RIP
A photo posted by Bonnie Wright (@thisisbwright) on Jan 14, 2016 at 5:04am PST
Harry Potter World