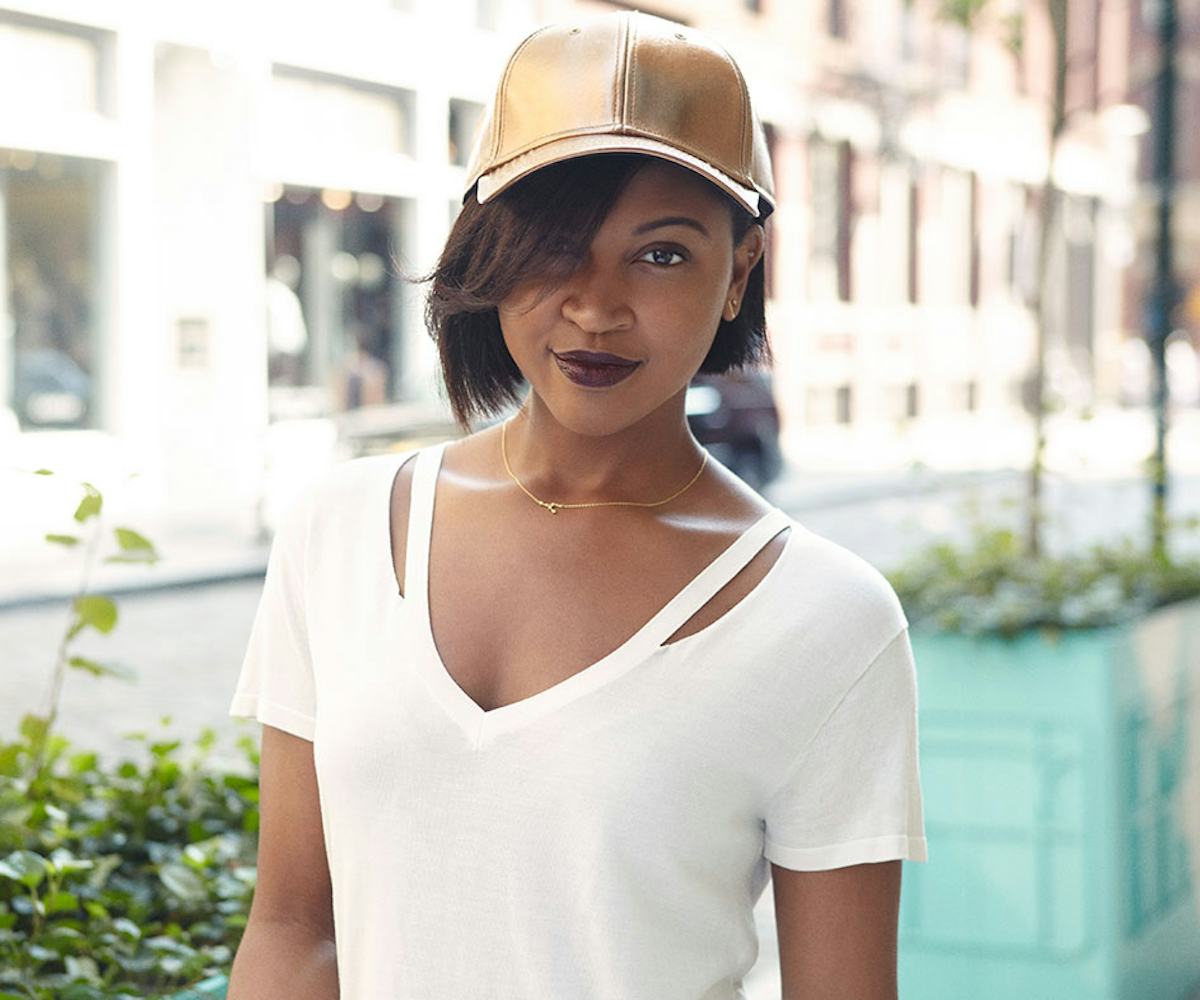 Photographed by Alana Tyler Slutsky
The Best Hat For Your Hair Type
There comes a time in all of our lives (or, in some of our cases, multiple times a week), where we must ask ourselves one mundane, but imperative-feeling question: Should we, or shouldn't we, wear that hat sitting in the back of our closet? Well, my hair's looking kind of greasy, you think. But it did make me look like a sad, tan oompa loompa the last time I wore it... Decisions, decisions.
Luckily, friends, if you haven't checked a calendar in the past ten months or so, it's 2015. And that means that there are more hats in strange shapes than ever before. And more variety means that there's a greater probability of you finding a hat that looks good with your face and hair. Statitistics, isn't it fun?
So whether you're looking for a quick fix for a bad hair day, a means of going incognito, a way to stave off the cold, or, you know, just another way to add another element to an outfit and experiment with different styles, it's time you find the right hat for you. And because we're here for you—we were not, at one point, immune to the whole "bad hat" thing—we're telling you how to find the perfect cap for your noggin. Click through the gallery to see.
Short, blunt hair works best in a bucket hat.
"I haven't worn a bucket hat since I was in high school, but something about its laissez-faire attitude seems fresh again. I'm generally not too much of a hat person (thank you, dry shampoo!), but I think the beachy vibes of a bucket hat play well with the texture and length of my hair. It's an easy shape to pair with a lot of clothing styles too—you can go athletic, beachy, or punky, or even try to dress it up. (Okay, that last one might not work...)" - Preetma Singh
A floppy hat balances out a textured style.
"Usually, wearing a floppy, wide-brimmed hat signifies that you run a blog, or are super-focused on trends. I am none of those things, but when you haven't washed your hair in a few days and are growing tired of dry shampoo, you do what you have to do. And whether you like it or not, one of the easiest ways to fool others into thinking you're polished is to wear a felt hat in an interesting shade, especially since my textured hair doesn't play well with a traditional baseball cap." - Yasmeen Gharnit
A wide-brimmed hat helps balance long hair.
"When New York changes from summer to fall, it becomes another, better version of itself. And with this wide-brimmed black hat, I become another version of myself. Messy, tangled hair never looked better!" - Julie Humeas
A beanie works on everyone, especially those who have pixie cuts.
"Some things about me: I have short hair, a small head, wear glasses and I am always cold. Yes, I am awesome. As much as I want to be adventurous when it comes to hats, anything with a wide brim pretty much obscures my face and covers all my hair. AND with my glasses there's just a whole lot going on. The simple solution? A knit beanie. The joy of a beanie is that it is actually functional (do you know how much heat escapes through your head?!) and also cool. Throw a beanie on and your casual jeans and tee actually become an outfit. Your hair, short or otherwise, peaks out looking effortlessly cool and casual." - Liz Riccardi
A baseball hat compliments bangs.
"My curly 'fro doesn't exactly scream 'hat friendly,' so my head is only ever covered when my monthly blowout is on its last legs. In those situations, my hat of choice has long been of the wide-brimmed and felt variety. Once I chopped my hair into a tapered cut, however, that style covered my newly short hair in the most awkward way. It wasn't until I stole one of my dad's six-panel caps out of sheer desperation that I realized baseball caps are the perfect solution for hiding my reverting roots, while still showing just enough of the most presentable parts of my hair on a bad hair day. (Thanks, Dad.)" - Keryce Henry