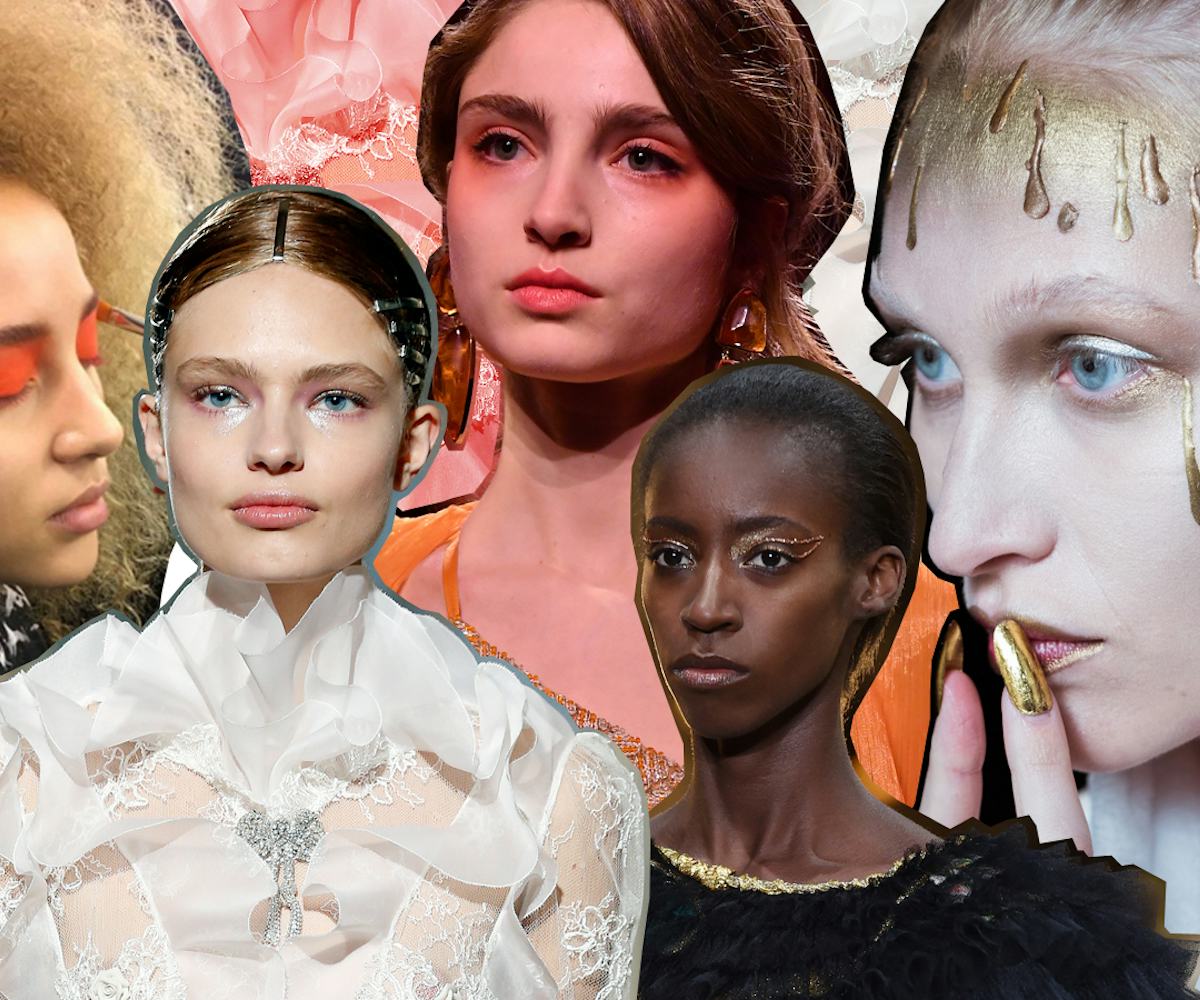 Beauty Slump? Try These Haute Couture Week Beauty Looks
Some inspiration to beat those winter blues
Let's face it: Winter is bleak. The cold, gray days definitely have us in a bit of a slump, which totally affects us when it comes to getting ready to take on the day each morning. Rather than giving up on our beauty look and settling for something simple and basic, look no further than last week's Haute Couture Fashion Week for ideas.
From glittering cat eyes at Viktor & Rolf to neon lids and wild braids at Jean Paul Gaultier, models marched down the runways in more than just head-turning couture. The beauty was out of this world, giving us some serious inspiration to freshen up our winter looks. Who knew what a little orange blush and a couple of sleek hair clips could really do?
Click through the gallery below for some major makeup and hair inspo to hold you over until spring. 
We love the bold simplicity of this glittering gold cat eye at Viktor & Rolf.
At Margiela, Pat McGrath created the ultimate reverse ombré lip, filling the inner lips with a deep berry and leaving the outer lips bare. We're pretty into those bleached brows, as well.
At Julien Fournie, the wet look was perfectly achieved on the models' hair, but it was the shimmering Ice Queen makeup that stole the show. It's definitely seasonally appropriate, that's for sure.
We don't know what we're more obsessed with from the Jean Paul Gaultier show—the insane height of the models' hair, or those electrifying lids.
Tears never looked so good. At Guo Pei, golden pigment was dripped all over the face for an otherworldly look.
At Givenchy, makeup was kept bare and minimal while strong, defined middle parts did all the talking.
A dab of silvery shimmer in the inner corners to brighten up the eyes has been done, but who knew that dragging a shiny streak under the eye, like at Franceso Scognamiglio, could be so stunning? 
We didn't know it was possible to make under-eye glitter even more gorgeous than it already is—that is, until this glittery star moment at Christian Dior.
Life was peachy keen at Armani Prive, with vibrant pigment dragged from the lid down to the cheekbones for a gorgeous, tangerine glow.