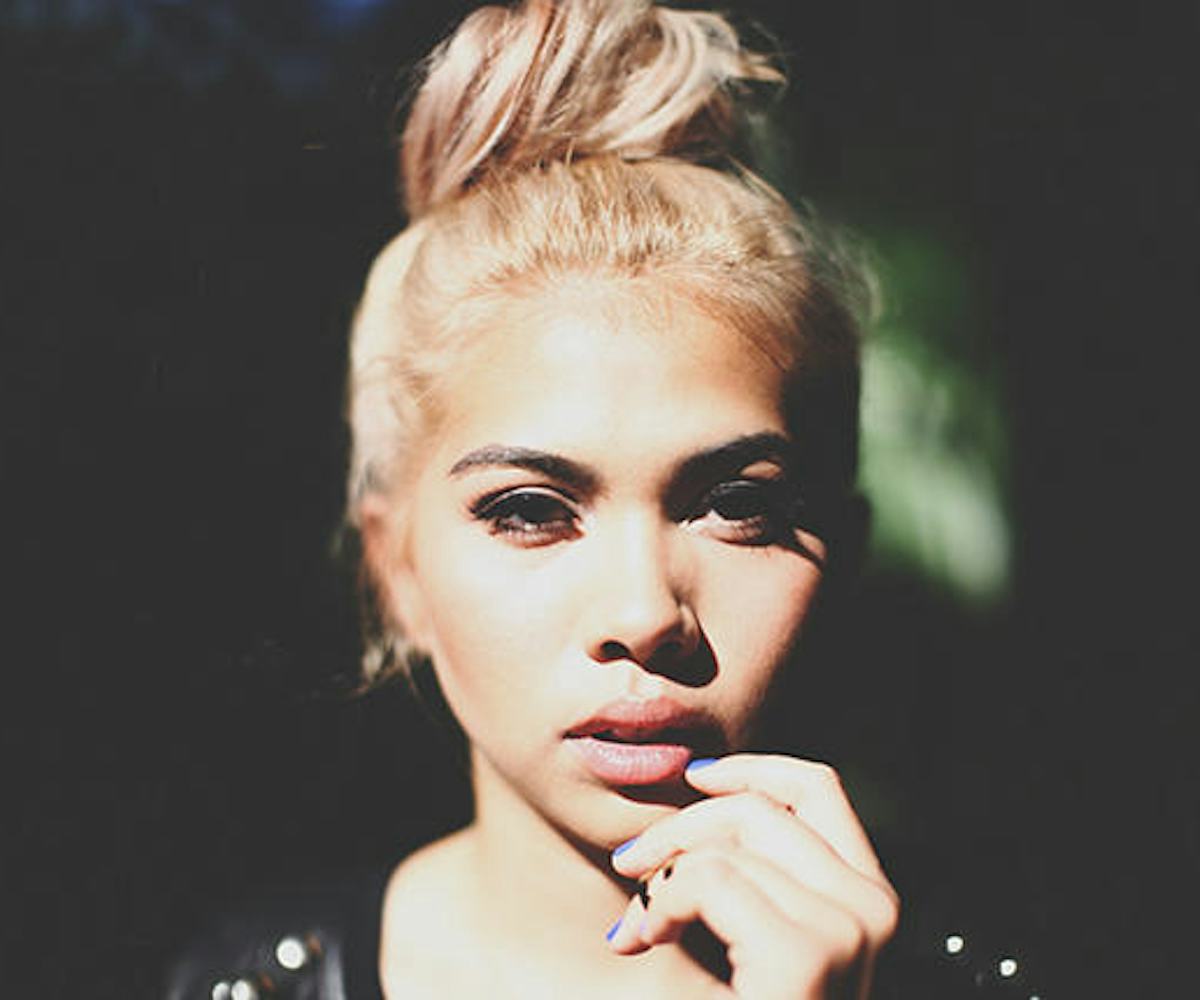 Photo via Topshelf Junior
hayley kiyoko is about to blow up your silver screens
If you heard a high-pitched, harmonized squeal last March, chances are, it was the sound every '80s baby inadvertently let out when it was announced that Jem and the Holograms was being remade into a live-action film. In case you're not familiar, the seminal neon-rich animated series ran from '85 to '88 and was basically the original Hannah Montana. With a modern-day twist, the 2015 version will focus on Jem, a small-town girl who, along with her three sisters, transitions from an "underground video sensation to global superstar." Given its heavy sonic focus and killer aesthetics, it's no surprise that the film tapped actress/musician Hayley Kiyoko to play Aja, one of Jem's rockstar sisters.
Aside from starring in the most highly anticipated remake of the year, Kiyoko has been releasing new music, gearing up to terrorize the masses in Insidious: Chapter 3, and acting alongside Patricia Arquette and James Van Der Beek in the latest CSI installment, CSI: Cyber.  
Did you grow up watching the original Jem and the Holograms series? 
"No, I had never seen it! I feel like it was a little bit before my time because it was the '80s and I was born in '91. But when I auditioned for them, I had to know what it was, and I looked it up and it was crazy. It was like, oh my god I'm going to have blue hair. So at the end of the day, it's pretty incredible, and I think the people who are fans of Jem and people from that generation will really enjoy the show.
"And I'm excited for CSI: Cyber which comes out March 4. We shot 13 episodes and it went super quick. The cast [includes] Patricia Arquette and everyone is super humble and fun and nice. It's also fun to pretend to work for the FBI."
How does the Jem and the Holograms remake differ from the original?
"It's a modern take on the story. I think we want you to see it documentary style and it really brings in the 2015 times and YouTube and the interweb. So it's really just a branch off the franchise and I don't think it's by the book at all."
Scooter Braun is producing the film. He manages so many people who started out viral [Justin Bieber, Ariana Grande, Cody Simpson] and basically just has the magic touch. I was just wondering if there are any surprise guest appearances in the film...
"I guess you'll just have to watch and see."    
Photo courtesy of Universal Pictures
You have blue hair in the film, and it seems like you're always changing up your beauty look.
"It's just hair and I love changing up my hair. Ever since I was in middle school, I was shaving off the side of my hair and just dyeing it myself. It's just an outlet of artistic expression. For me, hair is a really great chapter ender. You start something looking one way and then you end it and change your hair. I feel like it's an emotional thing. When people look at breakups, they chop their hair off and it may seem dramatic, but I use my hair as something like an organizer for life. I've got blue hair for JEM, pink hair for Insidious, blonde hair for CSI, and I've never had long hair before. If you google me, I always have really crazy and short hairstyles so I'm really enjoying this long hair and the undercut. I'll probably stick with this look for a while."
Is that kind of your favorite beauty look that you've had?    
"I've loved them all. I really love my blonde hair—that was probably one of my favorites because I've always wanted to go bleach blonde and I'm loving it. I'm loving it until my hair falls out, and then I'll shave my head."
What is the inspiration behind your own music?   
"The inspiration was really just to do something that I loved and something that I believed in. I think as an artist you're just trying to find your sound and wanting validation from others and so last year when I left my management and I had no new music, no team, no nothing, I flew out to London, and I just wrote what I felt. I found this happy medium of heavy beats, but also dizzy harmonic melodies on top. It was bringing a little bit of everything I loved together. And it was also about finally discovering who I am."
In your career, or maybe not, what's the scariest thing you've ever done?    
"I've gone skydiving twice, and I'm obsessed. My friend called me and he was like, 'We're going skydiving.' I usually don't go on any roller coasters ever, or stand at a ledge, or anything, but I jumped out of a plane and it was the most exhilarating, eye-opening experience ever, so I went again."