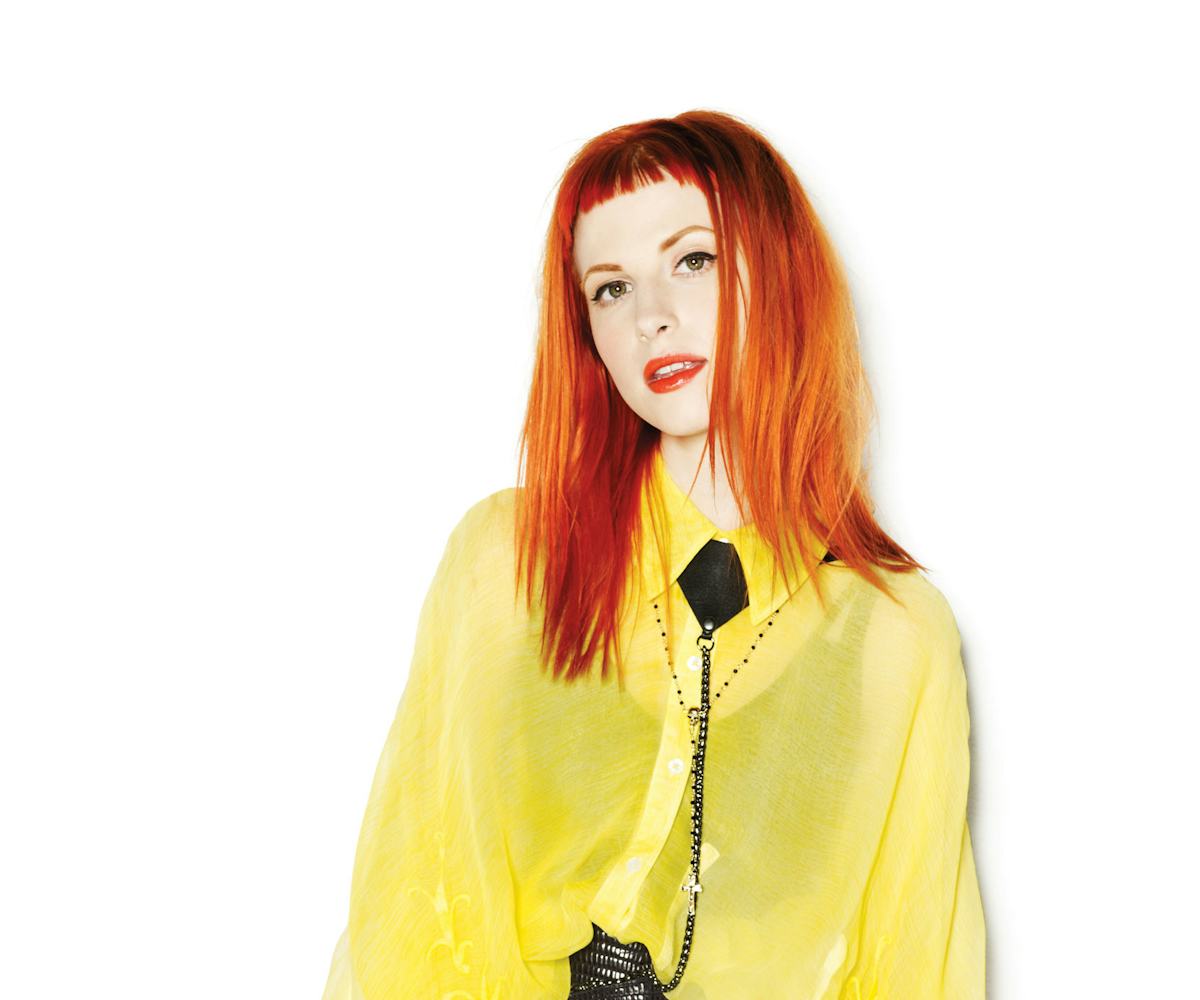 the insider: hayley williams
"This moment clicked with us where it's like, if we love it it doesn't matter what other people think."
When we put Paramore's Hayley Williams on our cover April 2013, we had a feeling that the band's four album would be big. But we didn't realize it was going to be this big: Paramore was their first album to debut on the Billboard charts at number one,  the track "Still Into You" reached the top 10 on the pop charts, and the band has reached perhaps the holy grail of live performance--that's right, they're playing Madison Square Garden this fall as part of a 26-city, mega US tour that kicks off tomorrow. So we had to check in and see how the past six months have been for the flame-haired frontwoman. Keep reading for Williams' take on joining Katy Perry on the charts, writing new songs, and going underwear shopping pre-tour.
Hey Hayley, how's it going?
Good, I'm getting ready for the day--we're writing today!
Wow, that's quick--you're about to go on tour to promote Paramore but are already working on new music?
I definitely think we're diving into it. Taylor has been writing, I've been covert writing in my journal. I had been listening to stuff he's been making, his tracks and guitar things, and it was super-inspiring so I just thought, Why not go with it?!
So this isn't usual for the band?
I feel like we never do that! We generally don't write for three years--we're on tour and then we start again once we stop promoting that album. This is definitely crazy for us, but to me I don't know why we've never write in the middle of the cycle. I think Taylor is the first one of us who has just gone for it--it's gotten me into the mode to really feel inspired; this whole new era of our band's so different.
Meanwhile, the album is still doing so well--joining the likes of Katy Perry and Jay-Z in the top 10 on the pop charts. Is it strange to be in the same league now as these major music figures?
Yeah a little bit. It feels amazing to be a band from the world we come from, and be a band in the pop world. I don't think we as a band identify with any of the other artists that are usually considered mainstream artists. It's so much fun. I don't think we're not one of those bands anymore,, that we're too good for it, or embarrassed by any kind of commercial success; we totally love it and it's been so much fun and gotten so many different opportunities because of the album's success. It's definitely crazy; I never in a million years would have thought you'd see our name next to those artists, it's just so cool.
What's been the biggest surprise this cycle?
Well, I've gotten to do the NYLON cover and other magazine covers that were really, really cool. Things that, as a woman, I feel really proud of. We got to play the Teen Choice Awards, and it was so cool to see a room full of kids who care about music; they're not the sorts of things you imagine when you're playing in a band in your garage.
Why do you think it's been different with this album?
The craziest part of this record, for us, was in the beginning we felt a tremendous amount of pressure. It was super scary. 'What are we going to do, we haven't put out a record in two and a half years?!' And this moment clicked with us where it's like, if we love it it doesn't matter what other people think, we just have to be proud of what we do. I don't know why it didn't click earlier, but that's just life. And since then we've had so much more fun. Sometimes it doesn't go as you want, there are always obstacles, but the difference is now the three of us work together so much more happily and so much more open-minded, it's made for such a better band.
The band embarks on a major tour tomorrow--how do you get ready for a long run on the road?
I always make an excuse that I need to buy more underwear or bras, and I spend way too much money on nice underwear--which is so stupid because when you're on the road you're the grimmiest person around. I always go to Target before a tour, and I definitely get my hair done. Brian O'Connor has literally been dying my hair since I was 17--I met him at a salon in Nashville and now he's going on the road with us and doing my hair and makeup. He's literally one of the most talented people I know
What beauty stuff does he always bring along for you?
I have my kit and he has his--and mine is obviously way smaller, but I really love to do makeup. I save it for offstage, when we go to a fancy dinner--every two weeks we do a big, fancy dinner with our whole crew. I'm just obsessed with this company called SW Basics of Brooklyn, and they make everything out of their kitchen. I'm obsessed with their scrub. I think I'm really obsessed with skin, and I started having skin problems once I started wearing more makeup for Paramore; my skin's really fair so it drove me really crazy. Even to this day I still look up new products on different blogs. There's a blog called Well and Good NYC and No More Dirty Looks, they're two of my favorites.