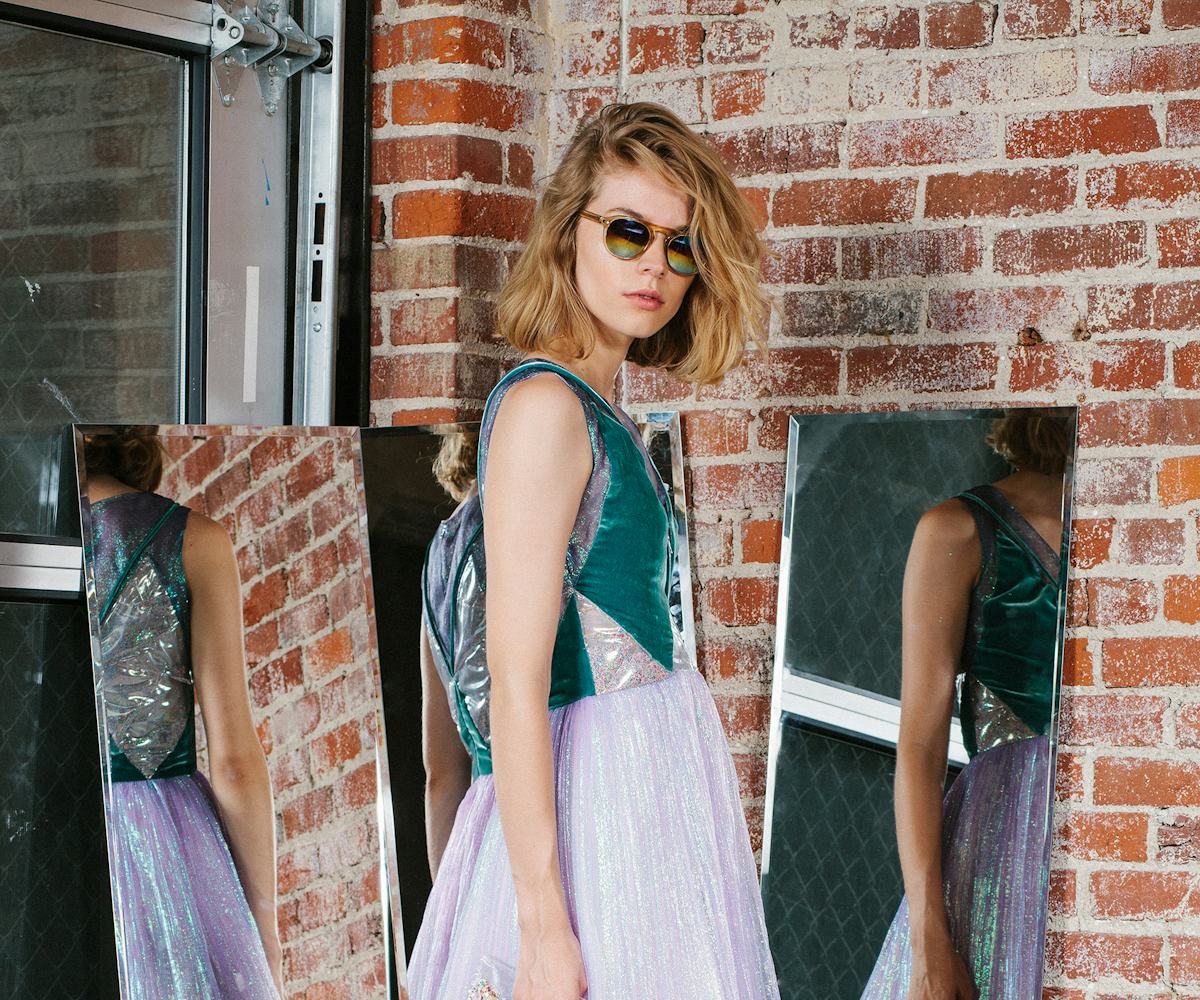 haber spring/summer '15 lookbook
the ultimate fairy-dusted dark party.
It seems like these days (with Instagram and Twitter) discovering new brands is as easy as seeing who your go-to faves are already following. Such is the case with Haber, the LA-based brand designed by Heather Haber, who I came to know of thanks to NYLON Shop fave illustrator, Ashkahn. It wasn't until the fashion brand's designer and founder Heather Haber sent me a piece of her new collection, that I realized just what I had discovered--a glitter-y wonderland of fairy-dusted darkness (in the best way possible). What Heather had sent me were here seriously awesome cardholders--teeny tiny plastic envelopes filled with stars and shimmer that make your business card, subway card, and any other three-by-five papers look like they twirled down from a spaceship stationed in the Milky Way (also Haber's first-ever accessory).
Even better, though, (yes, even better than a galactic cardholder) is the fact that Haber has hooked us up with the lookbook for her latest collection. NYLON readers, say hello to Haber spring/summer '15--the goth Tinkerbell ball you've been waiting for (with an amazingly creepy video to match).
"Clouzot" = metallic gold and silver circle embroidery + black satin organza ruffles + black silk chiffon + black satin organza double-layer skirt + zip down dress
"Chaun" = black silk velvet + metallic gold and silver circle embroidery + satin organza + bias cut trim with edging + zip down dress
"Odette" = vintage black silk tulle + velvet polka dots + triple layer silk organza with pleating + moire ribbon + Swarovski crystals + zip down dress
"Henri" = black and white beaded future fabric + black silk velvet + vintage black silk tulle + velvet polka dots inset + black and white twisted piping + black and white pleated chiffon + white satin organza double layer skirt + zip down dress
"Blanchette" = black and white beaded future fabric + glitter vinyl + sheer white laser cut tiny polka dot pleated organza + white chiffon double layer skirt with black edging + black silk lining + zip down dress
"Winding" = multi colored iridescent sweetheart neckline + fuzzy navy merino wool + zip down dress
"Romy" = multi-colored fuzzy merino wool + amber iridescent velvet piping + zip down coat dress
"Inferno" = iridescent with glitter vinyl + v-neck turquoise silk velvet + lavender sea green iridescent pleated skirt + zip down dress
"Thirard" = hand-woven, patterned wool + hand-embellished plastic flowers and Swarovski crystals + petal pink satin organza ruffles + sweetheart neckline + micro thin double straps + ballerina pink pleated skirt + zip down dress
"Cantal" = white lace + sunset orange thread layered with ballerina pink silk chiffon + ballerina pink and sunset orange silk chiffon double layered ruffles + white silk gauze sunburst + pleated triple layer skirt + zip down dress