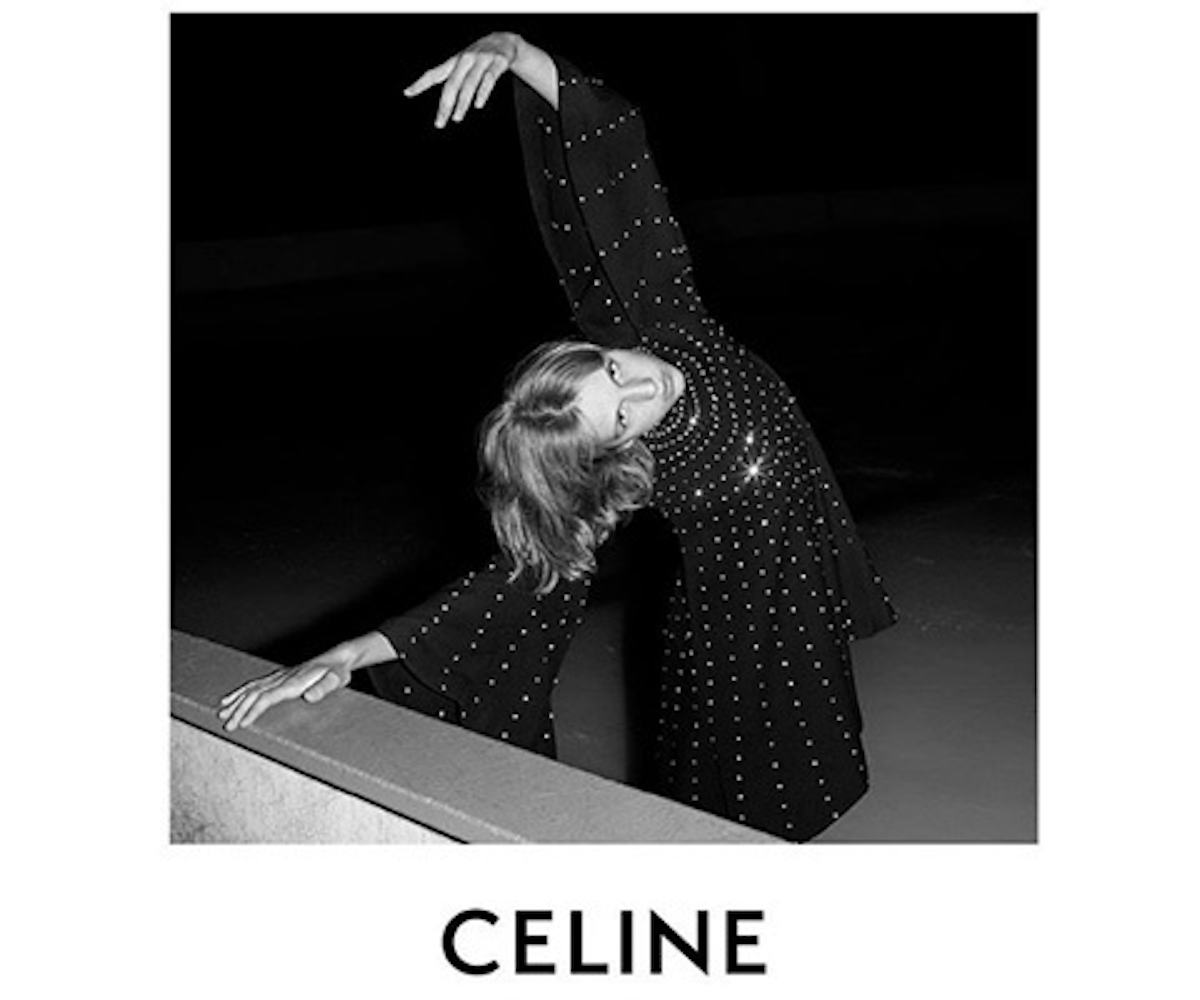 Photo via @celine Instagram
Hedi Slimane's First Collection For Celine Is Here
Yes, we mean Celine, not Céline
Possibly one of the most anticipated collections at Paris Fashion Week was supposed to be Hedi Slimane's debut collection at French fashion house, Celine.
Last December, it was announced that British fashion designer Phoebe Philo—who is responsible for transforming Céline into a sophisticated, minimalist brand favorited by tastemakers around the world—would be leaving the label after ten years. Her last collection would be Fall 2018, and internal design teams would be responsible for future collections until a new creative director was settled in.
Then, a month later, it was announced that Slimane would be taking over, and the world wondered what would happen to the Céline they knew and loved. People were skeptical, to say the least. They loved what he did at Saint Laurent, but how would an L.A.-based designer known for his rock 'n' roll aesthetic reinterpret Philo's Parisian vision?
Up until a recent interview with French newspaper Le Figaro, we really had no idea what the brand would look like under Slimane's direction. We knew that he would be introducing menswear, couture, and fragrance to the brand's repertoire, and that he was dropping the accent mark off of the e. We also got a sneak peek at two bags, one carried by Lady Gaga back in August, and one shown on the brand's Instagram just days ago, which draws inspiration from original Céline designs from the '70s and '80s. But, apart from a recent Instagram of a figure skater, we didn't see much in terms of clothing.
And then, yesterday evening, Slimane debuted his first Celine collection, and it looked a lot more like Saint Laurent than traditional Céline: Present were '80s-inspired lamé frocks, leather moto jackets, tailored suiting for men, and sequins galore. Gone were the Parisian-chic oversized everything, the sculptural shoes, and Céline's neutral color palette dotted with pops of vivid brights.
We don't think anyone was expecting, or wanting, Slimane to keep Celine exactly as it was, but the switch did leave many fans of the brand unhappy. However, as Slimane told Le Figaro (via a translation by Business of Fashion): "Our respective styles are identifiable and very different. Our vision is naturally distinct. Besides, you don't enter a fashion house to imitate the work of your predecessor, much less to take over the essence of their work, their codes and elements of their language. The goal is not to go the opposite way of their work either. It would be a misinterpretation. Respect is to preserve the integrity of everyone, to recognize things that belong to another person with honesty and discernment." But was it too far off from Philo's Céline?
More importantly, out of the 96 looks, only a handful of them were modeled by POC. For a show as buzzy as this one—in 2018, no less—we expected better.
While the clothes are undeniably beautiful and exude the rock 'n' roll chic that Slimane cultivated for four years at Saint Laurent, it's, sadly, no Céline.