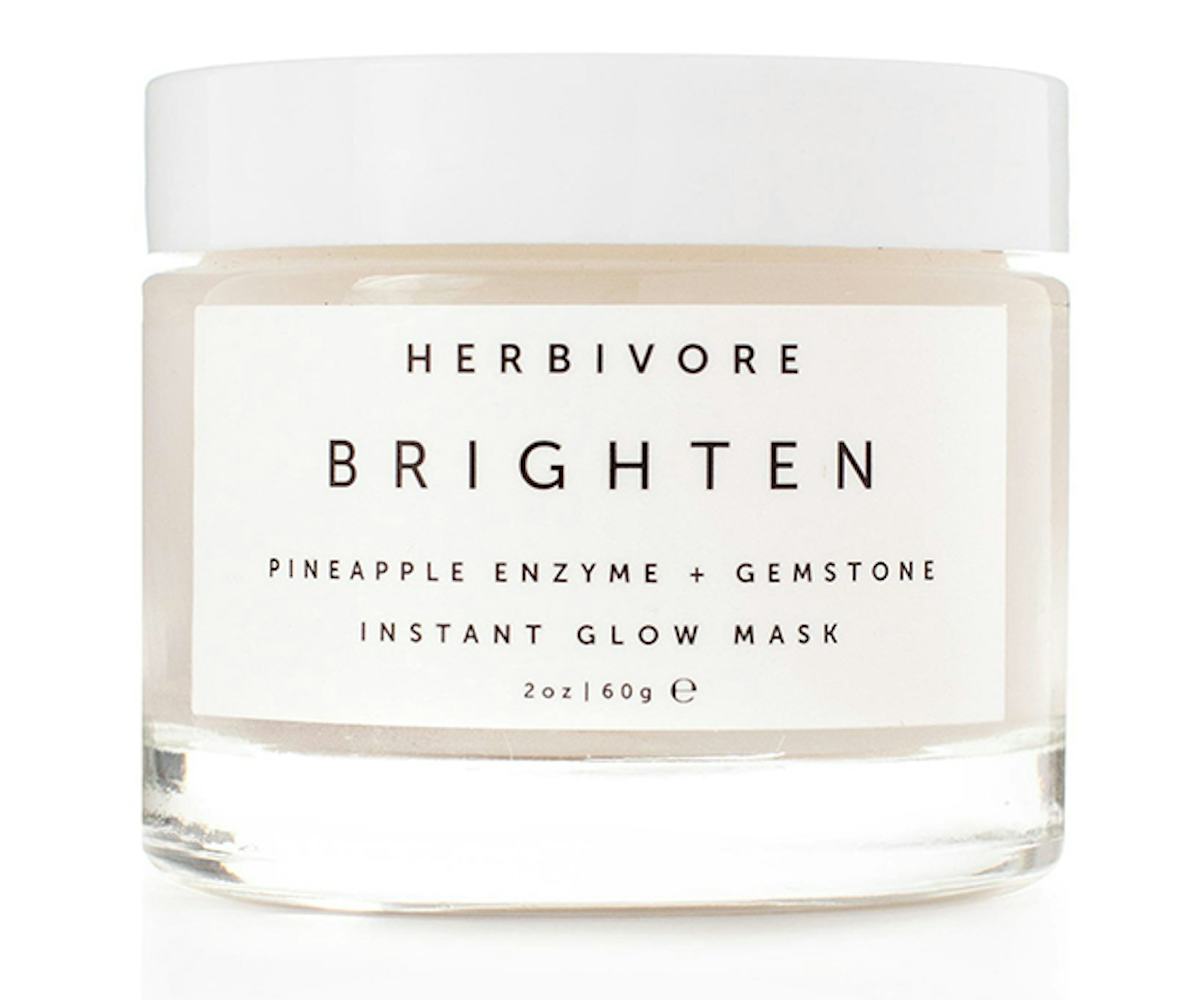 Photo courtesy of Herbivore.
Wake Up Your Sad, Winter Skin With Herbivore's Pineapple Enzyme and Gemstone Mask
all the fruit intake that you'll need
Herbivore is a skin care line that uses only the most natural ingredients. Founders (and quite possibly the most adorable couple, ever) Julia Wills and Alex Kummerow use plant-based food-grade cold-pressed oils, therapeutic-grade essential oils, GMO-free soy wax, and many other certified organic ingredients to create their extensive skin collection, comprised of a range of products—from body scrubs and face masks to beard tonic and lip butters. Even the packaging is recyclable and reusable. 
While I've been curious to try out their products for some time now, one of them in particular spoke to me—their Brighten mask, made with pineapple enzyme and gemstone (who could it not speak to me?!). Although spring is just around the corner, the winter months have been really tough on my skin. My wind-battered face has weathered the coldest of temperatures, and I certainly needed a little boost in the facial department. I tried it out right before going on a date because I wanted to look my best (or at least, you know, alive). 
While there was a slight tingling (which the directions warn you about), I experienced no irritation at all. It smelled lovely. After 20 minutes, when the mask had mostly dried and started to peel off on its own, I washed my face and was pleased to see that my skin did have a new glow to it—I looked fresh-faced and awake, and my skin felt smooth and hydrated. Even after I had applied makeup before going out, and washed my face prior bed, my skin was still hydrated and bright the next morning. 
Thank you, Herbivore, thank you. 
While it certainly costs more than your average mask (it retails for $48), it's well worth the investment. Not only can you be assured you're putting the purest ingredients on your face, it actually works. I'll definitely continue using this well into the summer months to keep my skin looking bright and healthy, and certainly plan on trying out more of their products. You can purchase the Brighten mask here.