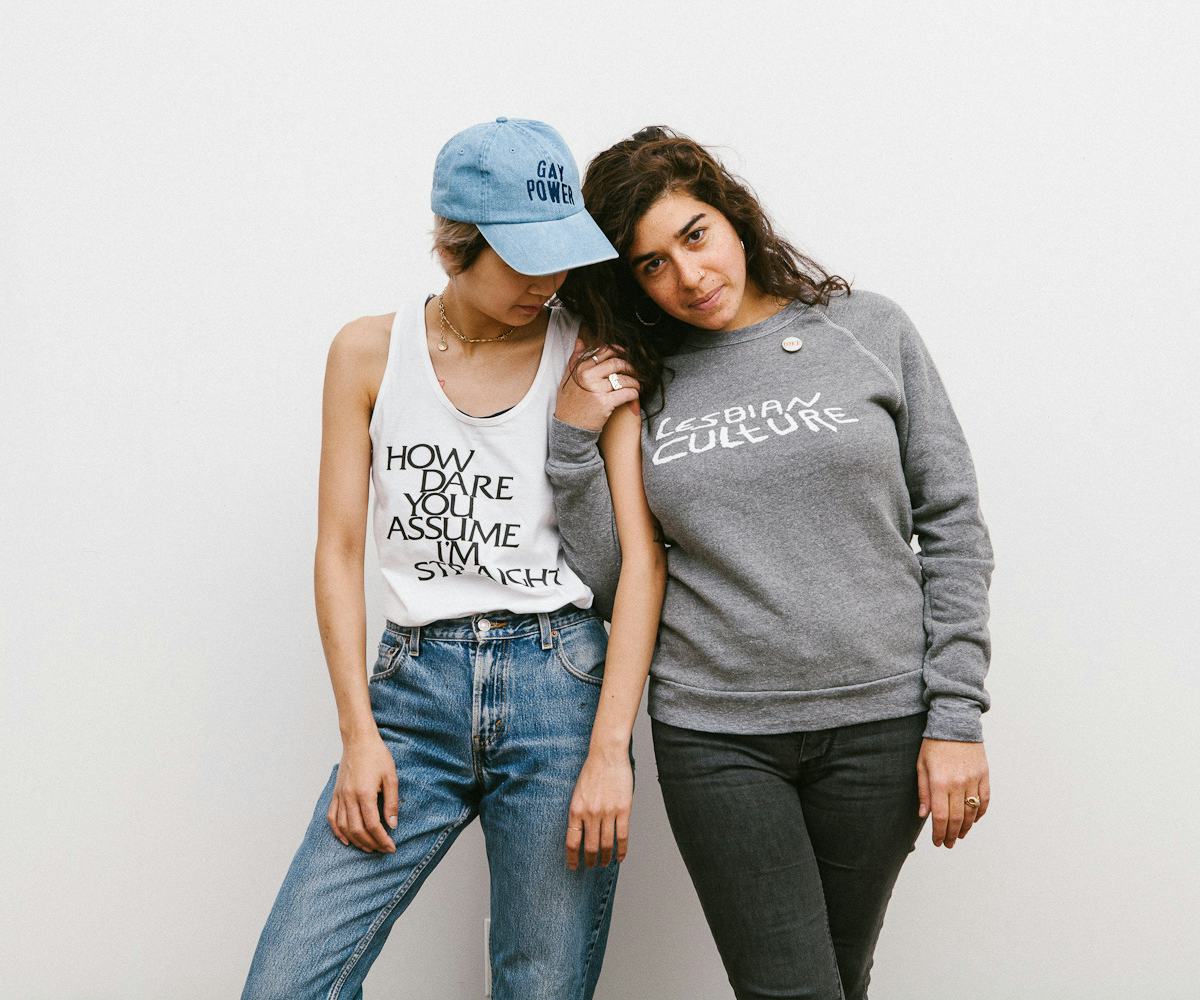 Photo courtesy of Herstory.
Herstory And Otherwild Just Launched A Lesbian Clothing Line
and it's all about empowerment
Another day, another step in the right direction for the future of women. L.A.-based studio and community center Otherwild has collaborated with Instagram handle Herstory to create a powerful new clothing line focused on lesbian empowerment.
Inspired by the pro-lesbian photos curated on the Herstory feed, the two brands created a collection focused on raising awareness and creating products people "feel proud to wear." Kelly Rakowski, founder of the Herstory account, told Mashable, "We want to continue to honor the messages created and voiced by the lesbians and gays of the '60s, '70s, and '80s by making a collection of wears for the community today." 
The collab, called Otherwild x Herstory, features four products: a denim baseball cap, a sweatshirt, a tank top, and a pin, all with empowering slogans such as "gay power" and "how dare you assume I'm straight." Ranging from $12 to $60 a pop, the four-piece collection is available to shop online right now. Otherwild, who are known for their successful "The Future Is Female" T-shirt, was an obvious choice for Rakowski to work with, when she realized she wanted to start a line based around the photos she's curated over the years.
Ten percent of sale proceeds will go to the Lesbian Herstory Archives in Park Slope, Brooklyn, who are planning a new collaboration this spring. Click through the gallery below for a closer look.
Otherwild x Herstory, Lesbian Culture Sweatshirt, $60, available at Herstory.
Otherwild x Herstory, How Dare You Assume I'm Straight Tank Top, $36, available at Herstory.
Otherwild x Herstory, Gay Power Denim Cap, $45, available at Herstory.
Otherwild x Herstory, Dyke Pin, $12, available at Herstory.