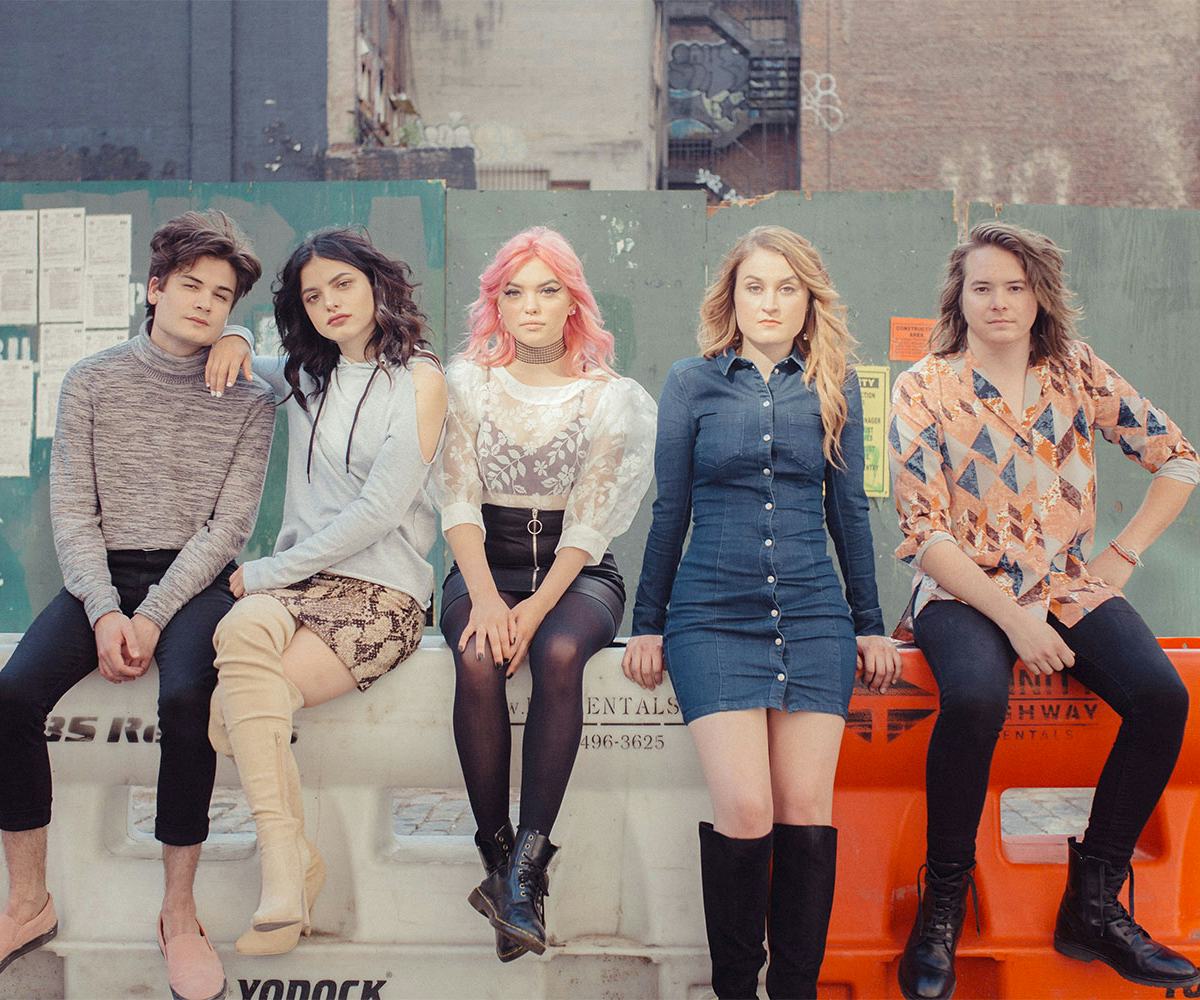 Photographed by Elizabeth Wirija.
Hey Violet Make Outsider Pop, Have A Surprising One Direction Connection
Debut album 'From the Outside' is available now
Hey Violet's lead singer Rena Lovelis may only be 19, but she's been in a band for almost half her life. "We want to be one of the biggest bands in the world," she says.
It's something that's becoming more and more likely for Rena and her bandmates, especially since their single "Guys My Age" has more than 25 million streams now. It was only a few years ago that the (now) five-piece was a quartet known as Cherri Bomb, a burgeoning rock band, and opening for acts like Foo Fighters, The Smashing Pumpkins, and Bush. 
But in 2015, Rena, along with her sister Nia, Miranda Miller, Iain Shipp, and Casey Moreta announced a name change and decided to leave their pop-punk roots behind. Signing to 5 Seconds of Summer's imprint Hi or Hey Records gave the group a chance to reassess things. "I don't know if we rebranded," says Rena. "I think we definitely evolved and grew to be the musicians we need to be—to have the sound we wanted, the lyrics we wanted to sing about, and the message we wanted to [put out]." 
Over the past two years, Hey Violet released two EPs solidifying their transition out of the "punk" realm and into an "alt-pop" ("not bubblegum pop") sound. With their debut album, From the Outside, they've landed in territory similar to vintage Paramore, Letters to Cleo, and The Donnas. However, the 12-track LP delves into darker dance-pop territory as Rena and Co. explore the many different sides of love, with an assist from One Direction songwriter and producer Julian Bunetta. Hey Violet began working with Bunetta—who has proved instrumental to shaping their sound—a year and a half before the record came out. "We would basically go into [Julian's] studio in Malibu and write what was on our minds," says Rena. "If we were talking and something came up, where someone wanted to talk or sing about something in their lives, we'd talk about it." 
The sonic transformation comes from the band's desire to show the different perspectives of relationships and how they can be vastly misunderstood. "We pick apart a lot of these different things in our lives, like the good, bad, and desperate sides of love," Rena explains. "I feel like From the Outside is really a love album." The L.A. quintet took their album title from their dreamy, electro-pop song, "Where Have You Been (All My Night)," but the album title means something completely different than what you might think. "[For us], the album title means that you look at your life from the outside and see a lot of these different perspectives of your love life and relationships, and that's what we like to do as a band," she explains.
On From the Outside, Hey Violet's experimentation with haunting, synth-heavy melodies is used to lyrically explore young adulthood, a musical journey influenced by everything from St. Vincent to Melanie Martinez and No Doubt. "With 'Guys My Age' and 'Break My Heart,' we went even more in the direction of using synth-heavy parts and relying on Miranda's role in the band," Rena says. "It was us experimenting because pop is such a general term—it could incorporate thousands of different genres," she adds. "[The album] had this blank canvas that we could write all over and somehow make different genres sound cohesive." Throughout the album, the band comes of age with Rena's candy-coated vocals calling out all the fuckbois ("Fuqboi") and immature guys they've dated ("Guys My Age"), while also embracing their own eccentricities ("O.D.D.") and perfecting the breakup anthem ("Break My Heart"). 
Hey Violet have recently entered a more mature part of their lives, but it wasn't so long ago that they were facing the many hurdles and stereotypes of being young and in a band. "We experienced both sexism and ageism because we were so young [when we started]," says Rena. "People would say, 'Oh, you played this well for a girl.' Does that mean, girls can't play bass? No. I play well for a person. I catch on really quickly, and I can outplay a lot of guys my age." 
Unfortunately, like a lot of female-led bands, Hey Violet has experienced the sexist undertones of the music industry. And with their dedication to their fans, they read all their comments and letters. "I think, for the most part, if someone is being sexist toward us, we'll address it in a way that is mature and not petty, or we just ignore it, because unfortunately if you responded to every troll out there, people would be like, 'We just want to get their attention so I'm just gonna say something mean,'" adds Rena. 
But as they enter a new phase in their lives and careers, they're tuning out the negativity and embracing the bonds it can create. "Fans have come up to us saying we helped them not self-harm anymore or be clean for X amount of months or years," Rena confesses. "One of the most special things for me is that music can be so powerful to help keep someone strong. It's not that we help someone be strong, it's that they find the strength in our music and through our lyrics."
While the band hopes to headline Madison Square Garden one day, they're currently only focused on making a difference in fans' lives. "Boy, girl, or anything in between, you can just be the person you want to be," says Rena. "Hopefully we inspire people to do just that."
From the Outside is available for purchase now, and premiering below is the lyric video for "Hoodie," an electropop gem that chronicles the fallout of a relationship; when all you're left with is a piece of your ex's clothing. "It's so easy to make lyric videos cheesy, so [we decided] if it's gonna be cheesy, we want to embrace it being that," says Rena. 
See Hey Violet embrace the cheesiness in their karaoke style-themed visual, below.