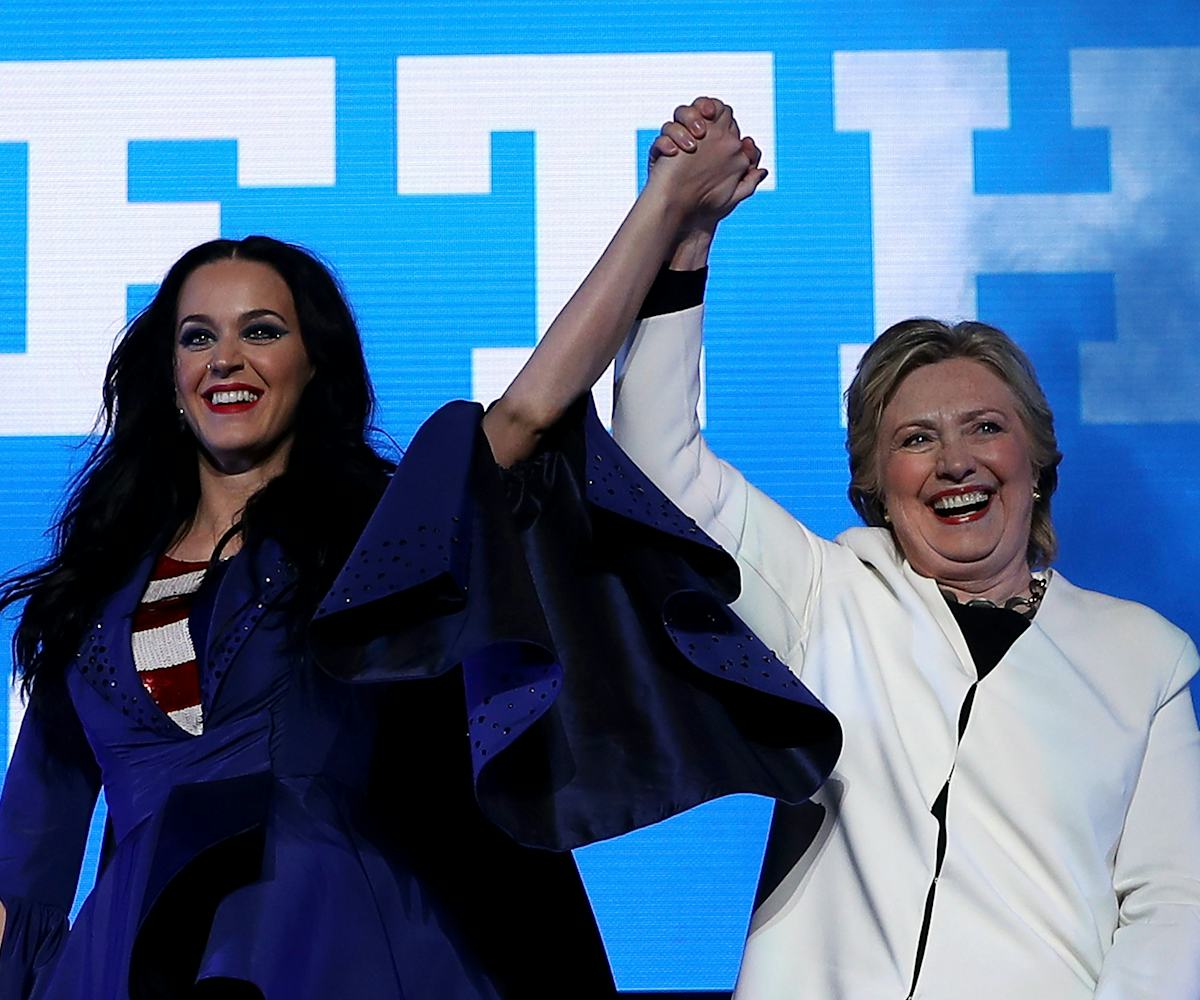 Photo by Justin Sullivan/Getty Images
Hillary Clinton Surprised Katy Perry In The Best Way
Watching the friendship between Hillary Clinton and Katy Perry blossom has been one of the many highlights of 2016. Even though the election results didn't fall in their favor, that doesn't mean that this is the end of their special union. Last night, Clinton made a public appearance at UNICEF's annual Snowflake Ball, hosted by Octavia Spencer, to honor her famous friend for all of her unwavering support throughout the campaign.
"On a personal level, I cannot tell you how delighted I am to be here to help celebrate a global megastar, a social media queen with the most Twitter followers in the world—although she's getting some competition—and someone whose powerful voice and creative lyrics remind us when you get knocked down to get back up," said Clinton. "I have seen Katy's commitment to the causes she believes in firsthand." She continued:
I've gotten to spend time with her, and I know how deeply she cares about making our world a better place. She is serious about understanding the complex problems we face and pulling people together to solve them. We need champions like Katy now more than ever: her passion, her energy and, yes, her voice, louder than a lion.
There's nothing we love more than watching Clinton make a "Roar" reference in front of a crowd at a fancy event, but this was a big moment for the pop star. Perry has served as an ambassador for the organization since 2013. At the gala, she was presented with the Audrey Hepburn Humanitarian Award. Perry's parents and boyfriend, Orlando Bloom, were also in attendance to watch her accept the award.
After Clinton left the stage, Perry took a moment to sing her praises about the politician. (Not literally, figuratively people.)
"I've always had a voice—a singing voice—but I've never had a voice like I've had before," she said. "Hillary has lit that voice inside of me, and that light will never go out, it will continue to get brighter and brighter and brighter. Thank you, Hillary. You motivate me and so many millions of people. We appreciate you for your incredible work and your heart."
She adds, "Truly, my work has only just begun, and this award is not a finish line, but a starting line. It will be constant reminder to get back in the field and shine my spotlight on where it matters most."
We're not crying, you are! If you want to watch the ladies make some Trump digs together, please proceed to the wonderful world of Twitter.