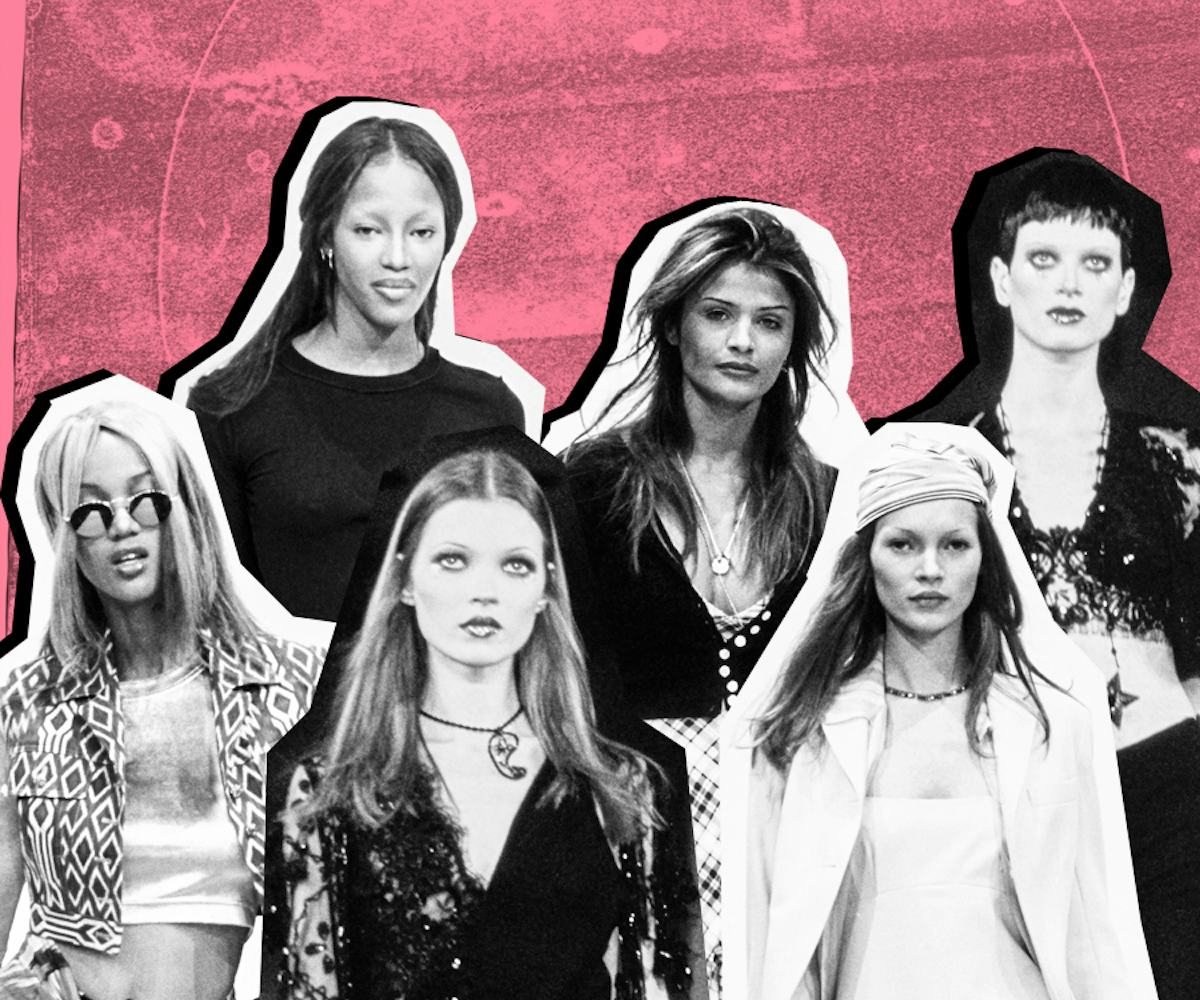 Images Courtesy of Perry Ellis/Anna Sui
Can Grunge Still Be Considered Grunge?
Looking at the history of grunge + its commercialization
Since the term "grunge" was first coined by Seattle's Sub Pop Records in 1988, there have been countless iterations of the once-subculture. There was, of course, the original, intended grunge, then its high-fashion iteration, its packaged, mass market duplication, and its hipster reappropriation. Now, we're left with what is best described as "neo-grunge," a watered-down version of both the intention and ingenuity of its predecessors. And while there's certainly nothing wrong with throwing on a flannel or old, dingy denim jacket, the idea of grunge as a symbol of alternative interests is long gone.
If you know anything about the origins of the movement, you know that grunge style should have never happened. The term was simply a way to describe the intentional DIY distorted rock coming out of the Pacific northwest. Bands that fell under the genre, like Nirvana and Pearl Jam, shopped at thrift shops and went weeks without washing their hair. And, as with any commercialized good, these bands' look became synonymous with their music, and their physical style became intertwined with their sonic musings. With their success came idolization of their sound, behavior, and fashion sensibilities. The later was the easiest to recreate, and so young people across America began to do so.
Quickly enough, it seeped into the upper class—who were the very antithesis of the those who started the movement. Money could buy you its style, and even if grunge bands had seven-figure bank accounts, they probably wouldn't have cared enough to spend their money getting it. (While "Smells Like Teen Spirit" rose to the top of the charts, Sub Pop founder, Jonathan Poneman, described Nirvana's members as "dirt poor" to New York Times.) 
When Anna Sui, Christian Francis Roth, and Perry Ellis sent skullcaps, mismatched patterns, and granny dresses down the runway in '93, they were chastised by the industry and slammed by critics. While Marc Jacobs was infamously fired from his design position at Perry Ellis as a result, the collections finally forced Vogue—and in turn, the public—to acknowledge the movement's impact on fashion in a legendary editorial by Steven Meisel. While now widely considered as some of the major cultural signifiers of grunge, the fact of the matter is that the collections were merely an echo of the grunge movement. As fashion critic Cathy Horyn commented in a story about grunge's presence on the Spring/Summer '93 runway for Washington Post, "Call it boho, grunge or deja vu all over again, but the new look for spring is chaotic, contrived and so encumbered with cultural significance that even the most astute follower of fashion will find herself wondering if she's supposed to look like Courtney Love or Nicole Diver... Rarely has slovenliness looked so self-conscious, or commanded so high a price." Still, tied-round-the-waist silk shirts and chiffon babydoll dresses sold, as did their fast fashion offsprings. 
Since then, so-called "grunge" style has become the sartorial comeback kid. Now, one of the easiest ways to sell a collection is by styling it down and offering counterintuitively expensive items like distressed flannels and tattered jeans. It's, after all, what made Urban Outfitters so profitable. It's what has allowed struggling college students to move through life "looking" like the struggling artists they wish themselves to be. It's certainly a stylistic expression, but it is one that doesn't allow for individuality. When a subculture is adopted by the mainstream, it inherently loses its alternative nature, and its authenticity becomes lost to time. 
Anna Wintour famously gave Taylor Swift a "grunge" makeover for the May cover of Vogue. Along with a bleached 'do, styled to look perfectly wavy and undone, Wintour also consulted with the pop star to create a wardrobe filled with vintage slip dresses from Sui's aforementioned '93 collection, heeled combat boots, and leather jackets. A total departure from her previous country style, at first glance it seemed like an entirely new Swift. In reality, though, she was the same girl next door: beautiful, sweet, and prone to following trends. 
The idea of grunge will probably always remain somewhat threatening to traditional standards of beauty, style, and art because it never intended to give into them. But no matter how much a Dr. Martens boot and an unfinished, ripped hem may offend your grandmother, it will never truly challenge the status quo—its commercial success made sure to squash any possibility of that. Neo-grunge has become the norm, and will remain so until some other subculture rises to take its place.