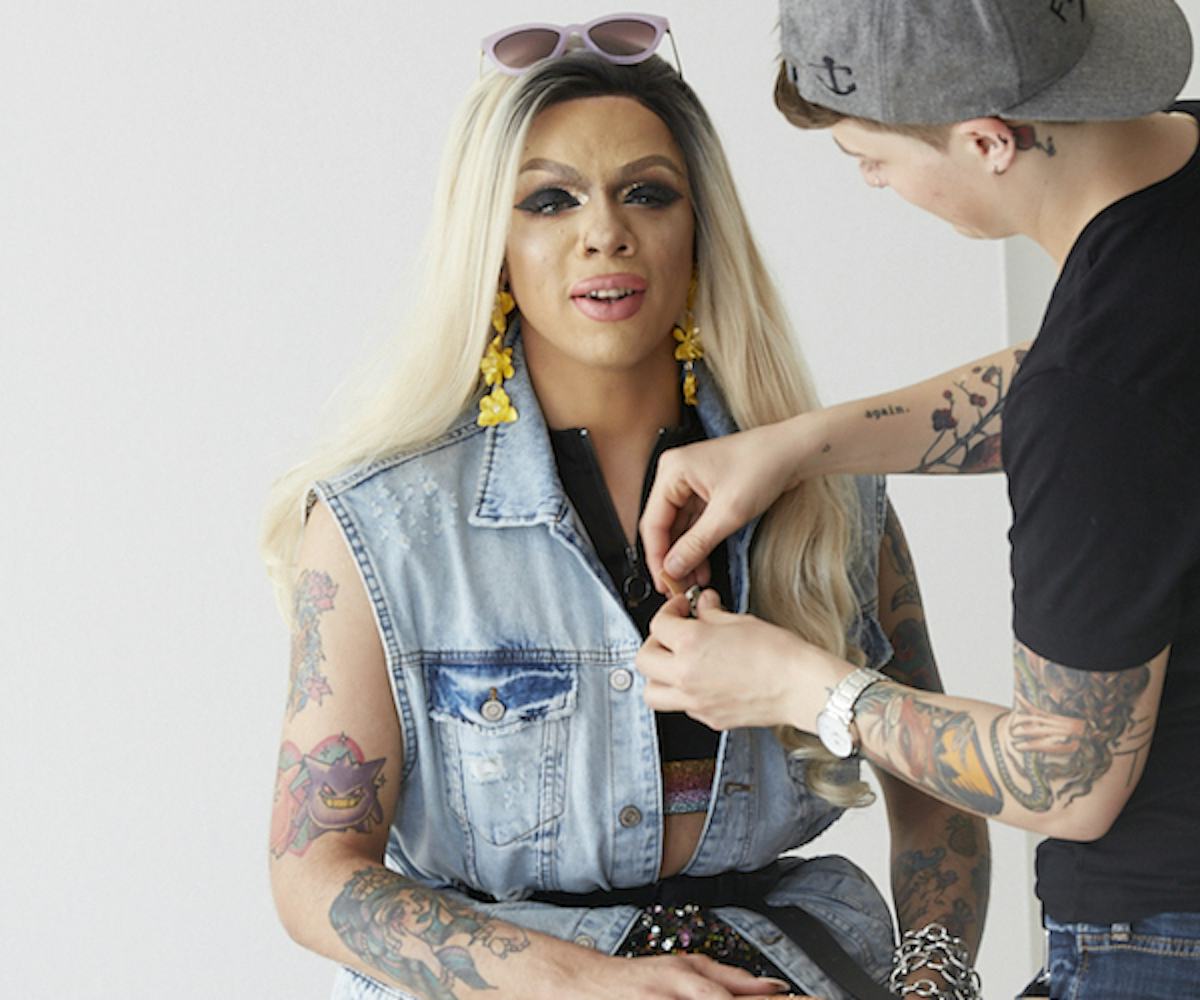 Photo courtesy of H&M
Aja Is The Face Of H&M's New Pride OUT Loud Campaign
"True happiness is found in just being able to be yourself"
Pride Month is approaching, and H&M is gearing up to drop a brand-new collection to celebrate.
Teaming up with OUT magazine, the brand's colorful new range of clothing and accessories is backed up with a killer Pride OUT Loud campaign starring some of today's biggest LGBTQIA icons, including none other than RuPaul's Drag Race star (and NYLON fave) Aja. We caught up with her to chat about her involvement in the new project.
"Everything about this project is important to me," she says. "Self-expression, breaking binaries, and, overall, just educating people on how to truly be happy. True happiness is found in just being able to be yourself."
Being such an iconic performer and aspiring rapper—and one of the youngest to ever compete on Drag Race—it's no wonder that H&M would tap her to be part of this inspiring new project. "It's important to have young representation in the drag community as well as the queer community because it offers a different perspective. A lot of things have changed over the last 20 years, and things are nonstop changing."
For her, fashion is way more than a means of dressing herself—it's a means of self-expression. "Fashion defines my character," she says. It's only natural that she would be representing a collection that not only allows others to experiment with color and style, but also to truly express and take pride in themselves. "This campaign gives so much visibility to the queer community and truly diminishes the idea of gender norms. One of the greatest things is being able to express yourself and wear whatever you want. This collection gives you that power!"
The range aims to spread a message of global love, equality, and self-expression, incorporating rainbows and pastels into streetwear-inspired pieces with a '70s nod. You'll find graphic print tees and sweatshirts, rainbow cuffed tracksuits, athleisure crop tops, and more. Aja's fave? A lavender sweatshirt that reads "Lover Not A Fighter," "because a lot of us in the community are not fighters, we just want to be heard."
Most importantly, H&M is giving back, too. Ten percent of global sales from the collection will be going toward the United Nations Human Rights Office UN Free & Equal campaign.
Considering the current political climate, it's vital that bigger brands with such a global reach make an effort to show support. "I think it's very important for brands like H&M to celebrate Pride and to give back to the community, because a lot of people may not realize that a lot of clothing brands actually support anti-LGBTQ movements. It's crucial to know where your money is going," she says. "Being inclusive of these communities allows customers of all kinds to truly enjoy the clothing."
Well, we know what we'll be wearing to all of this year's Pride celebrations! Whether you're hitting your city's parade, hanging with friends, or party hopping all over the world like Aja, there's a little something for everyone. The collection drops on May 31 online and in select stores. Check out the full campaign, below.