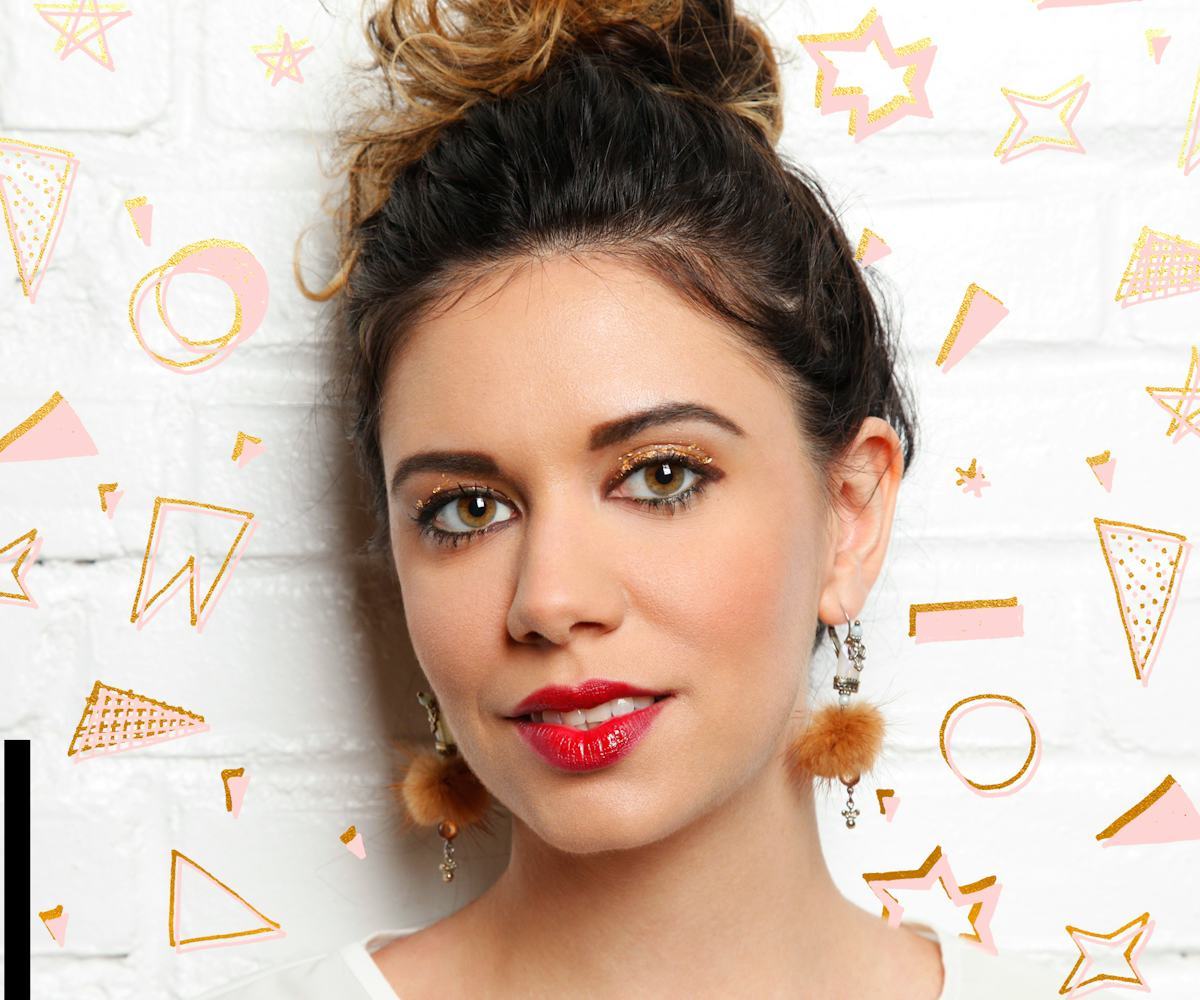 photographed by Erin Yamagata
all the edgy, sparkly holiday beauty inspo you need
leave your go-to look in 2014.
Holiday feelings exist on a spectrum that ranges from sparkly excitement to icy indifference. Regardless of where you fall, though, it's hard to get around the fact that one way or another, you're going to have to get dressed up for something, at some point. Whether it's your best friend's annual NYE rave or your office's inevitably awkward holiday happy hour, those winter-perfect sweatpants just won't do. Sorry.
So, if you're throwing on something nice, your beauty look might as well follow suit. That doesn't mean you have to look like everyone else, though. Leave your go-to red-lipstick-cat-eye combo in 2014: With the help of makeup artist Janessa Paré, we came up with looks that are new and different, infusing a healthy dose of rebel grrl into your festive-beauty game. And, we shot the looks on our editors to prove that you don't have to be a model/actress/DJ to pull them off. 
Read on for your glittery, edgy inspo.
Makeup by Janessa Paré; Hair by Aziza Rasulova and Corrinn Dinan of Arrojo Salon; Photographed by Erin Yamagata; Modeled by senior editor Busra Erkara, customer service coordinator Hawa Bello, and senior editor Gabrielle Korn. 
The Green Scene
In a rush? This one-shadow statement eye is all you need to look party-ready. The best part: Janessa says this'll work on any skin tone, since bold colors like green stand out on everyone. "Let's be honest," she says. "Green is a love-or-hate color, but since our model has yellow-green eyes, it looks awesome on her."
Once you pick a bold color you love, swipe it across the whole lid. Then, trace a line around your whole eye. We skipped mascara for a straight-off-the-runway vibe, but feel free to add it in if you want the extra definition. Dab on a soft cheek stain and a touch of lip gloss to polish it off. 
And, for a cool-girl twist on fancy hair, try this double-braided undercut. Simply make a deep side part  and then create two skinny French braids along your head. To get the hair that's left to have extra volume and texture, spray it with dry shampoo. Finish with a dry conditioner, which will put the shine back in. 
Finally, throw on a festive earring (we think just one is enough), and you're good to go.
Make Up For Ever Aqua Cream in Emerald Green, $23; Tarte Cheek Stain in Tipsy; Arrojo ReFinish Dry Shampoo, $17; Arrojo Refresh Dry Conditioner, $22. 
Clean Eyes, Deep Lips, Can't Lose
A great way to show off your eye shape is by using contrasting cream eyeshadow colors in clean, contoured shapes. Janessa used a light color across the whole lid, and then applied a darker color between the crease and the brow bone. Don't blend the two colors, just have them meet. "For a moodier look, take that same darker color and shade the lower lash line with it," she suggests. 
"Contrast the clean eye with a deep, dark lip," Janessa instructs, which will make this feel dressier. She suggests taking any matte lipstick color that you love and adding a black lip gloss over it until you get the shade you want.
Tarte Amazonian Clay Waterproof Cream Eyeshadow in Shimmering Bronze, $11; Maybelline Color Tattoo Leather in Creamy Beige, $6.99; MAC Lipstick in Diva, $16; Ardency Inn Punker Semi-Goth Lip Gloss, $19. 
Plum Metal
Because smoky eyes really stand out on fair skin tones, Janessa went with an eye that combines plum, gray, gunmetal, and glitter. The end result was an edgier interpretation of holiday beauty, which we're all about.
Start by adding in a plum eyeshadow around the eyes, and then layer on darker silvery colors. Don't worry about keeping it too clean. Janessa applied a ton of glitter for the top lid to keep the look seasonal. Since this eye is so strong, keep the rest of your makeup as minimal as possible.
As for that hair? Don't worry about washing it (in fact, the dirtier the better). Find your old crimping iron, and use it to crimp pieces throughout your head. This will give you volume and texture, with just the right amout of '90s influence. Then, work a styling cream evenly throughout your hair so that it stays put. 
Chanel Les 4 Ombres Multi-Effect Quadra Eyeshadow in Tissé Gabrielle, $61; Manic Panic Glam Dust, $8.99; Arrojo Styling Cream, $10. 
Gold-Leaf Lovin'
Sure, a gold eye with a red lip is as basic as holiday makeup can get, but this is definitely not your average festive situation. "Strangely classic," Janessa says, summing up all of our holiday-makeup desires in two words. 
This is craft-store gold-leaf paper, which you can get in different metallic shades. While it's not technically makeup, it's used by makeup artists all the time. Janessa suggests using bronze for deeper skin tones and silver for fair skin tones. To start, prep your whole eyelid with a primer. Then, cut a rectangular section of the gold leaf and push it down gently on your eyelid while sliding the clear plastic off of the leaf sideways. "Use your finger or a brush to break up the gold leaf to your liking," our makeup artist says. She also used brown eyeliner on the top and bottom, and lots of mascara, for definition. 
Finish with a glossy red lip, and expect to be the center of attention. 
Speedball Simple Gold Leaf, $5.03; Laura Geller Color Drenched Lip Gloss in Berry Crush, $19. 
The New Metallics
If you're in the mood for a holiday look that sparkles without competing with the Christmas tree, check out this teal-and-gold statement eye. "I chose to use dark blue and green tones because I love how they contrast with the warmth of her skin," Janessa says, adding a pop of gold in the center for a dramatic, yet still festive, vibe. 
To recreate this majesty, prep your lid with a primer and let it dry fully. Then, apply a deep blue-ish green eyeshadow to the whole eyelid, up to the crease, swiping the color out to create an elongated shape. Press a gold shadow into the center of the eyelid for that highlight. You can keep your lips bare or use a nude lipstick to make the eye stand out even more. 
The last step? "Line the inner rim of the bottom lash line with your favorite black liner to make this look more dramatic," Janessa says. 
Obsessive Compulsive Cosmetics Skin Primer, $27.50; OCC Loose Colour Concentrates In Distortion, $10; Flower Kiss Stick Velvet Lip Color In Set Me Freesia, $6.98.
Not Your Go-To Lip Look
"Red lips, of course, are a staple," Janessa says, "But finding the perfect color that also doesn't dry out your lips is something entirely different." This is actually just a super-hydrating lip liner, filled in completely for a bold, eye-catching look. You can add a touch of balm over it, but it's not mandatory. 
And, to grunge-up the classic nature of this makeup situation, use a smudgy, burnt-orange or copper eyeshadow. Skip the eyeliner, and instead apply a brown eyeshadow in the crease, which will give your eyes subtle definition. It's a totally new twist on a traditional look—you'll be the life of the party just by showing up. 
Aveda Nourish-Mint Lip Liner in Fire Maple, $16; NYX Infinite Shadow Stick in Bronze, $9. 
Feather Midi Vest, $159, Never Fully Dressed; Sequin Crop, $48, Lucy Paris.