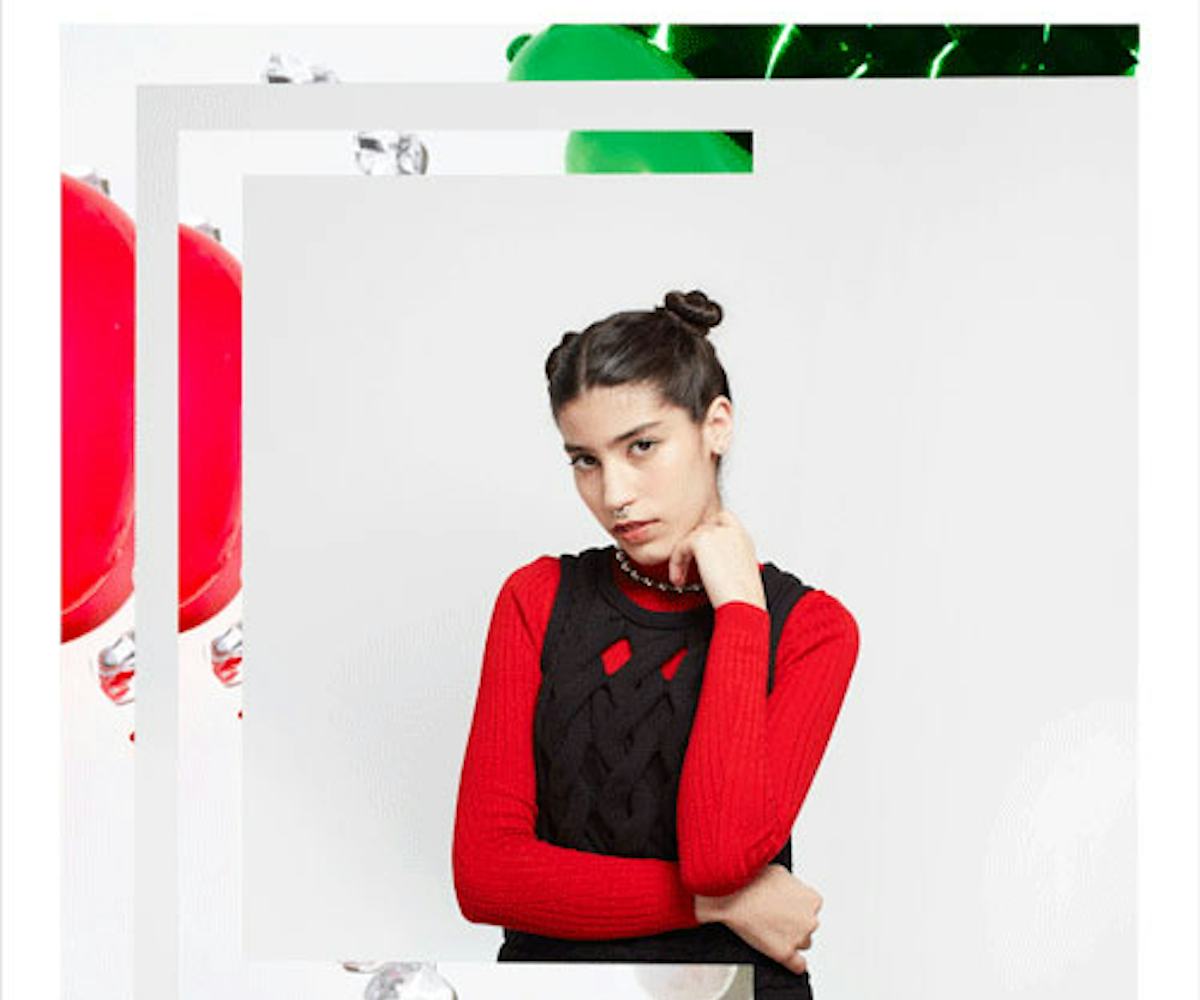 4 Holiday Hair Upgrades That Don't Involve Glitter
cool, easy, and super fast
'Tis the final stretch of holiday party madness, and our go-to hairstyles are starting to feel tired. Maybe it's the lack or sleep or maybe we're just sick of looking at our own ponytails in the mirror, but we're in need of a refresh—ideally, one that will also save time and effort. So, we asked stylist Gloria Espinoza, a graduate of the Aveda Institute, to show us some fast, festive hair hacks that we can do practically en route to the next crowded, warm apartment party. 
Click through for the cutest, easiest hairdos that look way more complicated than they are, and then don't spend anymore time worrying about it—there are wintertime adventures to be had. 
Hair and makeup by Gloria Espinoza; styled by Haley Lowenthal; modeled by Lezlie Ann Nunez.
A holiday 'do doesn't have to involve braids and ponytails—play around with your texture to elevate your regular look. For a bedhead rock 'n' roll feel, take pieces of your hair and twist them. Then run your flat iron up and down each twist two or three times. Gloria then says to flip your hair forward, and shake our the flat ironed coils with your fingers. You can also create faux bangs by doing a deep side part and pinning it in place. 
Black pearl dress by Topshop, Turtleneck by Timo Weiland, Earrings by Poms.
Perfect for those of us who went a little too long without washing our hair, this textured ponytail will uptick your woke-up-like-this game. Gloria says, "Use a brush to lightly tease the hair on the top of your head to create volume in the crown." Then, she says, brush it back with your fingers and secure it into a half-up ponytail with bobby pins. Brush the remaining hair up into a ponytail, and secure everything together with a hair tie. If you're worried about making a nest by accident, Gloria recommends using a boar teasing brush rather than a plastic teasing comb—it'll make it way easier to brush out at the end of the night. 
Purple velvet dress by Artizia, Metallic tank by & Other Stories, Earrings by Topshop, Necklace by Mounser.
It's a mohawk, it's a braid, no—who cares what it is, it looks freaking awesome. Create two parts in your hair, leaving you with three clean sections. Gloria recommends lining up the parts with the arches of your eyebrows for the most flattering size braid. Weave the middle section into a traditional french braid, keeping it tight or loose depending on the vibe you're going for. Finish it with a hair tie, leaving the rest of your hair down. If you're feeling really fancy, try doing a fishtail braid instead of a regular one. 
Sweater by Timo Weiland, Grey turtleneck dress by & Other Stories, Earrings by & Other Stories.
For a playful 'do that'll keep your hair out of your face all night, check out these double buns. Part your hair in the middle and brush one side upwards. Twist it into a bun and use bobby pins to secure it in place. Gloria suggests lining up the buns with the corners of your eyes for the most flattering placement. Repeat it on the other side and use a light hold hairspray if you have fly-aways.
Red turtleneck sweater by Topshop, Black dress by Timo Weiland, Septum ring by We Who Prey, Necklace by We Who Prey, Earrings by Topshop.