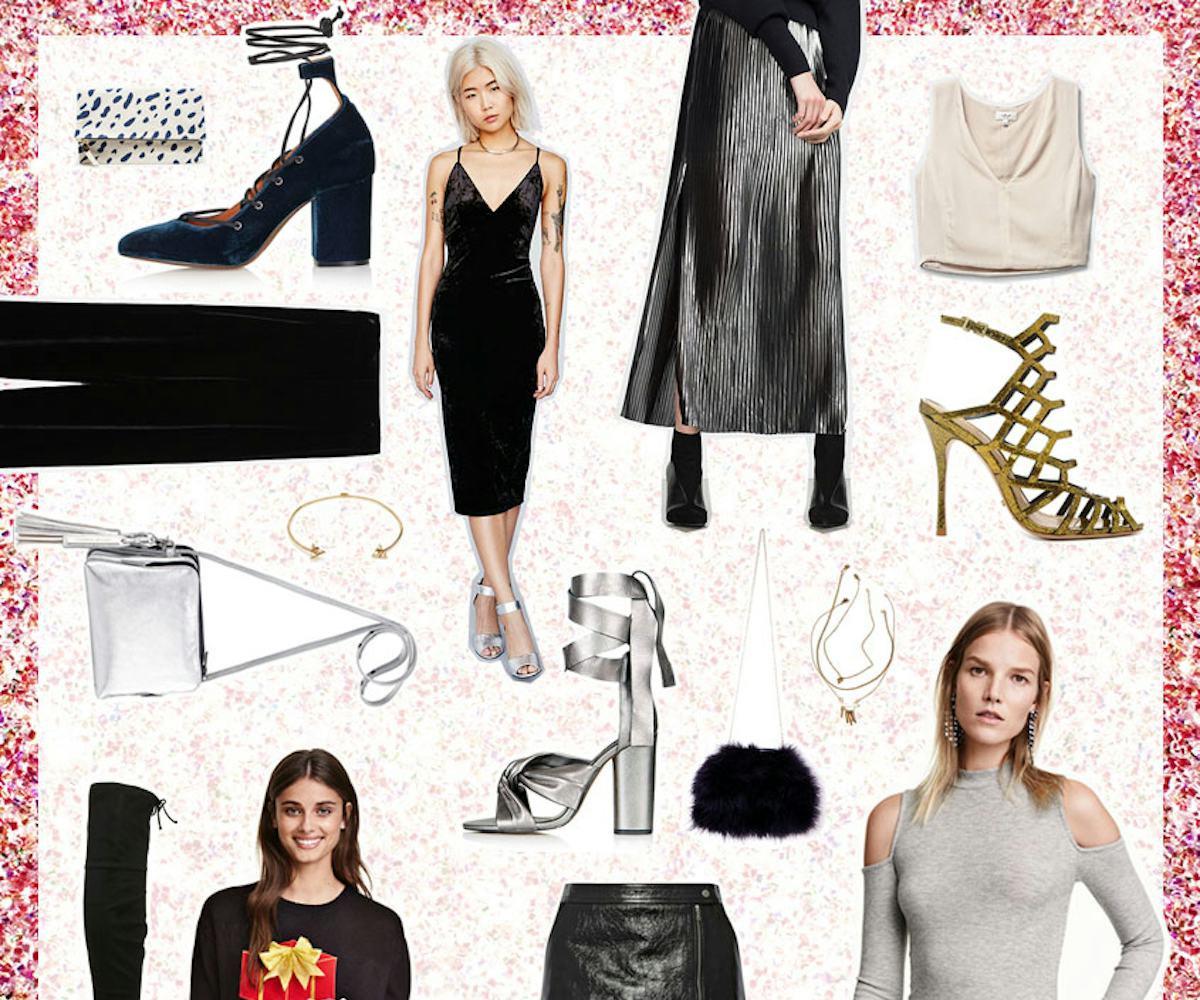 The NYLON Guide To Holiday Party Dressing
Chances are, your calendar is marked up with a ton of holiday parties. Whether it's a work function, a friendly get together, or a holiday at your significant other's parents' house, chances are, you want to look good for each occasion. Seeing as each setting calls for a different mood, choosing outfits can get pretty overwhelming. But don't panic—we've got you covered. We mapped out all the holiday parties you may be attending this month and outlined some outfit options for each. Check out our suggestions in the gallery, after the jump.
Your Best Friend's Holiday PartyWhen you're surrounded by friends—ones that won't judge  or care about what you're wearing—you can rest easy. Have fun, and dress like yourself. Comfort is key, here.
1. Steve Madden, Dax Bootie, $69.95, view at DSW.
2. ASOS, Fine Arrow Body Harness, $14.50, view at ASOS.
3. Abercrombie & Fitch, V-Neck Flare Jumpsuit, $47.60, view at Abercrombie & Fitch.
4. Topshop, Leather Cuddle Clutch, $60, view at Topshop.
Your Significant Other's Parents' Party This is your chance to make a great impression on your maybe-future in-laws, so make sure you look respectful but fashionable. Show them that you have your own personal style. And try to avoid any low plunging, high hemline options.
1. Free People, High-Waisted Cropped Flare, $88, view at Free People.
2. Urban Outfitters, Tangier Necklace Set, $28, view at Urban Outfitters. 
3. Wilfred, Dauphine Top, $60, view at Aritzia.
4. Club Monaco, Julie Solid Turtleneck, $59, view at Club Monaco.
5. Sam Edelman, Joey, $150, view at Sam Edelman.
Your Ex's PartyThis might be self-explanatory, but when you're around your ex—whether you still like them like that or not—you know you have to look amazing. Show it all off with a bodycon dress, then grab a good heel and a bag.
1. Ophelia, Crushed Velvet Bodycon Dress, $79, view at Urban Outfitters.
2. Bing Bang, Double Trident Collar, $230, view at Bing Bang.
3. Missguided, Statement Fine Feather Bag, $42.50, view atMissguided.
4. Schutz, Juliana, $190, view at Schutz.
That Fancy Ball-Gown Holiday Party You Were Invited To Last MinuteWe've all been there: You've been invited to a last-minute party, and worst of all, it's very fancy and you need a gown instead of cocktail dress. The best thing we can suggest is to find something you can wear more than once, so if another gala is thrown your way, you won't be stuck in this last-minute hustle position again.
1. Diane von Furstenburg, Adrienne Twist Front Chiffon Gown, $538, view at DVF.
2. Nasty Gal, To The Limit Lace-Up Leather Pump, $133, view at Nasty Gal.
3. BLTRX, Lila Bag, $225, view at NYLON Shop.
Your Frenemies' Holiday Party Chances are, you have that one friend—the one you really do like, but who you're in a constant battle with, whether it be over a love interest, job, etc.. Make sure you look super-cool, and keep your composure like that, as well.
1. James Jeans, Ponte Moto Jacket, $299, view at Nordstrom.
2. Boohoo, Darcy Metal Frame Velvet Clutch Bag, $14, view at Boohoo.
3. Express, Velvet Sequin Embellished Cami, $39.90, view at Express. 
4. Topshop, ROSA Knot High Sandals, $120, view at Topshop.
5. Theory, Berdin Suede-Trimmed Patent-Leather Mini Skirt, $417, view at Net-A-Porter.
The College House Party Your Friends Drag You To A big part of being home around the holiday season is seeing old friends from high school. They may just drag you to a house party filled with drunk bros who can't stop spilling their drinks. Go with something you don't mind ruining, or you know you can clean up easily. Oh, and good luck.
1. A Gold E, Sophie High Rise Skinny, $138, view at Revolve Clothing. 
2. Aldo, Asteille, $130, view at Aldo.
3. H&M, Long-Sleeved Top, $34.99, view at H&M.
4. Loeffler Randall, Triple Zip, $395, view at Loeffler Randall.
Office Holiday Party Also known as "the mandatory party you can't skip out on." Rock something you can wear to work all day and to the party without feeling over- or under-dressed.
1. DKNYPure, Half Button Thru Dress, $315, view at DKNY.
2. Gianvito Rossi, Suede Pumps, $650, view at Net-A-Porter.
3. Rebecca Minkoff, Cleo Saffiano Leather Chain Wallet, $145, view at Saks Fifth Avenune.
Retro-Themed Holiday PartyIt's always fun to go to a themed party, and if it's retro-themed, channel your inner Mad Men and grab something that you know Betty Francis would wear.
1. Kate Spade, Square Gift Box Clutch, $398, view at Kate Spade.
2. ModCloth, Hepcat Soda Fountain Dress, $64.99, view at ModCloth.
3. Forever 21, Faux Patent Mary Jane Platform Pumps, $24.90, view at Forever 21.
Your Friends' Secret-Santa PartyAll your friends are getting together to give each other cute, cheap gifts. Have fun with your outfit, but wear something comfortable as you'll probably end up sitting by the fire watching Christmas movies!
1. Boohoo, Caroline Velvet Pluge Long Sleeve Crop, $16, view at Boohoo. 
2. Clare V., Natural Canvas Jaguar Foldover, $165, view at Clare V.
3. Zara, Accordion Pleat Skirt, $49.90, view at Zara.
4. Topshop, Gold Round Toe Ghillie Shoes, $120, view at Topshop.
Ugly Christmas Sweater PartyEveryone loves a good ugly sweater party, and if you don't have time to dig through racks at your local thrift store, grab one from a fast-fashion brand like Forever 21, H&M, or Topshop.
1. Zara, Wide Velvet Trousers, $129, view at Zara.
2. H&M, Knit Christmas Sweater, $17.99, view at H&M. 
3. Urban Outfitters, Strappy Platform Heel, $79, view at Urban Outfitters.
4. Topshop, Ruffle Tie Blouse, $80, view at Topshop.