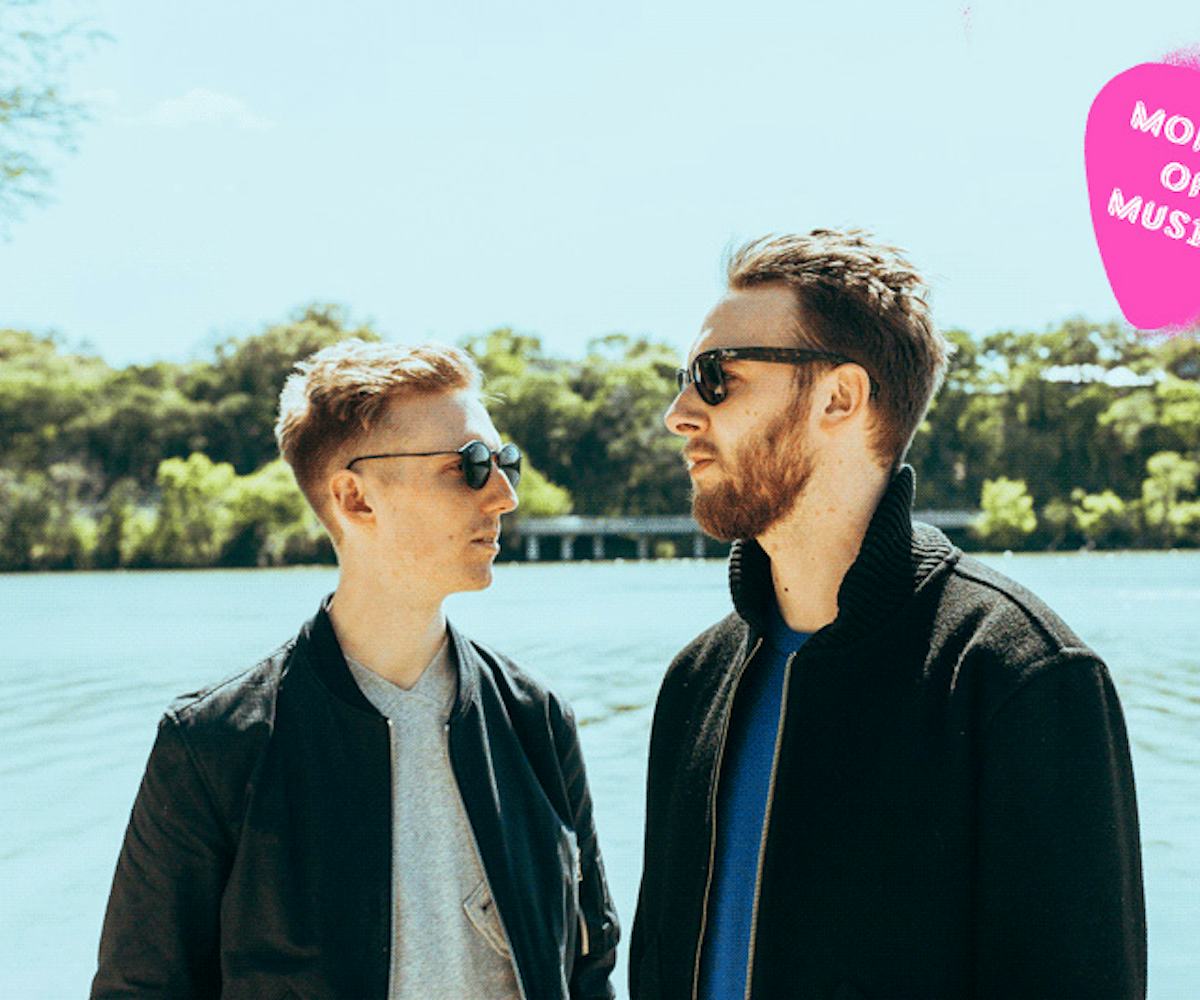 Photographed by Kara Smarsh.
HONNE Will Keep You "Warm On A Cold Night"
Soft sounds for soft moments
We share music because we want to connect with others on a deeper level. We want to relay and relate to a message that can't be said with just words. This April, NYLON is dedicating six days a week to introducing you to new artists and budding favorites. With interviews and GIF portraits done down at SXSW, NYLON's Month of Music is an exercise in finding aural pleasures outside of the Top 40. It's an exercise in challenging you and ourselves to not stick to one genre. But above all, it's a celebration of bold voices and sheer talent. Enjoy.
In a world dominated by bombastic pop and gigantic tours, HONNE's interpretation of electro R&B is a welcome one. James and Andy, the fellas behind the London-based duo, create captivating music that flirts with funk and shines in its quieter moments. They're love songs, but free of any saccharin. Instead, HONNE's heart pulses with soul and elevates the moment to the sublime. Their latest single, "Someone That Loves You," amps up their usual BPM but maintains the same authenticity that makes HONNE so captivating and downright refreshing. Listen and get to know the boys a little more in our latest interview below.
What song of yours fits the following situations:
Getting ready in the morning?
JAMES: Probably "Love Is The Job You Hate." It's funky, it's upbeat. It's a good way to start the day. It's about a household argument over taking the bins out.
ANDY: When you're leaving for work, you should just take the bins out.
Me time?
J: "No Place Like Home"?
A: Yeah. It was written between London and Tokyo, and from the point of view of feeling a little bit alone and out of your normal surroundings. You can sit and have a cry to it. If you wanted to.
Hooking up?
A: It's either "The Night" or "Warm On a Cold Night."
J: "Warm On a Cold Night" is it. We know from anecdotal evidence—not from ourselves—that a lot of people hook up to it. We met someone that listened to it and had sex within minutes.
Can you recall a moment in your life—whether it's a song, a show, a video—that convinced you, you wanted to be doing music?
A: I just remember ages ago—it's the same for James as well—when we were younger and started learning guitar and things like that, it has kind of been ingrained in me—I don't know why. I just always wanted to do it.
J: Probably a week of playing acoustic guitar, that my aunt had given me two years prior to that, I was absolutely obsessed and it was all I wanted to do. Play in the school concerts and stuff. Be in a band.
If any artist, dead or alive, could cover your music, who would you want it to be?
A: Jeff Buckley because he's got an amazing voice and he'd do it justice. I mean he'd do it better than we'd do probably.
J: I'd go with a collaboration between Michael Jackson and Stevie Wonder. Just for that super-group. They'd make it much more funky.
Have you ever been starstruck, and if so, who or what was going on?
J: All the time. I don't know who in particular. But it's nice. You just have to challenge yourself to go up to them and say hello. Do you know Kehlani? We stood up right next to her yesterday and apparently she's a fan of our music, so we had to go and say hello, obviously. I went up first. We had a little hug. It was nice, it was great.
A: With celebrities, often you think, "Oh they're not really cool, they're going to be really standoffish." Then you go to meet them and they're like, "Oh hey! So great to meet you!" It's like the opposite of what you think it's going to be. I think even Kanye West or something, if you spoke to him he'd probably be a really nice guy.
At the end of the day, how do you wind down?
J: We cuddle up in our hotel room together.
A: It is actually like that at the moment. [Laughs.] Well, maybe not cuddling.
J: Yeah, what do we do? I mean, normally, watch some rubbish TV and maybe a glass of wine. But you're more a cup of tea.
A: Yeah, I'm more for a cup of tea or just like a nice meal out, and go back and watch a film or series.
Photographed by Kara Smarsh.