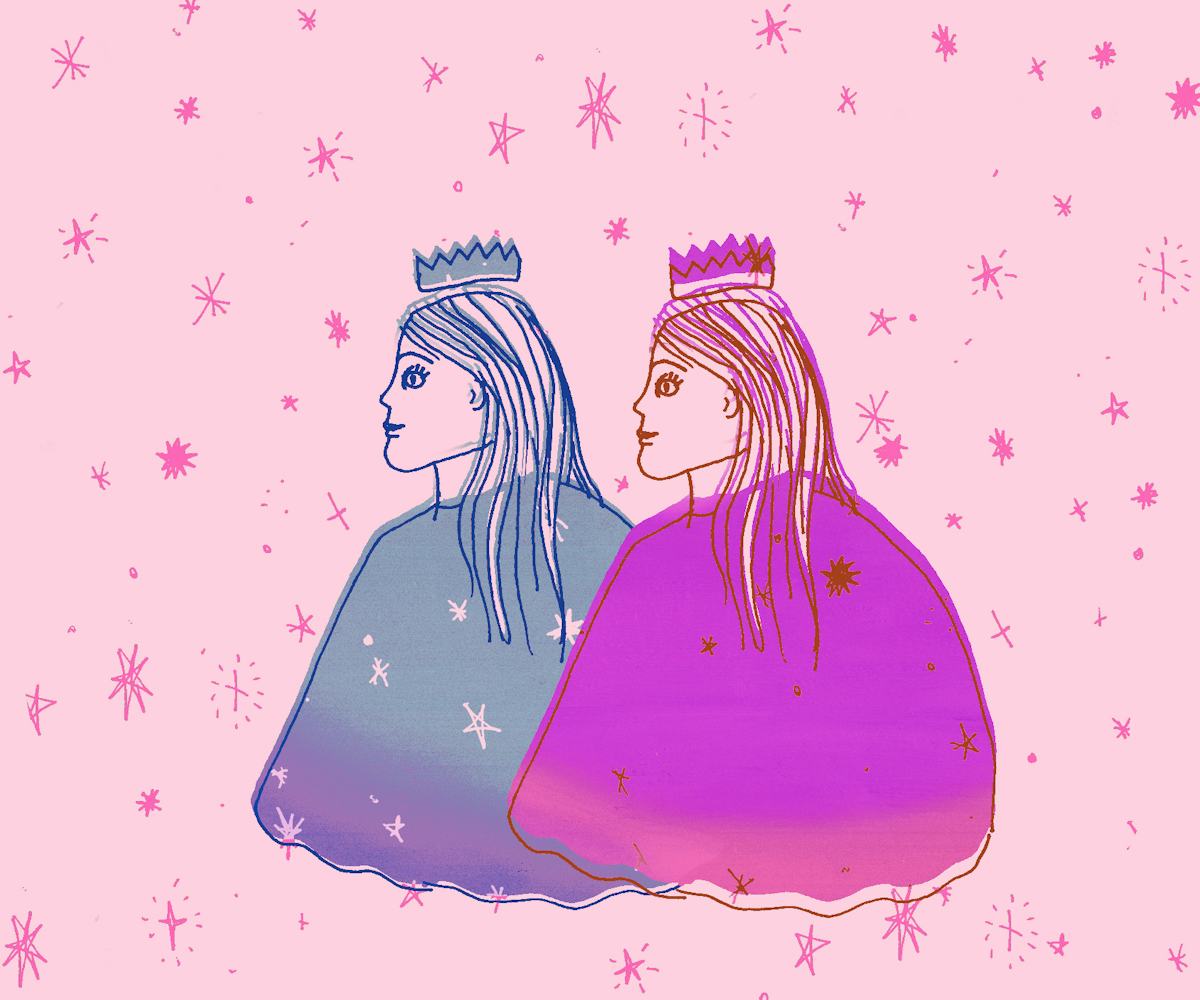 Illustrated by Liz Riccardi
Your May Horoscopes Are Here
What the stars have in store for this month
The month of May might seem to get off to a pokey start for many of us, especially considering that Mercury, god of communication and technology, will be in retrograde until May 22, throwing stoplights in everyone's path in one way or another. Since Mercury is retrograde in Taurus, many signs—especially earth (Taurus, Virgo, Capricorn) and water signs (Scorpio, Pisces, Cancer)—may put extra focus on revamping their ideas of self-worth and financial stability. Air (Libra, Gemini, Aquarius) and fire signs (Leo, Aries, Sagittarius) will likely look to their self-care and fitness routines as well as their bank accounts to make major changes.
Regardless of your sign, the winds of change are blowing—and no matter how cold they may be, they're flowing in a positive direction. This will become crystal clear after a supportive and practical New Moon in Taurus on May 6, the perfect ingredient to kick-start any adjustments to your life. Wise intention is the key to change, though, and with the Sun in a glorious trine to lucky Jupiter and transformative Pluto in the first weeks of May, there are no boundaries to what you could make manifest. Plant your most potent seeds before mid-May and watch them blossom over the sweet summer.
Our deeper, subconscious beliefs and desires rise from the ashes around May 21 when a Full Moon in sharp Sagittarius forces us to become brutally honest about what we need to nurture healthy growth. All 12 signs will be asked to think their way out of their obstacles' paths when luscious love goddess Venus doubles up with cerebral Gemini on May 24. Sapiosexuals will relish this energy—connect with your partner(s) on an intellectual, even nerdy level to electrify your already explosive physical connection.
Even more surprises emerge from the shadows on May 27 when Mars—who's in retrograde until late June—moves into dramatic, intense Scorpio, pulling extraordinary focus, determination, and inner strength from the deepest layers of our psyches.
Aries: Packing a Punch
Increasing your income flows smoothly and surprisingly this month, and you'll begin to see green growth in your pockets as early as the first week of May, thanks to an ultra-supportive New Moon in Taurus on May 6. Mercury, who's still in retrograde in your Earned Income Sector, will likely present opportunities to revive old creative projects this month. Follow those gilded breadcrumbs—a brainchild you thought was long dead could prove to be a healthy cash cow.
You've got a message to send to the world and you're ready to serve it through your work in a creative, never-been-done way this month, Aries. But this isn't just a vanity endeavor: Whatever you release into the world will have an intense potential to benefit and inspire the masses. Hidden talents could also bubble to the creative surface in the merry month of May, particularly around the 21st when a gloriously fertile Sagittarius Full Moon shines on your 9th House of Philosophical Thought. Completion comes gracefully to your most precious goals now, too, especially those connected to higher learning and publishing.
Use your words nimbly and precisely after May 24 when bewitching Venus graces your Communication Sector. Take control of the energy for professional negotiations, especially after May 22 when Mercury finally moves forward. As if that weren't enough from the Universe, Mars, your war god ruling planet, will continue to move retrograde through your 8th House of Sex and Transformation until mid-June, forcing you to face dark magic lurking in the corners of your own psyche. The gauntlet has been thrown, Aries—but you've got this in the bag.
Taurus: Sparkle, Baby!
It's a happy birthday month for you, Taurus, kicking the positive vibes off with a New Moon in your congenial sign on May 6 with unbelievably potent gifts from Jupiter and Pluto. In other words, this is your year! And that's not to be taken lightly (I don't like exclamation points and I don't use them often): Expect major—and, frankly, unstoppable—expansion and development in your personal vitality and highest-held goals in the next year of your life. That's not to say the growing changes you're about to encounter won't hurt like hell—they may. But, truly, it gets better.
You might find yourself in a deepened state of reflection, meditating on everything, everyone, and every place that's shaped who you are in your life until now—as one does near their birthday. Mercury, who's in retrograde in your sign until May 22, will happily lend his focused and precise energy to your psychic spring cleaning session, making it possible to leave behind anything (or anyone) not serving you properly—once and for all. Whatever shakes down, you'll have the energy to sparkle through the BS.
A nagging financial matter may come to a head around the Sagittarius Full Moon on May 21. Luckily, whatever unexpected expense pops up (think: credit card debt, a student loan, etc.), you'll have what you need socked away. Balance is around the corner after May 24 when Venus, your amicable ruler, shines her love on your Earned Income Sector until mid-June, helping you regain any financial footing you may have lost. Prepare to buckle down and give your partner some undivided one-on-one time after May 27 when retrograding Mars agitates your Intimacy Sector.
Gemini: Power Plays
You might feel like you've been fighting a Sisyphean battle with anxiety and depression in the last few months due to the strong winds of change whipping almost every aspect of your life. May comes as a major break in the mentally draining tempest, beginning with the practical Taurus New Moon on May 6.
Have you been putting medical or psychological checkups on the back burner lately? You won't be able to procrastinate anymore. Taking this period of urgency as a time of initiative for yourself is a far more gentle—and intelligent—path to well-being. Even if you haven't been ill, May is a prime time to rediscover self-love and worship, starting with saying "yes" to yourself and "no" to anything, anyone, or any situation that isn't at its core healthy for you first. Otherwise, you may become involved in a behind-the-scenes project this month at work that requires absolute privacy. The tension will be thick, but the drama of the big reveal in June will make the lead-up worthwhile!
You'll know exactly where you stand in love relationships and business partnerships that may have been built on shaky foundations once the Sagittarius Full Moon brings incisive clarity to your Partnership Sector. You won't be down for long with Venus entering your cheery sign on May 24, giving you an instant jolt of confidence and self-assuredness. Through June, you'll likely feel more beautiful and glamorous than you have in a long time—take advantage of your power!
Cancer: Ultimately Beneficial
Get your party pants on, Cancer—spring ramps up in the cheerful month of May, bringing a fresh dose of rebirth to brighten up your social scene. The pragmatic Taurus New Moon on May 6 could bring you face to face with an old friend or a sticky conflict that was left unresolved. Your social life is about to go through a major revamp, and whether you like it or not, being out and about—and venturing beyond your comfort zones and usual haunts—is the best thing for you. Trust there will be a rainbow after the (small) storm.
Been feeling antsy around work? If so, May could be the most opportune month of the calendar year to break free from your usual routine and into an exciting new position or career. The dark side of this aspect is the high potential for office politics suffocating you out of your workplace. You may need to seek out different employment out of sheer respect for your mental health if the interpersonal drama becomes too much to bear. Alternatively, if you're in a leadership position or in business for yourself, you may need to fire someone near the Sagittarius Full Moon on May 21. Regardless, change in your career is on the horizon which will ultimately benefit you.
Watch your step around May 27 when Mars travels retrograde through your Romance Sector: An ex may materialize out of thin air, uninvited, with a spellbinding come on. Take it from me: Don't fall for it. Chances are, the ethics of the situation do not warrant a second chance.
Leo: Controlled Chaos
Opportunities strike like lightning this month for you, Leo, but you'll need to exercise restraint, pull back, and seriously consider your options before you leap into action. Be vigilant in tying up loose ends in lingering business deals and work projects directly relating to elevating your career early in the month. A solution-oriented Taurus New Moon in your 10th House of Career and Status lands on May 6 in angelic angle to Jupiter and Pluto who will tag team Venus and the Sun all month, putting you in an ideal position to make giant strides in developing your work, talents, and overall earning potential.
Beyond all the chaos involved in moving forward, Mercury, who's still in retrograde for most of the month, will pull you into the past, particularly when it comes to your career. That's why it will be so important to wrap things up early and completely before getting into anything new.
Around the Sagittarius Full Moon on May 21, your love life could take a weighty turn, especially if you've been seeing someone casually in the past weeks. This could go one of two ways: Either you both realize mutually that you're in love, or you realize independently that no matter how hard you work to fit a square peg into a round hole, the magic just ain't gonna happen. Honesty is the righteous path to freedom.
Virgo: Rare and Beautiful Times
Oh, Virgo. You have been getting cosmically rammed for the past few months, especially behind your heart's closed doors in your personal life, which you keep very private. I've never been more thrilled to disclose how envious all 11 of the other signs should be of the rare and beautiful position you find yourself in this month. Virgos—along with the other earth signs (Capricorn and Taurus)—are smack-dab in the middle of a Grand Trine; a perfect triangle between three planets, all ruled by the same element. Our current trine is, quite literally, in your element—earth—which is characterized as grounded, stable, and practical. Consider this powerful aspect an anchor in the madness you've recently raged through.
Focus your intentions on a new endeavor that will nurture your spiritual core—you'll be backed by foundational Taurus New Moon illuminating your 9th House of Philosophical Thought on May 6. Choose well, for this is no vanity project: What you begin to feed your energy into now could take root and grow into a vital, long-term project that feeds you—literally and figuratively—for a lifetime.
Meanwhile, the Sun and Venus couple up to tag team Jupiter and Pluto, both stationed in perfect match Capricorn. For the entire month of May, you can watch your love life, creativity, spirituality, and sense of adventure blossom into a rare and beautiful flower. Enjoy these times.
Libra: Branching Out
Putting a tourniquet on financial hemorrhages will be priority early in May as the pragmatic Taurus New Moon shines a light on your money and overall lifestyle security. Luckily for you, that Taurus lunation will provide you with a strong backbone to make swift strides to increase your cash flow and fix any holes sinking your budget. Relief may come in the form of a salary boost or an influx of extra freelance gigs, or your partner—either in business or in love and domesticity—may receive a financial windfall that will ultimately benefit the both of you.
The Sagittarius Full Moon on May 21 should boost your vitality and lust for life, but your fun could get derailed when a sibling or close relative calls on you for support. The family drama won't likely turn out to be anything serious—think more along the lines of sudden or unexpected transitions, like being fired or laid off, either in their career or love life.
Expanding your mind through higher learning or developing creative talents will come to the forefront around May 24 when your ruling planet Venus illuminates your 9th House of Philosophical Thought. From the 24th until mid-June, you'll see rapid growth in any intellectual endeavor you put your mind to, especially in learning foreign languages for travel.  
Scorpio: Dark Magic
Communicating openly and clearly with your partner will remain tantamount throughout the month due to Mercury's retrograde motion in your chart's Partnership Sector until May 22. But the fires sparked through miscommunications will ultimately forge your bond for a very long time to come. That said, be careful of the magic you ignite now—be prepared to commit to its consequences for far longer than expected, potentially for life.
Fortunately, the super-compatible Taurus New Moon (also in your Partnership Sector) on May 6 will provide a fertile earth element to cultivate true and healthy change in the relationship department. You and your romantic and sexual partner(s) will feel an electric current during this lunation—the cosmos are literally inching you closer and closer. How steamy! Pleasures of the flesh aside, May 13 could bring an open, honest conversation between you and your SO or partner that will heal the both of you and firmly graft your roots together. Again, make sure you know what you want before considering the desires of others.
Any deadweight sinking your budget will receive a razor-sharp beam from the Sagittarius Full Moon on May 21 in your Income Sector. You can't avoid the financial spectres lurking in the shadows of your bank account and bill stack anymore, Scorp. Hustling is your secret skill and you'll have no problem channeling those aggressive vibes from May 24 until mid-June when gold-digging Venus (in a good way!) vamps up your 8th House of Sex and Shared Resources. Think outside the box when it comes to earning extra green.
Sagittarius: Getting Your Groove Back
Now that Mercury is in retrograde, you might find yourself reconsidering how you've approached getting ahead in your career, as well as your past methods of self-care and tending to your physical health. Recalibrating these pillars of life will remain in focus until May 22, but on May 6, the practical Taurus New Moon could give you a huge boost in kicking a harmful habit (like smoking) or re-starting a fitness regimen. Whatever path to self-care you choose, it's sure to renew your typical Sag zest for life! Revisions on important projects at work are almost completely unavoidable during this month for you, Sag, so be prepared and don't lose your cool. Once you iron out the kinks, execution and success will come easily and abundantly from your hard work.
The Full Moon in your sign on May 21 will rain cleansing fires on something you're deeply emotionally attached to—or enslaved by. You must let go of whatever's weighing you down now; burn it down so that new growth may manifest. Fighting the Universe is an unwise battle—what will be will be.
Capricorn: Sexual Healing
Fires of pure sexuality and romantic intrigue lend May a smoldering energy—and you really need this, Capricorn. After months of wandering in a psychic desert, finally, an oasis appears—in the form of a sumptuous New Moon in Taurus illuminating your Romance Sector on May 6.
The sexual vibes will be thick and heavy, but beyond the earthly physical delights, you're certain to indulge in lies an Excalibur-like opportunity for true and lasting love. Be sure to mix and mingle as much as possible for a full two weeks after May 6—you never know who you might meet. Mercury, who's in charge of communication and technology, is in retrograde until May 22 in your 5th House of Pleasure, indicating that an old crush from your past may pop up on the scene. You may begin "talking" again, but this time with much more fruitful results.
Committed Capricorns could find that this energy is making their biological clocks tick a little faster than expected; if you're ready to become a parent, get busy—the energy couldn't be more fertile during the New Moon (literally). But if you're not careful and responsible in the bedroom, you could find yourself with an unplanned bun in the oven.
After May 24, amiable Venus will glide into your 6th House of Routine, making collaborating with your work colleagues a treat. Expect your creative relationships to improve by leaps and bounds—and get ready to put your nose to the grindstone and collaborate well into June.
Aquarius: Binding Ties
Relationships within your immediate family or domestic situation (read: roommates) will be the squeaky wheels that require a good greasing this month. You may have to wade through vexing miscommunications within these relationships until Mercury, god of communication, turns direct on May 22. No matter how frustrating it may seem, you are making ironclad progress with your family when you take the time to talk things through patiently.
Bright, cheerful news connected to a domestic matter will likely arrive with the tidy New Moon in Taurus on May 6. Your family may make a decision to move, or you may choose to put your home on the market. (That's fine, just take care not to sign any official contracts or legal documents until the Mercury Retrograde is over on May 22.) Alternatively, news of an engagement, pregnancy, or surprise elopement may come swiftly. Good vibes!
The super-supportive Sagittarius Full Moon in your 11th House of Friendships may bring a supernatural sense of fulfillment to your life, especially in connection to accomplishing your highest-held personal goals. A close friend going through hard times will sense your strength and may call upon your energy for support during this lunation. Don't hold back—you're their rock.
Single Aquarians should be prepared to get flirty after May 24 when luscious Venus, goddess of love and beauty, sets the foundation for true love until mid-June. Don't get too distracted by romance and intrigue, though, because once a retrograding Mars moves into your Career Sector on May 27, you'll need all your energy to rethink your professional prospects.
Pisces: Watch Your Subconscious Step
Your words hold extra weight and power this month, thanks to Mercury moving retrograde through your Communications Sector until May 22. The people you communicate with most frequently (think: partners, coworkers, roommates, friends) will be on edge and seem extra sensitive throughout this retrograde cycle, likely reading deeply subconscious messages you could be sending—intentionally or otherwise. Your propensity for delivering blows and creating lasting wounds is magnified right now, so tread lightly unless you're trying to cut.
Paradoxically, an extraordinarily kind New Moon in Taurus on May 6 compliments an important communications project you've been developing for a long time. Begin now while the tides are right—just don't sign any official contracts (or publishing deals!) until after the retrograde passes on May 22.
Emotions will run high at work near the Sagittarius Full Moon on May 21, which may lead to a fork in the road on your professional path. You could be center stage in the limelight with VIPs, or you could hear that a superior is leaving, opening up a direct pathway to a future leadership position. Go for the jugular while you can!