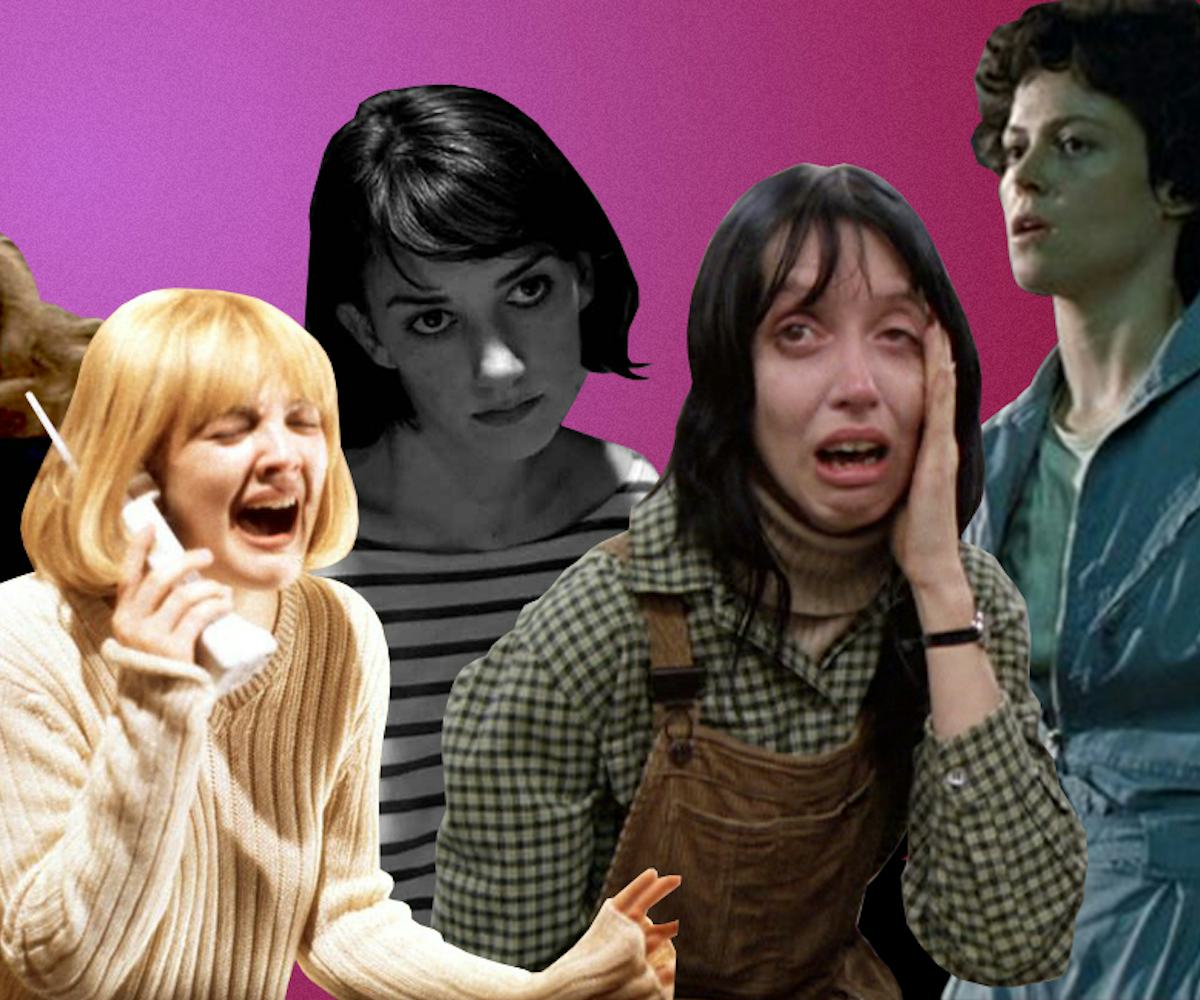 Photos courtesy of Compass International Pictures, Twentieth Century Fox, Dimension Films, New Line Cinema. DreamWorks, and Warner Bros.
8 Horror Movie Characters Who Are Also Secret Style Icons
I'm not the biggest fan of horror movies—I prefer comedies or dramas to the jump-scares and gratuitous gore that accompany most, if not all, scary movies. But, when I am forced to sit through one, I tend to focus on the tiny details, so as to distract me from the actual plot (which is usually minimal) and the scary parts (of which there are too many). And what I've noticed through shrouding myself from the action is that the female characters in these films always have amazing style.
It's not just that they look great while being terrorized or killed—I look away during those parts, of course—it's that their style seems effortless, which makes it easy to mimic. I'm a huge proponent of the understated, and much prefer dressing down to dressing up. Horror movie characters seem to get my style ethos, on a personal level: High heels and flawless makeup isn't really conducive to running from killers and facing imminent death, after all. 
And while I'm not dealing with the same problems as them (thank god), the women in scary movies are the most relatable dressers I've seen on the big screen, probably ever. Need examples? Below are some of the best looks that women have rocked in horror films, in my humble opinion. No blood is required to recreate them, thankfully.
ScreamDrew Barrymore's Casey Becker is less stressed about what she's wearing than she is about saving her and her boyfriend's lives (spoiler: she's unsuccessful). Their fate is determined by her ability to answer questions about horror movies, and when she can't, they both face gruesome deaths. But the fit of that sweater is highly covetable.
Recreate it with: Aerie, Pullover Sweater in Natural, $29.97, available at Aerie.
Halloween (1976)Laurie Strode (Jamie Lee Curtis) thought she would just be babysitting on Halloween, but ended up having to deal with an escaped serial killer instead. This simple outfit no doubt fared better for her than an elaborate costume would've.
Recreate it with: Madewell, Denim Western Shirt, $75, available at Madewell; Everlane, The Cashmere Crew, $100, available at Everlane.
Get OutGeorgina is trapped in the Sunken Place (but sometimes doesn't it feel like we all are?), however, her polished look kept me from fixating on the fact that this movie hits way too close to reality.
Recreate it with: Missguided, Stone Zip Front T-Shirt Dress, $22, available at Missguided; Universal Thread, Women's Short Sleeve Tie Front Button Down, $17.99, available at Target.
It (2017)Beverly Marsh (Sophia Lillis) is bullied at school and abused at home, so the fact that she was then targeted by Pennywise felt extra unfair. As the only girl in the Losers Club, she was also more of a tomboy than her peers, made especially noticeable when she cut off all her hair.
Recreate it with: Forever 21, Button-Front Denim Overalls in Olive, $29.90, available at Forever 21; H&M, Lace Top in Burgundy, $39.99, available at H&M.
A Girl Walks Home Alone At NightYes, there are vampires; yes, this is sometimes hard to watch; but also, yes, The Girl has killer (pun intended) style. I'm getting Parisian vampire vibes, personally. How about you?
Recreate it with: Nasty Gal, Give 'Em A Ringer Striped Tee, $10, available at Nasty Gal.
The ShiningWendy Torrence's flannel paired with tan overalls is my entire mood board for the rest of the fall, but her outfit was definitely the right choice for the dark turn of events in the film. Her husband slowly goes insane while the family is living in a demonic hotel, and it's up to Wendy to save herself and her son from his madness. Moms just have to do everything, don't they?
Recreate it with: Uniqlo, Men Flannel Checked Long-Sleeve Shirt in Green, $29.90, available at Uniqlo; G-Style USA, Women's Corduroy Overalls in Brown, $32.99, available at Amazon.
The RingOkay, this still is from The Ring Two, but my love for the style of Rachel Keller (Naomi Watts) still rings true. In muggy Seattle, Keller, a journalist, is tasked with uncovering the truth behind a cursed VHS whose viewers die seven days after watching.
Recreate it with: Lauren Ralph Lauren, Double Breasted Short Trench Coat in Navy, $159.90, available at Nordstrom; ASOS, Tailored Cropped Tapered Pants in Charcoal, $31, available at ASOS.
AlienOkay, this is basically what Sigourney Weaver's character Ellen Ripley had to wear, but it's A Look nonetheless. Ripley was originally supposed to be a man, but the decision to turn the character into a woman was a step forward in the horror and science fiction industries. Plus, I got some fashion inspo from it. 
Recreate it with: Wildfang, Workwear coverall, $188, available at Wildfang.