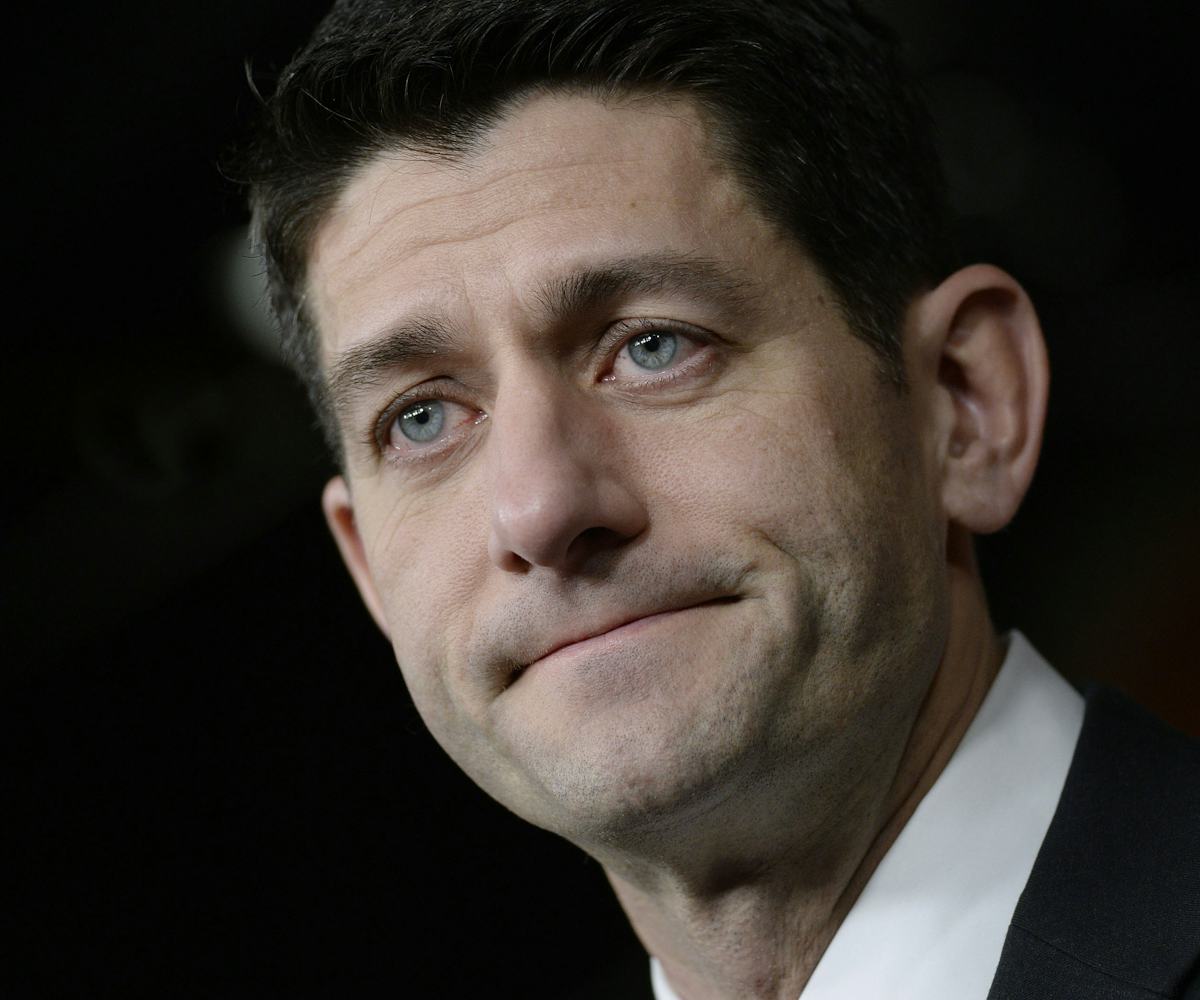 Photo by Olivier Douliery/Getty Images
The House Passed The Immoral Republican Health Care Act, Here's What You Need To Know
After Republicans' first failed attempt to replace the Affordable Care Act (ACA) with a health care plan that served basically as a way to provide more tax cuts to only the wealthiest Americans, Paul Ryan and Co. vowed to try and push through their despicable health care agenda again. And, as of this afternoon, they're one step closer toward stripping adequate and affordable access to health care from tens of millions of Americans.
As the New York Times reports, the House of Representatives voted today on the American Health Care Act (AHCA), which would repeal the majority of Obama's ACA, and though not a single House Democrat voted in favor of the AHCA, only 20 House Republicans crossed party lines to side with the Democrats, and so the AHCA passed the house by a vote of 217-213, thus "keep[ing] alive the Republican dream to unwind the signature legislative achievement of former President Barack Obama."
This dream, of course, includes making it prohibitively expensive for Americans born with common disabilities and diseases like diabetes and asthma to be able to easily afford treatment. It also prevents people with preexisting conditions for obtaining health insurance. What are some preexisting conditions under the AHCA? Oh, you know, things like C-sections, postpartum depression, and rape. The Republicans didn't come right out and say this, but basically, if you're a cis-woman, that's a pre-existing condition, and you should expect to be penalized for it.
The fact that more than 200 members of Congress voted in favor of this hastily put together bill (many admitted to not having read it before committing to vote in favor of it) is dismaying; it is a cretinous, brutish decision that could negatively affect a large percentage of Americans. But their immoral behavior is not a reason to totally give up hope yet.
The Senate still needs to vote on the AHCA, and this means that this is the time to call your Republican senators and tell them that they will not have your vote in their coming elections should they seek to pass the AHCA. The Senate Republicans are far less fervent about the AHCA than House Republicans, so there is a good chance that the AHCA will die there, but it's not guaranteed. While it is, frankly, pathetic that Americans need to spend their time calling Congress in order to maintain access to health care, such is the state of our country today. Here is a guide to how to call your representative, and remember: your voice counts. And now is the time for action.