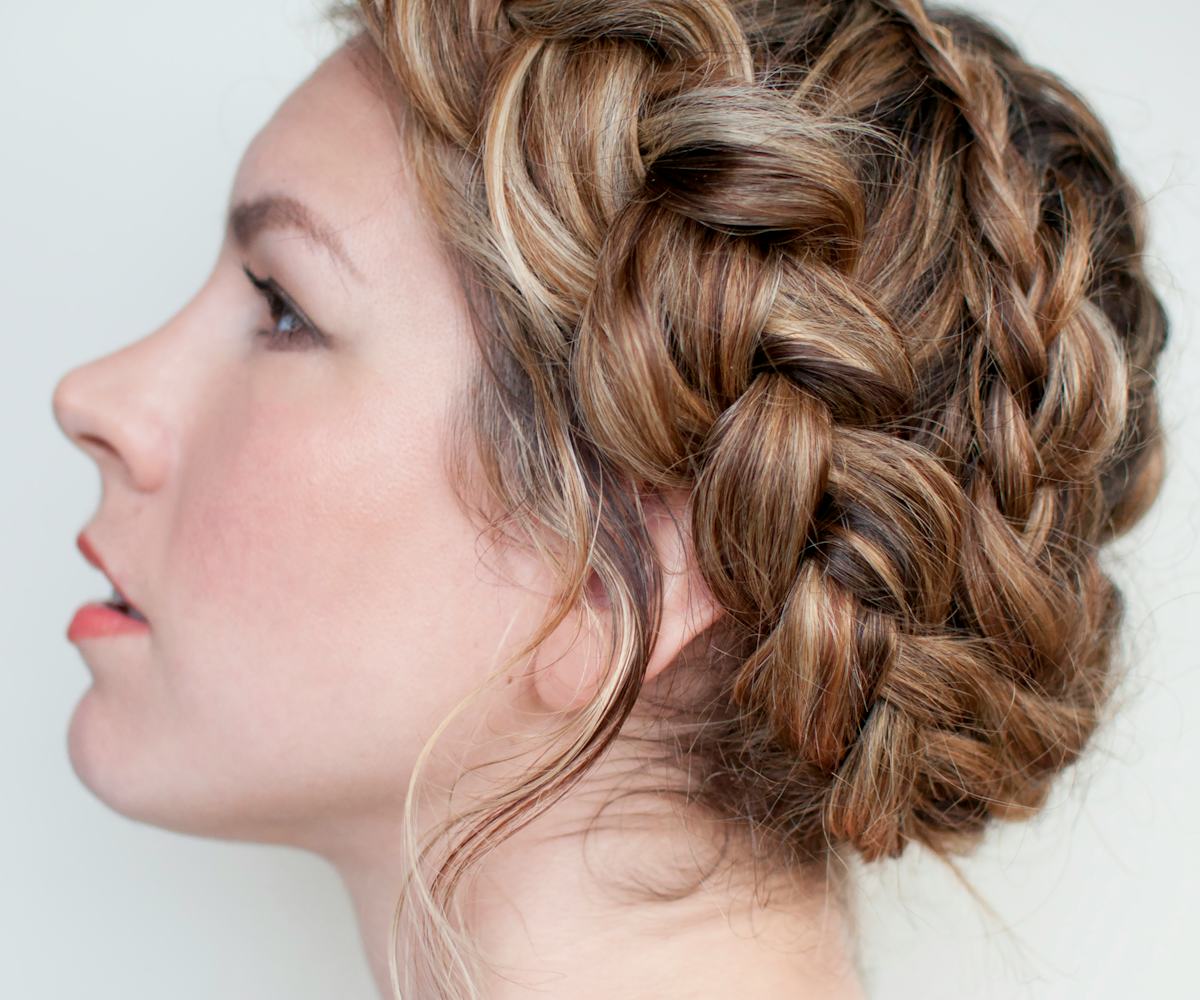 book club: braids, buns, and twists
learn how to get the awesomest hairdos from the author herself.
Here's how we know that Braids, Buns, and Twists, the new book by braiding expert Christina Butcher, is the best hair guide out there: Because the girl in the photo above with the really awesome braid crown is Butcher herself. If you can do a style that awesome on your own head, you've got our attention.
After starting the website Hair Romance, which gives how-tos for basically every hair style ever, and publishing three online books, Butcher decided to create a hard copy encyclopedia of hair. "I got into braids and buns because I've got naturally curly hair and sometimes a ponytail looks scruffy for work and school," Butcher told us over Skype from her native Australia. After experimenting she chose 82 styles, wrote out step-by-step tutorials, and voila, Braids, Buns, and Twists was born. 
Out of all the awesome styles, we picked our three favorites to highlight for you: The Grecian Braid Crown, The Braided Side Bun, and The Bouffant (Read: Bardot) Pigtails. Check out those how-tos in the gallery and order your copy of Braids, Buns, and Twists here!
THE GRECIAN BRAID
Butcher's Tip: "Braids work best when you have a little texture, so for freshly washed hair add some dry shampoo or texture spray. If you've got second day hair, you're off to a good start"
Where To Wear It: "I like it for a party style if you have a beautiful necklace."
THE GRECIAN BRAID
THE BRAIDED SIDE BUN
Butcher's Tip: "Back comb the ponytail. I don't like to see the donut of the bun, so by back combing you create a little more texture. Then I mess it up a little bit and create more unevenness. I don't really like that fake bun aspect. Rough it up."
Where to Wear It: "Lunch or hanging out with the girls. They'll appreciate it."
THE BRAIDED SIDE BUN
THE BOUFFANT PIGTAILS
Butcher's Tip: "Back comb you hair like you're going to Texas! Make it three times bigger than you think. When you smooth over the top it comes into place and you're like perfect." 
Where to Wear It: "To a picnic or for shopping."
THE BOUFFANT PIGTAILS