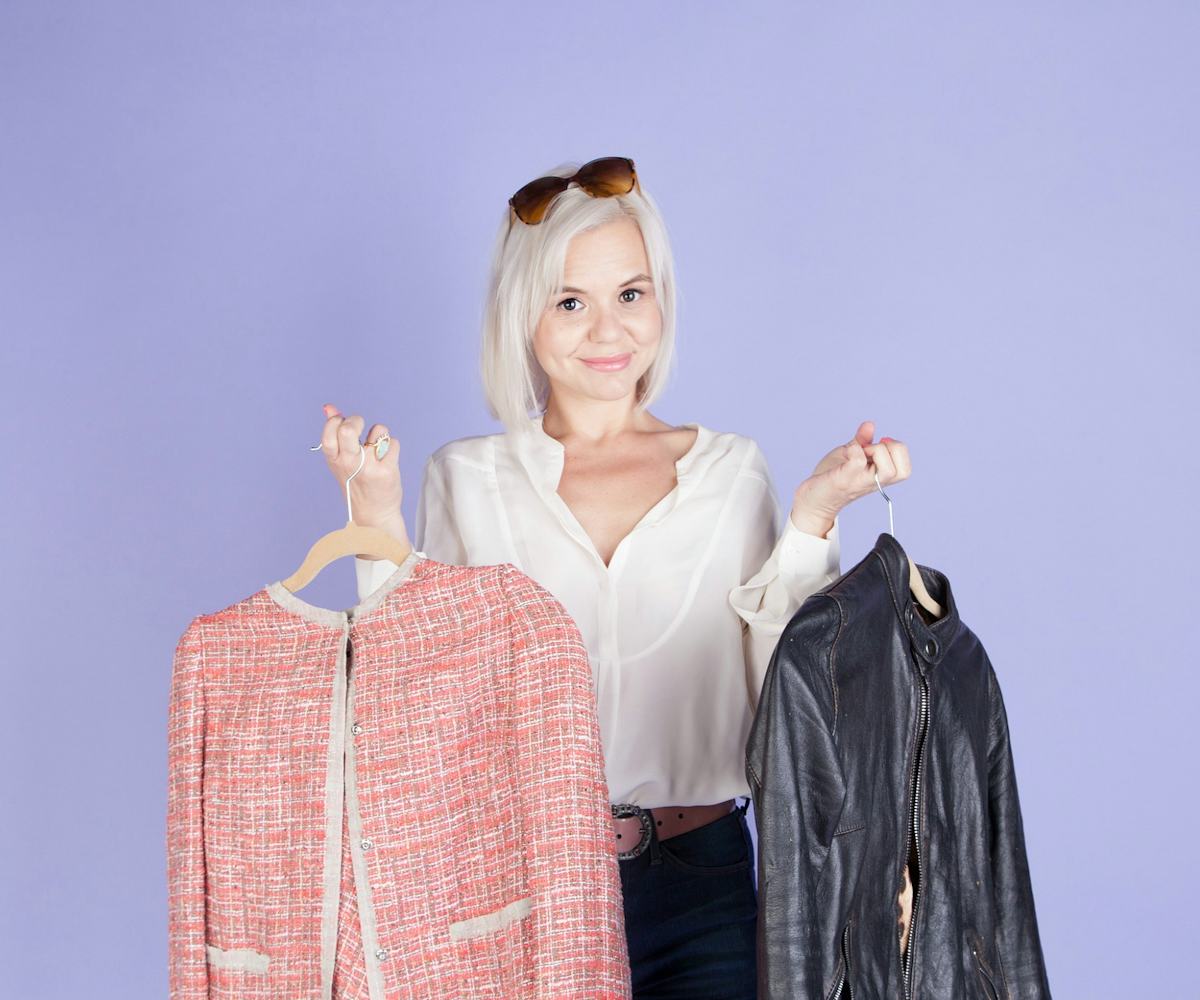 Photo by Alex Ulreich
How To Build A Designer Wardrobe Without Busting Your Budget
The RealReal is the real deal
Of all of the misleading beauty and fashion stories I read online, the most disappointing are always the ones with headlines promising "affordable" looks only to reveal themselves as a litany of products between $150 and $1,000, all usually too trendy to last more than a season or two. I have come to accept that Gwyneth Paltrow hasn't yet been informed about the bottom four tax brackets, so I just chuckle when GOOP pulls this shit, but I want fashion sites and magazines to do me a solid here. (Except Vogue—I want Vogue to call me a tasteless trash peasant so that I will always keep an eye toward self-improvement.) 
So when I started hearing about new online platforms as destinations to buy on-trend designer items on consignment, I expected moderate discounts on clothes that were originally so wildly unaffordable that a markdown would not make enough of a difference for me to actually buy anything. Sites like Vestiaire Collective and Snob Swap proved my assumption wrong very quickly, but it was ultimately TheRealReal that got me to actually invest the time and energy into finding and buying items that I thought only czarinas and tycoon's daughters could afford. The combination of a thorough and rigorous authentication process with an absurd number of sales on designer goods from recent seasons means that I found items from designers like Prada and Yves Saint Laurent priced similarly to items I've bought at places like J. Crew and Reformation on the higher end, and even Zara and Uniqlo on the lower. 
But reader, I did not simply happen upon such treasures. I developed a strategy. I schemed and plotted until the time was right to strike gold, sometimes quite literally. Because I am benevolent, I have shared my methods here. 
Write A Priority List of Dream Items
Now is a good time to dust off that "Perfect Wardrobe" Pinterest board you haven't touched in a while. You know, the one where are all your biggest fashion fantasies live. Whether you saw a particular Oscar de la Renta stiletto that implanted into your brain or you've just always wanted a Prada bag, make a list of the items that you really want before you even start browsing. Writing this list doesn't mean that these are the only things you can ever buy, but it will center your mind on priority items before you get into the thick of it.
Pay Attention to the Homepage
What I like about TheRealReal homepage is that it never forces me to look at a high-concept fashion shoot in Flash before it shows me the good stuff; namely, the promo code for additional discounts on select items and sales of the day:
There are new two new sales launched every single day, and they generally include new merchandise—not just inventory they're trying to move. Browse the sales to get a feel for the range of prices and designers available so you don't end up with some Renaissance Faire frock (unless that's your look). 
One thing to know is that even though the promo code has an expiration date on it, there is almost always a promo code available or coming again soon so don't force yourself to buy anything just to get in on the discount. Also, note that not all items qualify for the promo code, but those that do will have it appear on their product page: 
Do Not Buy Anything That Isn't From Your Dream List Until Your Third Visit to the Site
So unless your dream Givenchy bridal gown is there in pristine condition in your size, you should hold out for the desired item until it gets an even deeper discount. Sometimes, the initial shock of seeing a designer you've loved at a remarkably low price will obscure the fact that the item is profoundly and inexcusably ugly. I made the mistake of getting giddy over designers I adored and ended up with a Miu Miu skirt I'm lukewarm about and a Stella McCartney blouse that makes me look like a medieval sorcerer's apprentice, but not in the cool way you might be thinking.
So I've since made a shorter list of personal dream items: they are this pre-fall 2015 Carolina Herrera gown, this Chanel Exclusive Embroidered Boy bag from the Cruise 2014 collection, and almost anything in a pattern by Needle & Thread, Mary Katrantzou, or Vilshenko. Carolina Herrera gowns are on TheRealReal in my size almost every time I search, so I'm hoping that it is only a matter of time before that bad boy appears so I can finally host high-end fundraisers that double as swingers' parties at my country estate. Chanel Boy bags are also on TheRealReal all the time but this one is currently listed at $5,999 which is more than I'm prepared to spend on pretty much anything other than maybe paying the ransom for my cat in the event he is catnapped. So for now, my Chanel dreams must wait. But reader, do not weep for my troubles, cry with joy at the abundance I have found! 
After many months of regularly searching for the other designers mentioned above, lo and behold, this Needle & Thread beaded dream dress with tags went up on the site in my size. It was $116 after promo code, and it retailed in the last year for $475. I probably cracked a finger bone slamming on that "Add to Cart" button in a consumerist joy blackout. 
Use the "Obsess" Button to Build Your Collection
Shopping carts time out in 20 minutes on TheRealReal so don't use "Add to Cart" function until you are definitely ready to check out soon or if you see something that you think might get snatched up really fast. On every product page, there is a small heart and the word "Obsess" to the right of the product photo and below the descriptions and financing options. Click it if you like something but aren't quite ready to buy it, knowing that it won't put the item on hold for you. Instead, it will go into your "Obsessions" collection, which you can access by clicking the heart in the top right of the screen on the desktop and the center bottom on mobile.
WARNING: You will watch your Obsessions collection dwindle as people buy up the items. It will hurt at first but ultimately functions as a character building and design discernment exercise. 
I keep upwards of 150 items in my Obsessions at any given time. So say, I'm in the market for black pants (aren't we all?). I'll refine my search to my size and desired color, add a bunch to my Obsessions from a diverse range of designers, cuts, and price points, so only the stuff I've already expressed interest in is on my screen: 
Next, I will compare them all based on value, condition, and style. I know this sounds obvious, but really look and consider which ones you like best rather than aiming for the most recognizable designer name. Then, lie in wait for the next step where you can finally fuckin' party.
Read Your Emails From TheRealReal Every. Single. Day.
I know it is customary to unsubscribe or never opt in to marketing emails but TheRealReal emails have NEWS YOU CAN USE. Namely, there is a daily email that goes out with some variation on the subject line "New Markdowns On Your Obsessions!" which contains exactly what it sounds like! The email you get will have an image of the product, the previous price, the new price, and a direct link to it so you can jump on it if it comes into your price range:
This is especially handy if you've loaded your Obsessions with tons of the same designers and product types and need a reminder of what something looks like. 
The other supremely important emails you're going to want to get are the end-of-month sales alerts. Every month, the merchandising team goes buck wild discounting thousands of items, starting with 40 percent markdowns and going all the way up to 70 percent. This is by far the best time to make purchases, when a deadlock tie between jumpsuits is broken by one from Elizabeth & James going on sale ahead of similar ones by Helmut Lang and A.L.C., and also when they are basically handing out beautiful dresses across a range of styles (examples based on true stories). 
Remember, your shopping cart expires 20 minutes after you put the first item in so don't dilly dally too much once you've decided on the garments you want to purchase.
Keep That Good Shit Lookin' Nice
So your purchases will usually arrive very soon after you've ordered them and you should get stoked and wear them as much as makes you happy. You should take a lot of photos in them and when people ask you where it's from, you can very casually say the designer name as if it is totally normal for you to buy this fancy stuff. But always remember that you can also reconsign items when you're finished if they are still reasonably in-season and in good condition. Then, you can use the money to buy more absurdly affordable designer goods using the lessons you have learned here! Or maybe put it in a savings account or pay down your student debt! I don't know, I'm still a trash peasant at heart, I just have a lot more fancy stuff now and I want you to have some too.
In the slideshow below, you'll find some of the bigger steals I've procured from TheRealReal, you can do the math in your head:
Prada metallic sleeveless dress, $183, available at The RealReal (TRR), manufacturer's suggested retail price (MSRP): $2,600; Yves Saint Laurent Tribute Two leather platform pumps, $165, available at TRR, MSRP: $795.
Yves Saint Laurent blazer with peak lapel, $180, available at TRR, MSRP: $2,000; Christian Dior patent leather peep-toe platform pumps, $116, available at TRR, MSRP: $710.
Band of Outsiders silk minidress with floral print, $57, available at TRR, MSRP: $208; Christian Dior patent leather peep-toe platform pumps, $116, available at TRR, MSRP: $710.
Diane von Furstenberg leather pants, $87, available at TRR, MSRP: ~$998; ADAM creme silk top with satin hem, $39, available at TRR, MSRP: ~$350; Stuart Weitzman round-toe pumps (includes box), $68, available at TRR, MSRP: $365.
Miu Miu leather round-toe, over-the-knee boots, $165, available at TRR, MSRP: $1800; Gryphon mini skirt, $30, available at TRR, MSRP: $253.
Dolce & Gabbana leather jacket, $211, available at TRR, MSRP: $4,995.
Prada high-waist silk pants, $60, available at TRR, MSRP: $590; Yves Saint Laurent Tribute Two leather platform pumps, $165, available at TRR, MSRP: $795.