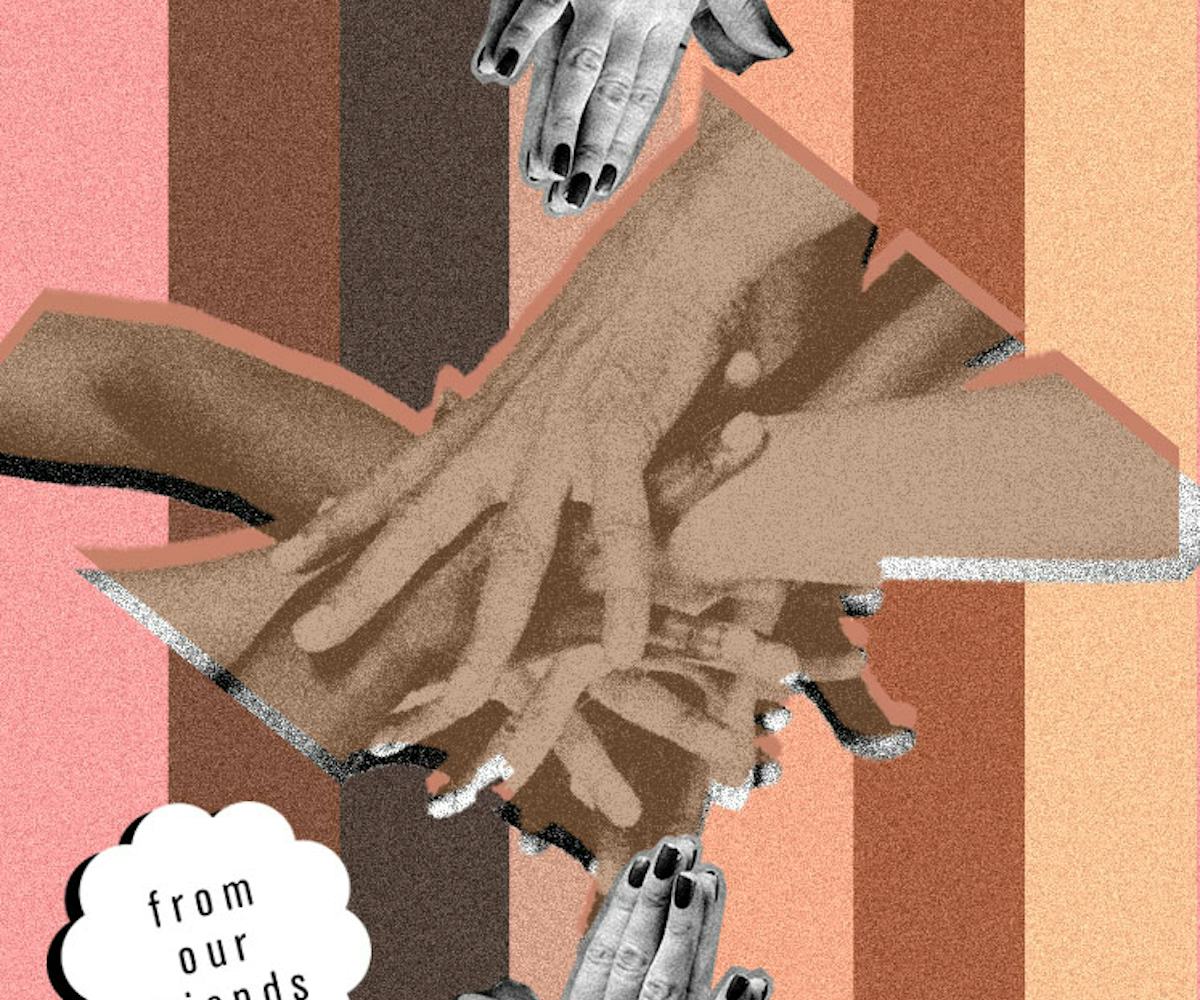 Collage photos via Getty Images.
How To Deal With Race And Religion At Work
Finding your passion—and turning it into money—is tricky for anyone, but especially for women. The persistent gender wage gap, the lack of top female executives, and the dearth of mentorship present unique challenges. Luckily, our friends at Levo League give young women the tools and resources they need to navigate the workplace and to feel empowered and challenged in their careers. Check out their site for tips, tricks, and generally pretty wonderful advice about how to get the job you deserve.
When August 2014 came around, all eyes were on Ferguson, Missouri. The media covered this topic emphasizing protest lines like "Hands Up, Don't Shoot" and "I Can't Breathe" on headlines, but the phrase that confused the majority of America was "Black Lives Matter."  
A work colleague whispered to me about the protest happening in Union Square that week, and an email circulated amongst my black co-workers with more details. Moments later, my supervisor asked me if saw what was happening in Missouri. I said," Yes, it's crazy isn't it?" She then looked over at me, because my reply didn't satisfy her. She mentioned she saw a picture of students from my alma mater with their hands up. I responded, "Yes, I know, it went viral." Not what she expected from me, but my answers were short for a reason. I was uncomfortable having a dialogue about race with my supervisor, and I feared that she would say something that would upset me to a point of no return. But my short answers did not give her the clues to stop engaging with me, so she went there. "Why are people so angry?" she asked. "Why are people saying 'Black Lives Matter?' Don't we all matter?" I paused, trying to find a work-friendly way to explain to her what happened to Mike Brown, why everyone should be upset about it and how the phrase—better yet the movement—is called Black Lives Matter. My pause was too long and my co-worker decided save the day. I wasn't a fan of her explanation, but I was relieved that I didn't have to explain it to my supervisor. Later that day, my supervisor brought it up to the CEO. "Yeah, it's just like that case in Florida. I mean, the cop was just trying to…" said the CEO, but I rushed to the bathroom because I didn't want to hear the rest of the conversation.
[Related: The Truth About Being a Black Woman in Tech]
It was an emotional time for me, and I was still trying to wrap my head around what was happening in Ferguson, New York, and elsewhere across the country. Many black Americans like me have worked in environments that make it uncomfortable to express themselves or be themselves freely. During a time when issues of systematic racism, police brutality, and mass shootings have reached an all-time high, there is a group of people who are looking for answers and wanting their voices to be heard—and for their lives to matter. 
Sometimes I think back to that day and wish I could do it over again. I wish I knew how to handle that situation better and freely express and articulate what was happening in America to two people in the office whom I felt were in a bubble of privilege. Maybe we could have learned something from one another that day. Time has passed and verdicts of not guilty have been given; non-indictments and more victims have come across the headlines. Every day the black and Muslim workforces have to debate, control our emotions, and witness traumatic news stories while at work. So, I spoke with two activists who shared their tips for dealing with topics of race and religion at work in response to topics that have made headlines:
Dana Hall, 26, and Anique Hameed, 25, came together in 2010 to start Eternal Life Project, a youth development and service learning program that seeks to breathe life into communities while keeping alive the stories of those who have lost their lives to violence. This organization, founded by Hameed, was realized after the police officer who shot Oscar Grant was not charged. The two reunited to spearhead a national Ferguson tele-town hall meeting to address how to be protected from police brutality, how to teach children how to interact with police, and how to heal from such experiences. 
1. Find ways to decompress. 
When a notification scrolls across your computer, phone, or television screen while at work that another tragedy has occurred, you have to take a moment. We all have an obligation to get work done, but we're all human, and sometimes the headlines can make you lose focus. Says Hall: "When you're at work, you should be focused on work. I take a walk, get some water, and find some other black people to see if they know what's going on. I always remove myself from the workplace—literally—and go and do something else so that I can reflect on what's happening or distract myself to get my emotional state together. We have to draw lines between each space." 
Hameed likes to think about her ancestors' courage and strength during times when they had to endure injustices to help her get through the news of another tragedy. "These situations are traumatic—every time someone is shot or unjustly incarcerated and has no chance of parole—and we experience them individually," she says. "Do take a minute to recollect and reflect. It won't stop us from excelling at our jobs, stop us from excelling academically, or in our businesses. Even though we continue to take hits as a community, we still have to stride forward. Take your moment and then recognize that even though we have these atrocities happening in our community, that it's our duty in our community to keep pressing forward."
Hall started working at the Aspen Institute a couple of months before Mike Brown was shot. "I listened in when verdicts and non-indictments would come in and make headlines, so having to contain that frustration in an environment where there aren't many people who look like me is quite challenging," she says. "I never had to think about censoring myself [before I started post-graduate life]. It was very challenging to be in a space where so much was happening and I couldn't necessarily put on an 'I Can't Breathe' T-shirt at work without knowing that people would ask me a number of questions or make assumptions about me." 
[Related: 36 Interview Questions You'll *Actually* Enjoy Answering]
2. Be open-minded when asking about traumatic current events. 
You may be curious how your co-worker feels about the current race environment in America, but not sure how to ask her for her perspective. The best way to start a dialogue is to leave judgement at the door and open your mind to learn.
Hameed suggests doing a little research before asking questions. "Do the best you can to know the facts of what's going on, and see what the perspectives of the stakeholders are at this time," she explains. "If you want to learn more at that point, just say, 'Hey, I've been doing a little research and I've been seeing what's going on in the news related to police brutality and gun violence impacting African-Americans. I haven't experienced this, so I want to understand your perspective on things. Would you mind sharing with me?' I think it's all about sharing cultures, sharing experiences, and gaining understanding. You can also take it a step further by asking how you can offer your support for the community."
Hall agrees that you have to leave judgement out of the equation and resist trying to make your opinions dominant. "If you want to debate, you engage one way; and if you want to be informed, you ask another way," she says. 
[Related: 41 Brilliant Elevator Pitches That Will Inspire You to Write Your Own]
3. Turn ignorant remarks into teachable moments. 
A co-worker may say something offensive about victims of police brutality or Muslims, for example, due to the emotional state they are in or lack of knowledge. Those situations can become uncomfortable and hard to address without attacking the other person, but Hameed believes we should turn those situations into teachable moments.
"I think situations like these should be addressed, because there is always a teachable moment. Sometimes we have to step into the role as educators and be understanding of ignorance. Sometimes we have to decipher if it's ignorance or a lack of passion and care to fellow humans. Don't address it publicly, in an open space where other colleagues are around. Pull the person to the side and say, 'Hey, I heard a remark that you made about this current event that is going on, and I want to talk to you about it. When you said this, this is how it made me feel because of XYZ. I know that this may not have been your experience, so I am willing to hear more about your experience and why you feel that way.' Just bring it all together, in context, to a more real place for this person."
[Related: 12 Successful People Share Their Best Productivity Hacks]
4. Find a work environment that respects who you are. 
When looking for a place of employment that is a good fit for you, make sure the space allows you to be comfortable with who you are. Not all of us are able to find spaces where we can freely express who we are and what we believe in while at work. 
"I never thought people would identify me as an activist, but it's something that I wouldn't shy away from," says Hall. "Make sure the space that you are working in is understanding of who you are and, therefore, it wouldn't be a surprise to your colleagues when they learn certain things about you; they will know how to engage and interact with you around those issues." 
Add your Levo profile to your email signature to start telling your story, your way. 
[Related: The Secret to Landing Your Dream Job: Staying True to Yourself]