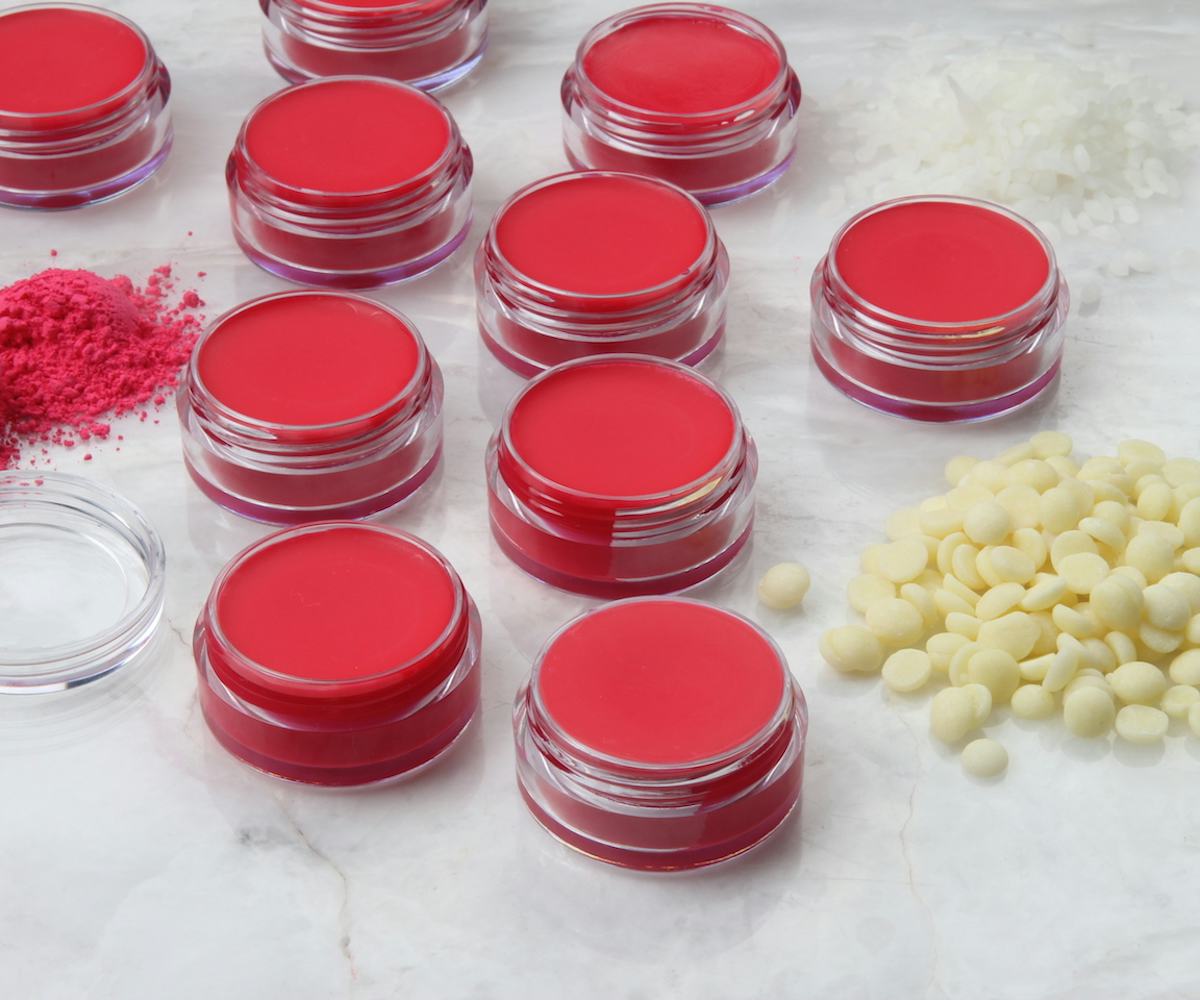 Photo courtesy of Bramble Berry.
How To Make Your Own Lip Stain
a natural and easy diy project in our signature pink
When it comes to lip color, some of the ingredients found in our favorite go-to lipsticks and glosses can be unsettling. Being huge fans of all-natural and do-it-yourself everything over here, we reached out to Amber Strawn of Bramble Berry, a leading retailer for soap-, fragrance-, and bath and body product-making materials and ingredients, to help us come up with a DIY lip color recipe that's natural and easy to make.
With a natural base and an FDA-approved, safe colorant, Amber created a lip stain in our signature hot pink—which also happens to perfectly compliment our Valentine's Day looks. Using our recipe with different blends of colorants, the amount of shades you can create are endless.
Click through to the gallery for our step-by-step guide.
Ingredients:
6 tablespoons avocado oil
2 tablespoons cocoa butter pastilles
2 teaspoons white beeswax
2 tablespoons Fired Up Fuchsia colorant
10 non-stackable clear Lip Butter pots
Optional: mini white plastic mixer
Photo courtesy of Bramble Berry.
1. In a small container, add 2 tablespoons of avocado oil. Then, add the Fired Up Fuchsia colorant and mix the two together until completely smooth. To help remove clumps, use the mini white plastic mixer to mix the oil and colorant together.
2. In a separate heat-safe container, add the remaining 4 tablespoons of avocado oil. Add the white beeswax and cocoa butter pastilles. Then, add the pink colorant mixture and stir together.
3. Place the container into the microwave and heat in 30 second bursts, continuing until the cocoa butter and beeswax are completely melted. Be careful when removing the container, as it may be very hot. Then, stir to ensure the ingredients are fully mixed together.
4. Continue to stir the mixture until it cools slightly, about several minutes. Carefully pour the mixture into the Lip Butter pots and allow to fully cool.
Once cooled completely, use your fingers or a lip brush to apply and enjoy.