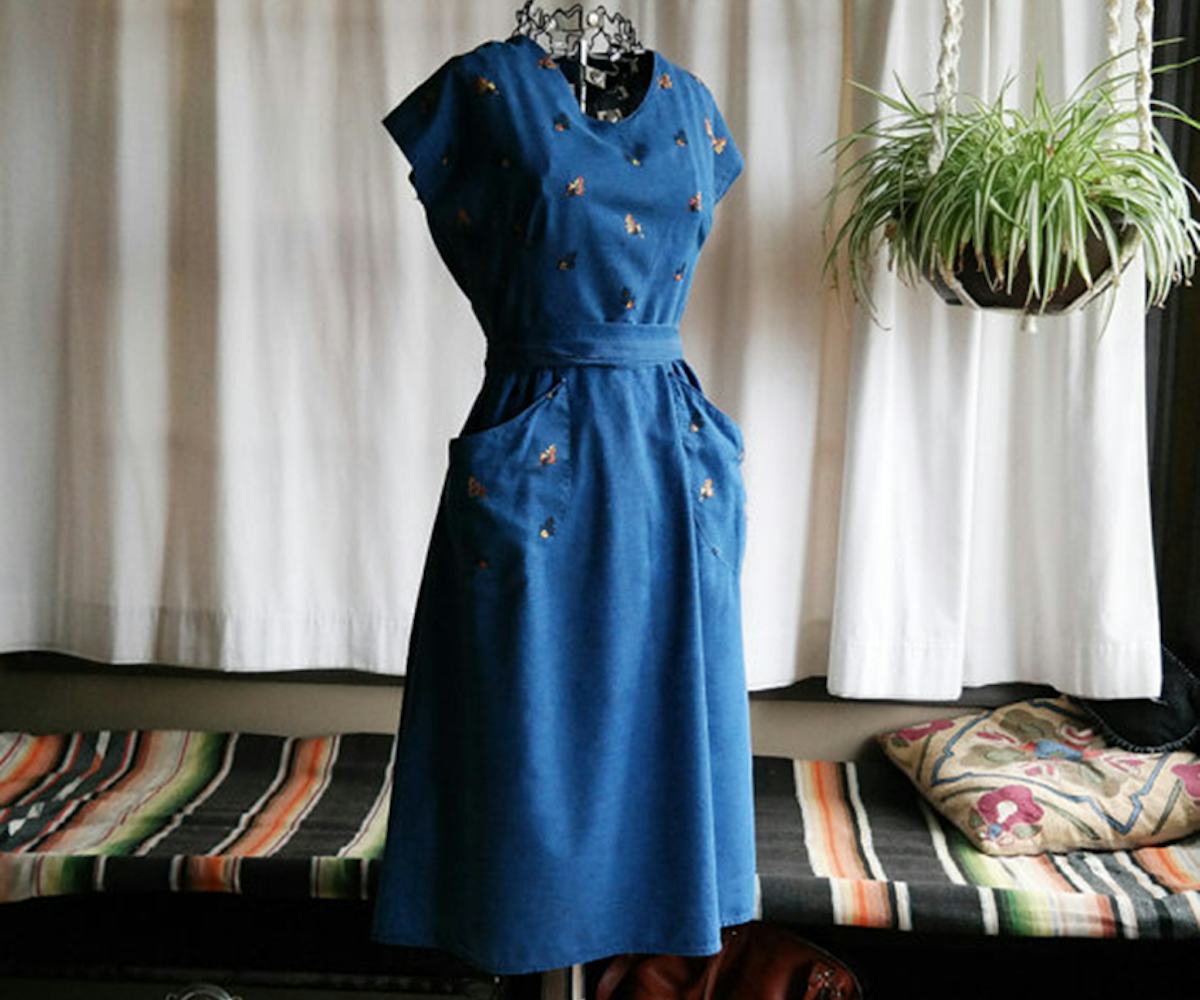 photo: LeMewVintage on Etsy
how to run your own online vintage shop
your guide to becoming a #girlboss.
In today's world of Instagram and the Internet, finding and buying the perfect vintage dress, coat, bag, and more has become as easy as a click of a button. But the Internet hasn't only been helpful to devoted vintage fashion buyers—it's also opened up a whole new career path: online vintage seller.
While brick and mortar stores require major upkeep, rent, and significant walking traffic to flourish, Etsy has allowed fashion fanatics with a passion for vintage clothing to open their own shops and gain a significant income, making it a full-time job for some and a small-scale side project for an extra income for others (including this writer). That's why we spoke to some rad vintage sellers about how they got started to compile a step-by-step guide on opening your own Etsy store.
1. Compile your shop inventory.
Thrift stores are key places to find vintage treasures in a sea of outdated denim skirts and Talbots blazers—but as certain vintage styles become rarer, it's important to thrift as often as possible to compile a significant inventory. However, thrift shops aren't the only place to find sellable vintage goods.
Estate sales, which can be found through online searches, offer curated collections of old clothes and accessories."I started going to estate sales when I was about four with my grandma, and I love finding a closet of clothing to pick from and seeing what other items people enjoyed keeping around them," says Solanah Hernandez of Le Mew Vintage. "I think it adds to the appeal to see what kind of person originally owned the clothing."
Depending on location, rag-houses are another option for buying vintage in large quantities. "Most of my stock is sourced from a rag-house in Texas. In between buying trips to Texas, I'm constantly at thrift stores, estate sales, and flea markets hunting and gathering," says Daryn Belinsky of Little Light Vintage.
PHOTO CREDIT: Daryn Belinsky, Little Light Vintage
2. Date your products.
It's important to approximate about when each item in your shop was made. When purchasing your stock, look for visual clues like metal zippers ('50s and '60s), Union Labels, and fabric types to make sure you're purchasing vintage, not vintage-style clothing. For a more accurate date, Solanah suggests conducting some research. "I've found catalogs to be the most helpful and reliable source for dating clothing," she says. "If you can't find the original thing, there are great reproductions like Sears catalog compilations divided by decade."
For pricing, a simple Google search can help you to approximate the average market price for a certain designer or style. Etsy can even be a resource at this step: "As for pricing my items, Etsy is a great resource," says Daryn. As a general rule, the older (and better quality) the items are, the higher a price they will fetch.
3. Photograph, photograph, photograph.
When it comes to selling clothes, aesthetics are essential. "Visuals are everything!" says Solanah. "Clean natural light, crisp photos, and as many angles/detail shots as possible makes all the difference."
While photos should always show your products as clearly as possible, you also have some freedom to experiment with how you photograph. Some shops always show their items on models, pinning the clothes where necessary to show how the product looks like when worn by a real person. Other shops use mannequins to make it easier for potential customers to see the items on themselves, rather than a model. Whether you choose model or mannequin, steer clear of simply throwing clothes on a hanger and snapping a photo, unless the piece of clothing is something that doesn't need to show its shape, like a t-shirt or sweater. Since Etsy shops don't normally allow returns, customers like to see how an article of clothing looks like when worn, not when it's hanging up.
PHOTO CREDIT: Solanah, Hernandez, Le Mew Vintage
4. List your products.
Online shops may get away with listing sizes as small, medium, and large, but there are no standardized sizes when it comes to vintage. Break out the meter stick to get the exact measurements of each garment. Lay each article flat and take the key measurements. For a dress, this usually means bust, natural waist, hips, length, shoulders, and sleeve length. If a measurement is debatable, it's safest to underestimate, but always record the most precise sizes possible, taking more measurements if necessary.
When listing products, type out each garment's measurements and feel free to give an approximation of what modern size it would fit: e.g. a vintage skirt with a 27-inch waist could fit a size small.
In your listing, add as many details about each product as possible: who is the designer, what approximate year is it from, and what is its condition (Is there a minor stain? Is a button loose? Does it need alterations?). Veer on the side of giving too much information to ensure that customers feel well-informed about their potential purchase.
5. Find your own style.
To maximize the success of your shop, think of it as a real, honest-to-goodness store. Most stores in real life have a distinctive aesthetic or style, so your online vintage shop should too. This doesn't mean only buying stock of a certain color, year, or style (though it could!), but rather presenting your stock in a way that is cohesive and visually pleasing.
Style can mainly be attained through product styling and photos or through careful curation of products. Figure out what makes your products look the best and stick with that method—do you photograph them outside or inside? Are they worn by a model or mannequin? The styling of each listing should make it look like it belongs to the shop as a whole.
Daryn also advises to be smart about buying stock, "I think the most important thing is to stay true to your taste," she says. "To make a shop really stand out from the others, you need to refrain from just scooping up anything and everything you can find that is 'vintage.' Be an articulate curator—think about the wearability of each individual piece." Figure out what your ideal shop looks like and start creating it bit by bit.
PHOTO CREDIT: Rebecca Deczynski, The Golden Hour Shop
6. Advertise.
Once you have a few items listed in your Etsy shop, it's time to get selling. But that means you need to attract some customers first. While Etsy does generate some shop traffic through tags and searches, social media can help bring new customers to your page. But instead of badgering Facebook friends and family members to invest in your new venture, a good place to start is Instagram, where you can use hashtags like #vintage to attract potential customers—just make sure your photos are visually pleasing.
Blogs can also drive new traffic to your shop, whether you have an existing one already or if you start one exclusively for your shop. "My vintage blog was initially my main platform for promotion, and now I use Instagram daily to post shop update photos and sneak peeks," says Solanah.
Once you've attained some customers, make sure they stay loyal. "The best customer is the customer you already have," says Daryn. "I use Mailchimp to keep my repeat customers in the loop of any scheduled sales events or promotions that I'm running." For keeping customers interested in your shop, a little effort goes a long way. Considering sending brief handwritten notes in each package, wrapping shipments nicely, and offering discount codes for valued customers to sweeten the deal and establish customer loyalty.
7. Have fun!
Whether your goal is to make a little extra cash or expand your vintage business into a full-time job, never forget why you feel in love with vintage in the first place. "I love that vintage clothing tells a narrative. I like thinking about who wore it and where they wore it to—what happened in it," says Daryn. Clothes are wearable stories, and by starting your own vintage shop your help that story to continue on and on. "Sometimes it's hard to let go of such beautiful, often one-of-a-kind things," says Solanah, "but knowing that something is going to the perfect home makes it all worthwhile."