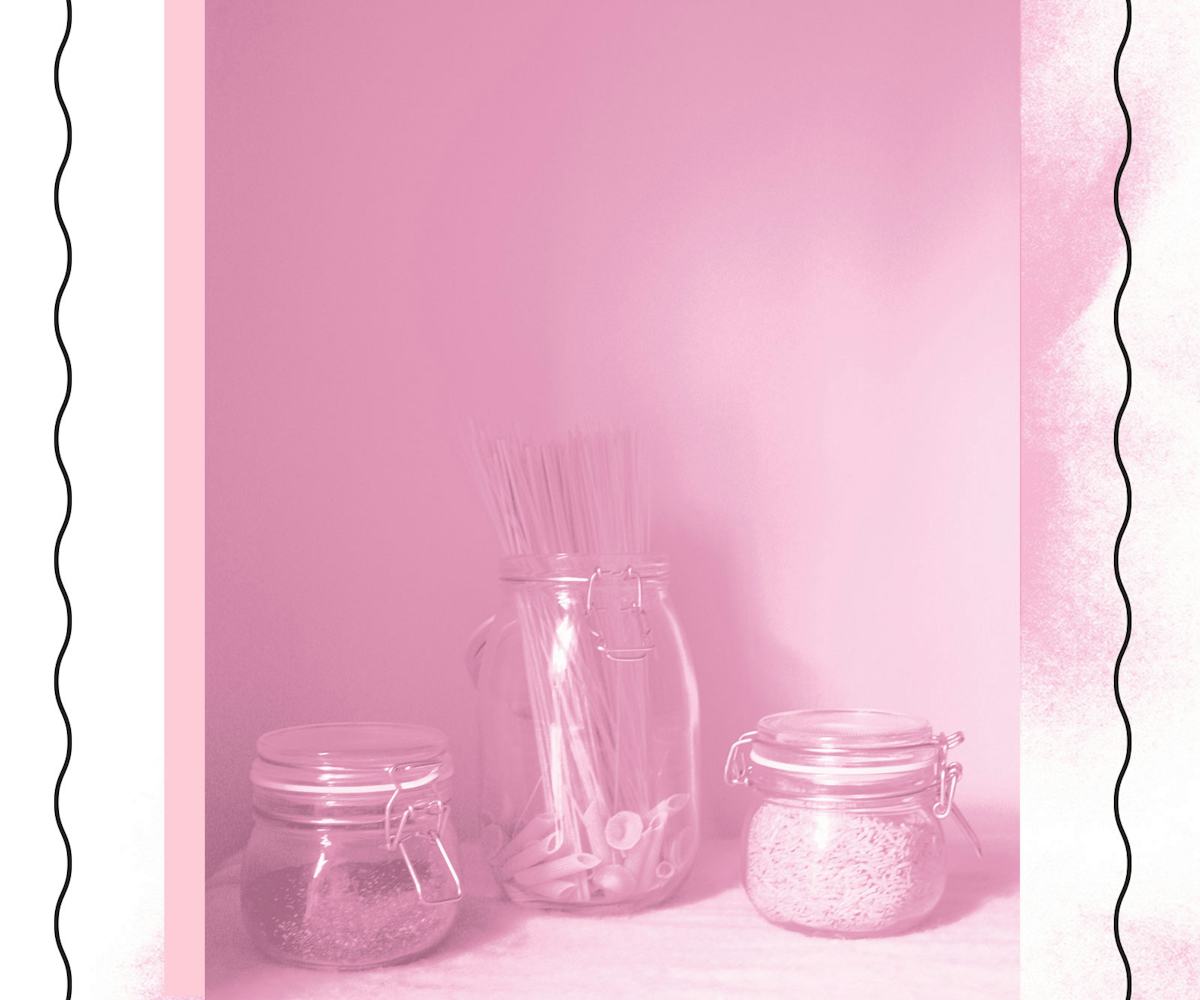 Photo by Brittany Bennett
How To Stock Your Pantry Like An Adult
I stared deeply into my first blank pantry, like into a locker on the first day of school. But instead of fleshing the skeleton of shelves out with posters, I'd fill it with food. This used to be a task for my parents. A battle between mom and dad would rage in our kitchen closet. Dad stocked MSG-packed snacks while mom inched the Doritos out with raw almonds and whole ingredients. My diet was dictated. But now alone with an empty pantry, it was my turn to decide what kind of food I wanted to surround myself. What kind of person did I want to be?
My bank account scolded me for having expensive taste in bras and take-out food. More and more interested in a savings account, I began introducing products to the shelves. I decorated open spaces with all-purpose flour, granulated sugar, and salt so I could start baking pies. I invested in spices, not lingerie. I decided I wanted to be the kind of adult who cooks from home, nurtures herself, who is most of the time in charge of her own digestive destiny.
I walked through the farmers market hunting for taste like a lion after a gazelle. There was garlic. I had only known it as an invisible ingredient. The dish on the menu says it's there, but it's most of the time absorbed by something bigger. Sure, I was familiar with the word, the hints, but not so much holding it in my hand, stuffing it in my tote. I rummaged for quarters in the corner of my bag like a dog frantically digging up a buried treat and walked away with fewer coins but richer taste.
Good meals are in the details. Salt and pepper are the fairy godmother of the spice rack, electrifying a plate of eggs. Adulthood is in the details too. Manicured nails announce an attention to hygiene when extending your hand to an interviewer. Crown molding is just as important as "a place to sleep" in your apartment search. 
I might still be clinging onto my pediatrician (unlimited free lollipops), but my kitchen is starting to look like it belongs to someone who at least has an Ear, Nose, and Throat doctor too. 
Below are the ingredients you should consider stocking up on to have a pantry that looks like you have your shit together. With all of these in there, you'll be able to whip up that Pinterest recipe without much of a grocery list.
1. All-Purpose Flour
A classic. The pantry's little black dress. All-purpose flour is good for baking and cooking, for fancier occasions or casual endeavors. A dry ingredient that can base your pancake, brownie, and banana bread batters, and thicken a roux, you can even start a sourdough mixer with it. The simplest way is to use flour and water to attract natural yeast.
Also on the flour front, if you're really into baking, having bread flour around is never a terrible idea for when you want to give that Challah recipe a go.
2. Granulated and Brown Sugar
We're hyper just thinking about a spoonful of it. Granulated sugar is an ingredient you'll see listed in most baking recipes. Sprinkle some over your cereal when you feel like you need an extra boost of sweetness Monday morning, we won't tell. Brown sugar can be bought as light or dark. Keep either around to add depth to a cookie batch or to fold into granola.
3. Maldon Salt
These crystal slabs of salt are a garnish that will make your avocado toast ready for its close-up. Bursts of salt heighten every munch.
4. Sea Salt and Cracked Pepper
From bland to grand, salt and pepper are the fairy godmothers of the spice rack. A pinch, dash, or heap instantly electrifies the plate in front of you. Keep these two around to liven pasta, eggs, salads, dressings, and rub over protein.
5. Olive and Sesame Oil
Stash olive oil within arm's reach. Use it when cooking just about anything on the stovetop. Base your salad dressings with it. Toss it into pasta. The oil has multiple uses that can keep dinner on the table weeknight after weeknight. While you're at it, pick up some sesame oil for a variation of flavor. Mix sesame oil into rice when frying or into salad dressings.
6. Lemons
When life gives you lemons, grab your juicer. Lemons can not only be used for their juice, but also for their zest. Dust spaghetti noodles with a sprinkling of lemon zest after the blizzard of Parmesan. Pucker up for a forkful of greens after squeezing lemon juice over them too.
7. Garlic
Sometimes we think of garlic as makeup. The main ingredient of the dish can taste good by itself, sure, but garlic accentuates the flavors. Pulling the natural beauty out of it all.
8. Spices
Stock up on za'atar, and sprinkle it over every boiled egg you coarsely chop and rest over toast for eternity. Red pepper flakes add a sweet sting to the top of avocado. Paprika, ground ginger, and cinnamon should also be in stock to induce lip-smacking bites of protein, avocado toast, or baked goods.
9. Avocado
Avocados alternate as a great pasta sauce. They can also be eaten as a snack, perhaps with a drizzle of olive oil and salt.
10. Shallots and Onions
Red onion, yellow, or white, dice these up for a crisp addition to a salad, salsa, or sauce. Roast, sauté, or caramelize with a little brown sugar. You might cry, and not because onions make you, but because it's so beautiful how something so simple can make such a difference.
11. Canned Chickpeas and Roasted Red Peppers
Current obsession: roasted chickpeas. The hardest thing it requires is the wait for the peas to golden. Otherwise, you flick on the oven, toss the rinsed peas in olive oil, bake until golden, and then toss in the spices of your choosing. Pop into your mouth as a snack or substitute for croutons on salads. Chickpeas also mean homemade hummus.
With roasted red peppers by your side, you can amp up a sandwich or color an omelet. Pulse in a blender with olive oil, salt, pepper, and lemon for a dressing or add to a hummus recipe for a more enticing dip.
12. Baking Soda and Baking Powder
If you're into baking pancakes or brownies from scratch, put these on your next grocery list.
13. Pasta, Rice, and Quinoa
Crawling home after a long day at work can make dinner seem like another task you'd rather call in sick to get out of. But pasta can be effortless if you want it to be. Pop the noodles into boiling water and then slather it with sauce or oil of your choosing. If there are leftovers (there are almost always leftovers), then you're set for lunch the next day. Two birds, one pot of pasta/rice/quinoa.
14. Balsamic Vinegar
Balsamic vinegar and olive oil complement each other like best friends at a slumber party. Combine the two for dressings or make a puddle out of them for chunks of bread to soak into. Thicken it into a balsamic glaze for simple, stand-alone dressings.
15. Honey
A natural sweetener for teas, to glaze over fruit, or to balance a spicy cut of meat, honey can make most things more luscious. Eat it on everything, dangle it from your keychain, take it everywhere with you if ever you may come across a bored bowl of oatmeal.
16. Red Wine and Apple Cider Vinegar
A spoonful of apple cider vinegar is said to shoo off any germs that may be attacking your immune system. Besides being health's first line of defense, it's a great addition to dressings and can be used in pie dough. Red wine vinegar should also be kept on hand not only for dressing up salads but to pickle all the vegetables in the world. Quick-pickled red onions revive all dishes that were near flat.
17. Pasta Sauce
For pasta dressing, obviously! But also, you can get creative and use the sauce in other ways, like a three-ingredient shakshuka.
18. Tahini
Tahini, ground sesame seeds, can be used in homemade hummus (use the canned chickpeas!), which is a substantial addition to sandwiches for those desk lunches. Don't want to stack a sandwich? Mix a little olive oil, garlic, and lemon into the tahini and you have a sauce ready to be smeared over toast for breakfast.
19. Old-Fashioned Oats
A small silo of oats in front of you can be useful when stumped on a breakfast. Simply pour hot water over the oats to make oatmeal. Honey and cinnamon will tune the bowl to the right key so you'll be humming "mmmm" every spoonful.
With oats, you can also be in charge of your own granola dreams. Or make oatmeal cookies. Whatever is more important to you.