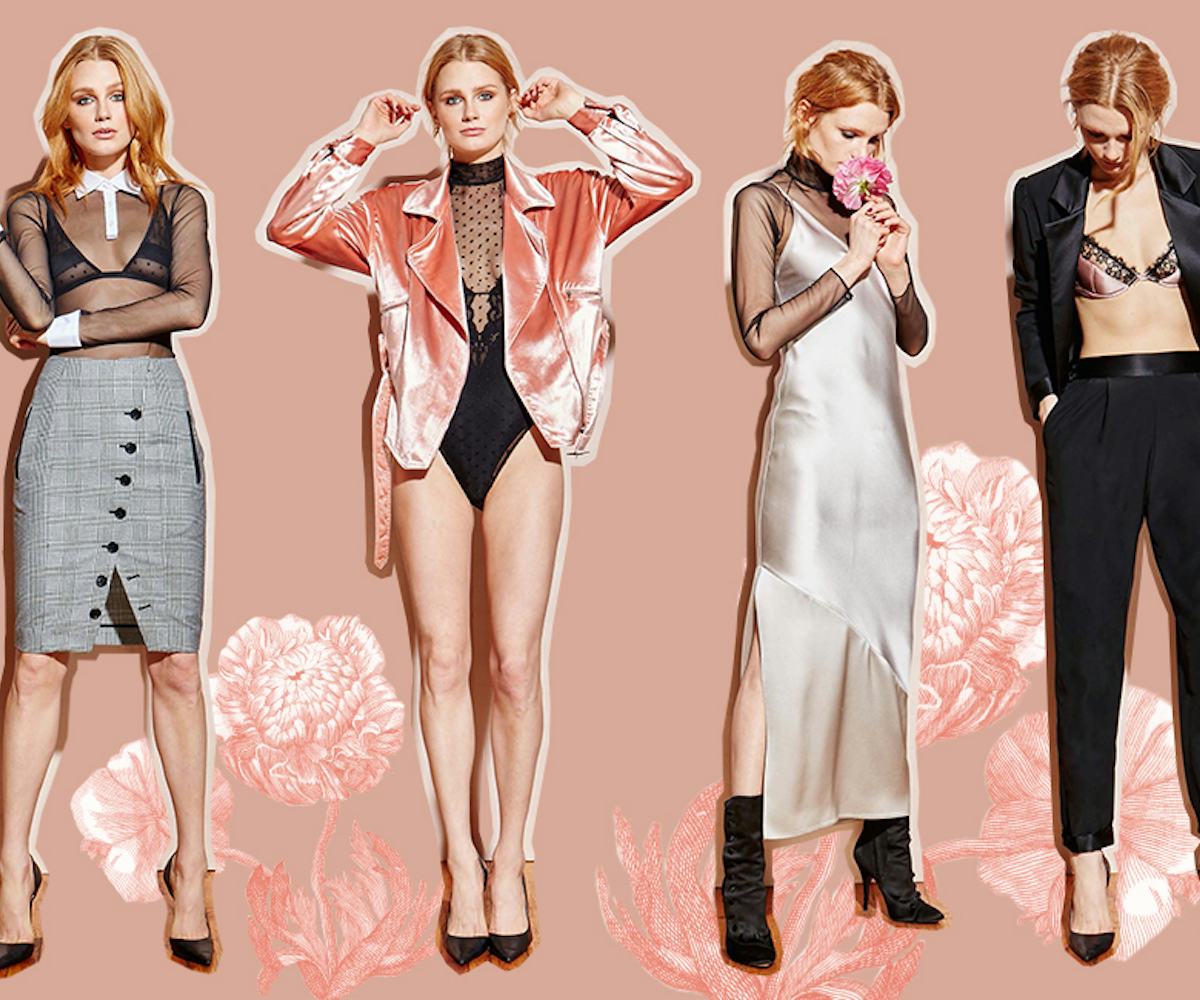 Photos courtesy of Fleur Du Mal / Photo via Getty Images
How To Wear Lingerie As Outerwear, Like Ashley Graham And Lorde
Embrace lace with Fleur du Mal
When it comes to getting dressed in the summer, we all know that less is more. Cropped T-shirts and barely-there denim shorts are practically a requirement due to sweltering heat waves and the unyielding summer sun.
This year, there's no better way to wear less than to start wearing lingerie as outerwear. You know the vibe: a low-cut lace top that may or may not be a bra, or a simple slip dress made from buttery silk. It's a style that Fleur du Mal's founder, Jennifer Zuccarini, has been championing for years, and in the process, has accrued a roster of fans such as Gigi Hadid, Lucy Hale, Emma Roberts, and the entire Kardashian family.
The high-end skivvies designer, who cut her teeth at Victoria's Secret and was a co-founder of Kiki de Montparnasse, happens to be an expert when it comes to wearing next to nothing. "Lingerie as outerwear and ready-to-wear has become an even bigger trend than it was four years ago," she points out. "The whole long-line bra trend, bodysuits everywhere, and visible bra straps are not super-mainstream, but they're happening more and more." 
But don't think that you need to be nearly nude in order to wear lingerie as outerwear. "Just wearing a lace cami under something is a great way to have a little bit of a lingerie-inspired look," Zuccarini points out. You could also wear a contrasting bra under a sheer shirt or a white vintage T-shirt, similar to the bustier and turtleneck that Lorde wore to perform at Gov Ball this year. 
In order to feel comfortable and confident in these lacy pieces, be sure to follow these three steps: Ask for help to find the right size, style, and shape for your body; opt for tailoring where necessary, especially when it comes to straps that are too long; and know when and where it's appropriate to show off your lingerie. While it's okay to boast a peek-a-boo bra to the Fleur du Mal offices (they are, after all, a lingerie company), most offices are not the spot for your ultra-sheer bodysuit and visible bra straps. The same goes for a place of worship or anywhere that you will be seeing your grandma.
Another entry-level lingerie piece is a bodysuit. Not only do these seamless styles provide a streamlined silhouette when paired with tight skirts and pants, there's really a style for every occasion. The Ruffle Front Bodysuit is actually conservative enough to be worn to the office, while the Straight Neck Spaghetti Strap Bodysuit is perfect for a daytime BBQ. 
The Chat Noir Lace Plunge Bodysuit is good for when "you don't want to wear a bra, but you want a built-in bra," according to Zuccarini. The one-piece, made from French Leavers Lace, comes with cups that are lined with blush satin for very minimal coverage. This risqué piece works best for women with smaller busts. 
Another way to embrace this sexy trend, without showing too much skin, is with a corset belt. Essentially just a small layering piece that emphasizes the smallest part of the waist, this belt is nowhere near as restrictive as an actual corset but will help create that ideal hourglass figure. It's also easily adjustable and can be worn by all body sizes.
Ashley Graham is a huge fan of Fleur du Mal's Lacing Corset Belt, which can be worn two ways: with the hook-and-eye closure or the sultry lace-up detail in front. "I love the look with just a white T-shirt and jeans—it's like having a belt on top. You can also wear the corset belt with dresses," Zuccarini says. It might seem unlikely, but this piece, which the designer considers to be an accessory, also looks fantastic under a blazer.
Leave it to Zuccarini to even figure out a way to comfortably wear lingerie on the shore. Yes, she's infused bikinis with even more sex appeal, which is ideal for a beachside date. For an ultra-sexy vibe, go for the lace-trimmed triangle top and coordinating high-waist bikini, which comes in a demure black-and-white stripe. Alternatively, the Lacing Bullet one-piece pairs built-in cups with a lacing detail that at once provides support and coverage, with just a subtle reminder of the boudoir.   
Fleur du Mal uses similar constructions in their bras and swimwear, so they are built to flatter the body and provide just the right amount of support. In fact, Zuccarini sometimes wears her swimsuits as an alternative for a top. And who knows, maybe swimwear as outerwear might be the next big thing.