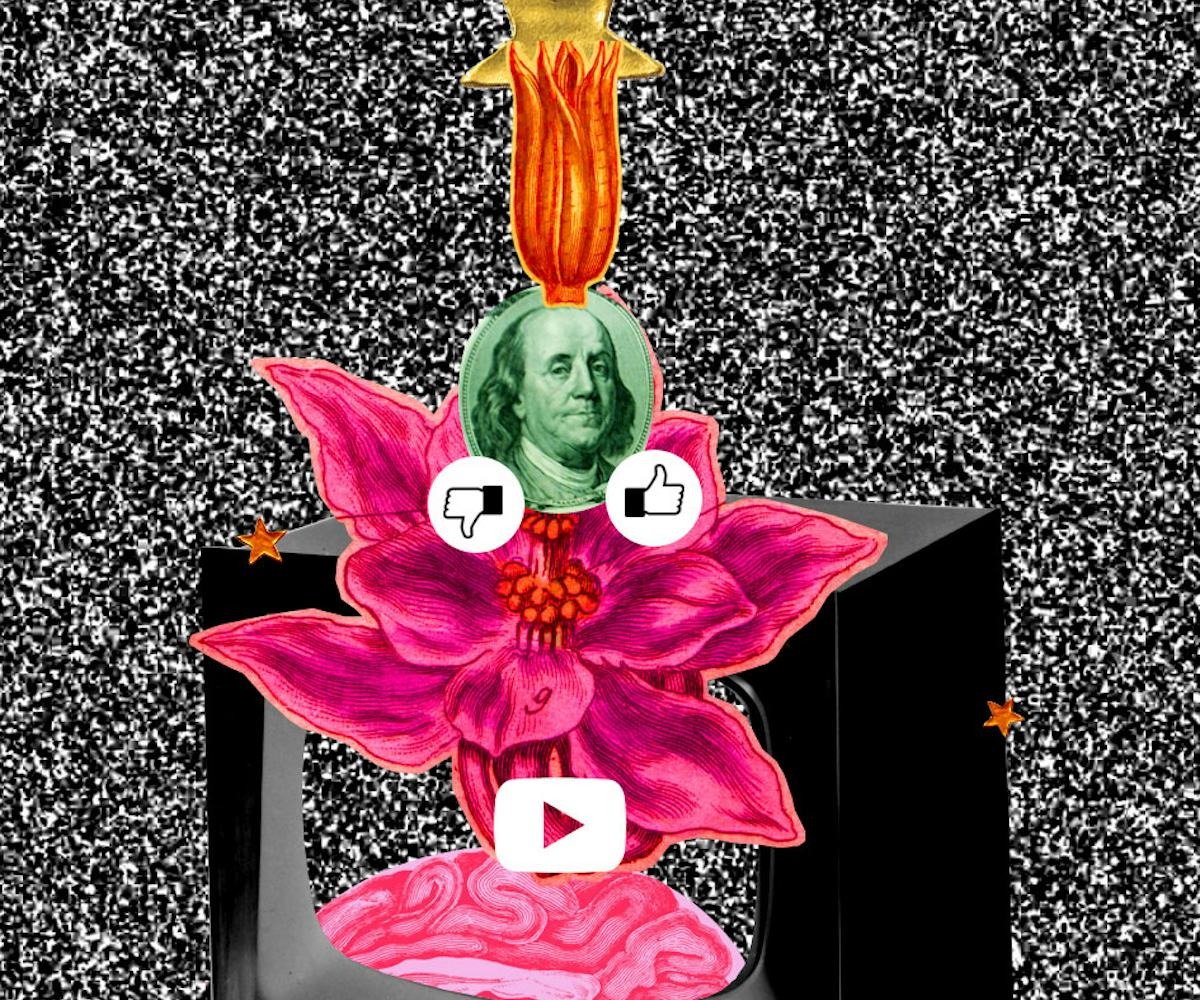 Collage photos via Getty Images
How To Be A Youtube Success In 2016
Creativity, money, and YouTube's evolution
YouTube, founded in 2005, and acquired by Google in 2006, has seen a massive evolution over the last decade. What started as a way to share short video segments evolved into the web's third most visited site (after Google and Facebook), a career launchpad for thousands of creators, and the premier digital platform for viewing, sharing, and uploading video content.
YouTube has definitely grown, but has it changed? It's something I've been thinking about for a long time. YouTube has always been about the people; everyone who watches YouTube remembers the person who started it all for them. For me, that person was Charlie McDonnell. At first, I admit, it was the accent. It was totally the accent. But slowly, I started enjoying the videos Charlie posted because they were creative, entertaining, and I always learned something new. I remember when he painted himself purple, when he dyed his hair red, and when he posted his first short film. It's like we grew up together, in a way that is completely indescribable and distinct.
I watched the VlogBrothers, John and Hank Green, post their daily video diaries to each other in which they talked about important things and not so important things. They were just living their lives, and being uniquely themselves, and discussing that which they really cared about. There was something so nice about being a part of their family, knowing that every day they would be there again with something new to say, even if it was just a funny song or dance.
After years of being a viewer, I started my own YouTube channel. I was inspired by the community I'd found, and felt a longing and even a need to make something too. I think my first video was an "About Me" tag video, which I made on the floor of my college dorm room during my freshman year at the University of Georgia. After that, I made a video about the history of the Roanoke colony, and I think my third video was set to Rihanna's "Diamonds" and featured me dancing weirdly and playing with twinkle lights and my camera's settings. Clearly I was somewhat directionless.
I felt so proud and cool that I'd made something just like those awesome people I'd watched for so long. I even thought, "Hey maybe I'll make it on YouTube, too." I uploaded a couple more videos. One day, someone from my high school mentioned they had found my channel, and had shown a bunch of our old friends. I was immediately embarrassed and ashamed and put all my videos on private. Being a YouTuber was already harder than it looked.
Before YouTube, I never felt like the star of my life; I felt more like some supporting character or a background stagehand. But because of the creators I admired, I put myself out there in a way I had never imagined I could. It felt so good to be in the front of things, and to have my name stamped on a video. And yet, it was crazy how easy it was for that feeling to be taken away by people who thought I was stupid. It felt undeniably brave to put myself out there online—a thought that seems kind of silly now that everything and everyone is online and public.
It took a few years to recover from that humiliation, but a good friend and I later started a makeup and beauty channel on YouTube which I've been running for three years now. I have just under 700 subscribers. I watch YouTube content and know exactly how the formula works, but it has never quite worked out for me. I'm ok with it, though; I never really cared about the views or subscribers. My channel made me feel brave. It gave me the voice I'd had all along but never quite been able to capture.
Still, though, I am primarily a viewer. I do make YouTube videos, but I observe far more than I create. But I wanted to talk to other YouTube users, primarily creators who had become successful, about their experience with the platform. Will Darbyshire, whose channel I adore, creates focused and layered videos on places, feelings, and moments in a distinctly artful style. Will tells me, "For me, I've always stuck with what I love. I think people appreciate it more. With that being said, I'm always quite conscious of which videos will perform better. I think there's always a balance you have to maintain. Ideally you want to create something for yourself but you also need the views to pay the bills. I think it's a case of taking an idea you have and then tweaking it so it's slightly more accessible. I'd like to continue seeing bigger content on the platform. Content with real substance. I think as YouTube evolves, we're going to see more of it. I'm excited to see where YouTube Red goes.. I think that has huge potential. It opens the door to much more slick and refined content."
Connor Franta, who started creating videos on the platform almost six years ago, and who has created his own brand, Common Culture, says "it's up to each individual creator to figure out what they want to put out into the world and what they hope to get in return… if I'm able to share a video with deep meaning that I am proud of and want the world to see, then I've done my job. That's my goal. I may not reach that goal every week, but I try my best to reach it as frequently as possible."
In the complex financial landscape that is YouTube, creators often feel pressure to perform well in order to remain financially stable and be able to continue making the content they love. I spoke about this with writer and producer Charly Cox, who previously worked on projects with Jack & Finn Harries and Caspar Lee. "I know for many it has become a huge numbers game" she says. "People feel unworthy and unsuccessful without a targeted amount of subscribers, views, and bountiful CPM rates. It's clear on quite a few channels—thumbnails and titles become clickbait steered and content is lazily mainstream. If you're creating something that you're passionate about and has the potential to mean something to even a tiny audience, that's all that should matter, particularly if you're just starting out."
So is the water muddied? Is there room for creativity and success on YouTube? If you want to be successful, do you have to follow the latest trends or is there a way for creators to make the meaningful content they want to make and be successful? I think so. YouTuber & BBC Radio 1 show co-host Jack Howard says, "Absolutely. YouTube is not a genre. It is a platform to do with whatever the creator pleases. Except porn. Don't do porn." I asked him if he thought that ad revenue and worrying about views was affecting the quality of YouTube's content, and he didn't think so. "I don't think it's the views and ads that are contributing to the quality. I think it's the need for content. I think that it's a shame that we live in a time where certain audiences feel they are entitled to content. Because of this, creators feel they have to make stuff quicker and quicker. We've never had that before, it was accepted that art would take as long as it takes. Sometimes as a creator you can feel like you're not good enough because you can't come up with a new idea EVERY DAY. But that's okay. Take your time and make something worthwhile. Something that you'd like to see."
YouTube has grown in its last decade, and growth means change. But everything changes. And the money that can be made in YouTube is also enabling creators to make a living doing what they love. Charly summed it up nicely: "I think there being more money in YouTube is no bad thing; hopefully it'll aid those who are already brilliant amateur filmmakers into being directors, editors, and producers that can further the quality of their production without having to lose out on the abundant freedom of YouTube as a platform. I hope YouTube will evolve into a space that supports creators intelligently and not purely based on an algorithm. I think YouTube will evolve to be a bigger, smarter home for everyone."