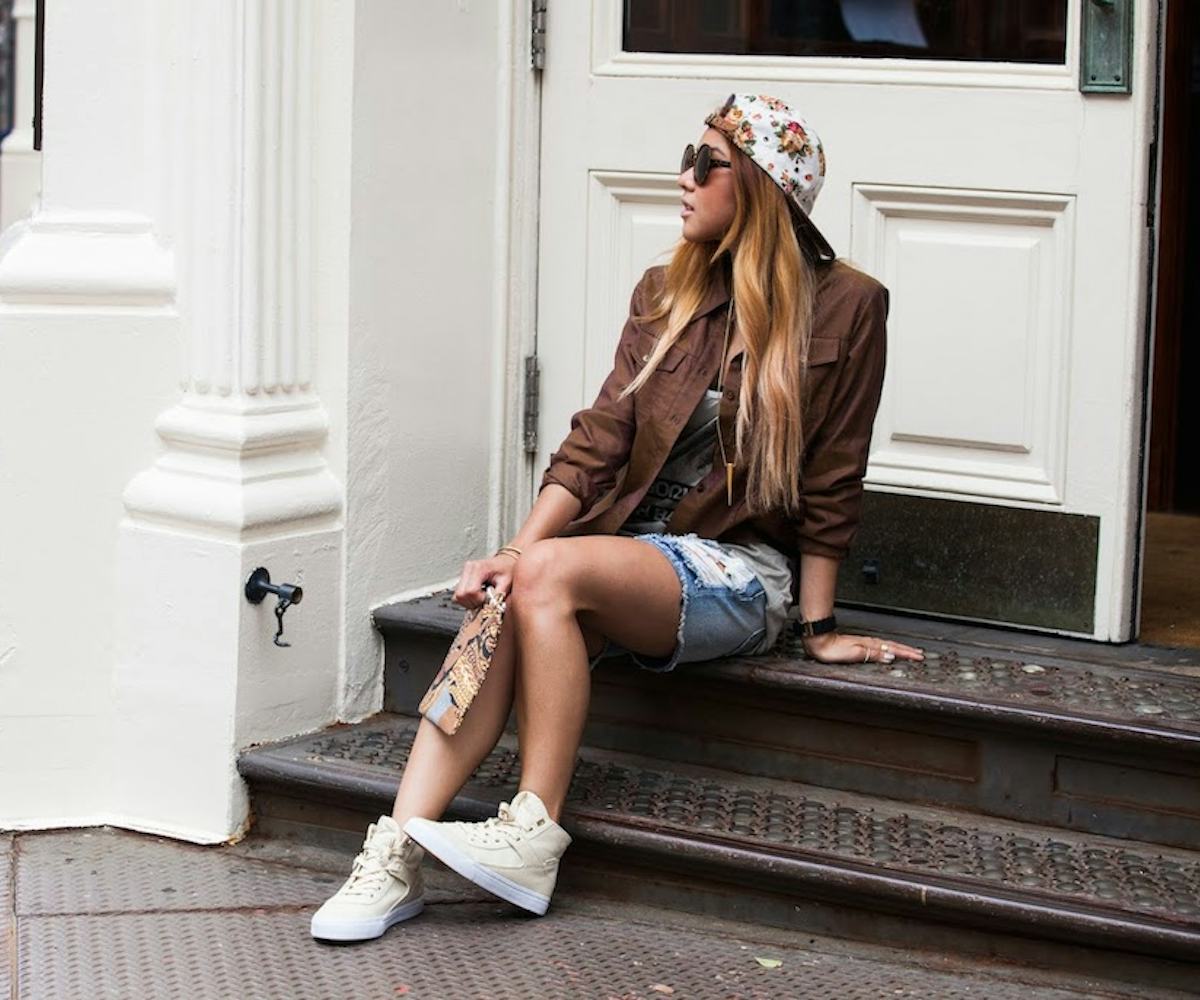 intern kim m. shot by madeleine ivey
3 cool ways to wear snapbacks
they're not just for the boys.
Want to wear snapbacks without looking like the tomboy next door? Our merchandising intern Kim M. shows us three ways to rock your favorite caps.
Look 1: Go for a downtown look with some laid back, guy-inspired pieces mixed with crisp, tailored add-ons. Boyfriend jeans and a sharp jacket are perfect for fall transitioning (pair them with big shades and delicate jewelry for extra credit).
Look 2: Go all-out grunge princess with our favorite flannel, a tounge-in-cheek graphic tee and a backwards faux-leather cap.
Look 3: Avoid trend-victim status and keep things simple with a white shift dress. Dress it up with a statement necklace and cute jellies.
You can shop all three of Kim's looks at NYLONshop.
destroyed blue shorts, pistola denim, $49. "the florist" 5-panel camper, arevalo & company, $44. (available here.)
destroyed blue shorts, pistola denim, $49. "the florist" 5-panel camper, arevalo & company, $44.(available here.)
same old chic v-neck tee, rebel redefined, $40. too late to die young flannel, local heroes, $69. ramen perforated faux leather cap, neon aeon, $38.(available here.)
same old chic v-neck tee, rebel redefined, $40. too late to die young flannel, local heroes, $69. ramen perforated faux leather cap, neon aeon, $38. (available here.)
same old chic v-neck tee, rebel redefined, $40. too late to die young flannel, local heroes, $69. ramen perforated faux leather cap, neon aeon, $38.(available here.)
theadora dress, dolores haze, $365. licorice jellies, jelly beans, $34.99. metallic fleur de lis 5-panel, premier, $29.95. (available here.)
theadora dress, dolores haze, $365. metallic fleur de lis 5-panel, premier, $29.95. (available here.)