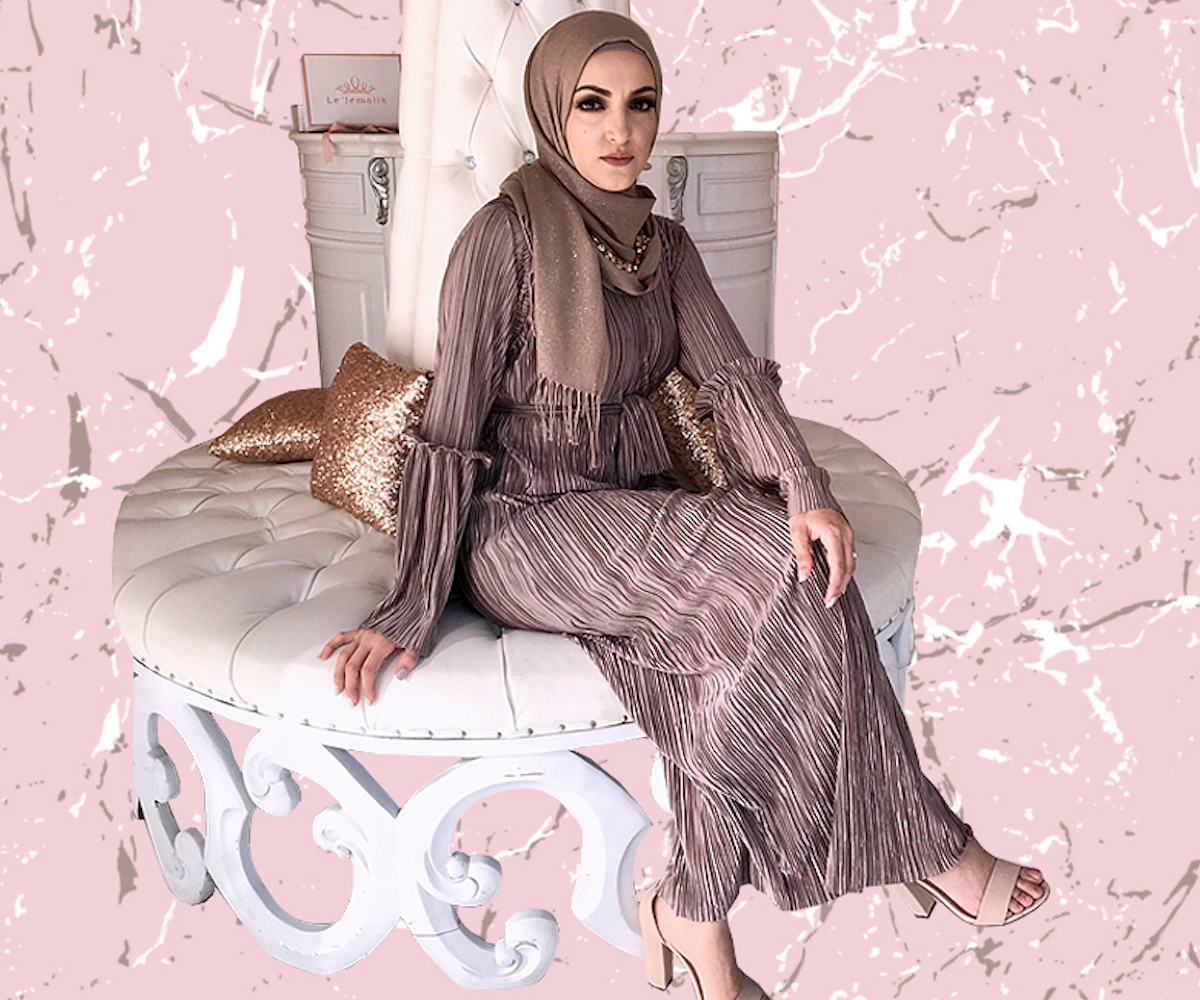 Meet The Salon Owner Giving Muslim Women The Luxury Treatment
We catch up with Huda Quhshi a year after opening women-only, hijab-friendly Le'Jemalik salon
When Huda Quhshi, founder of Le'Jemalik salon in Brooklyn, was 17, she told her parents she wanted to go to cosmetology school. They dismissed it because, you know, that's what parents typically do when their child approaches them with what they think is an impractical career. "They think, Oh, it's a phase, they're young, they'll grow out of it," Quhshi reflects. "But I never did."
Before enrolling, Quhshi did hair and makeup for her friends, family, and basically anyone who would let her. She eventually went on to work at Benefit Cosmetics and M.A.C Cosmetics, where she learned basic makeup skills, but ultimately honed in on her unique style through trial and error. "Getting into beauty now is so much easier with YouTube and everything, but, back in my day, we didn't have those options," she says. "We weren't able to look at tutorials and see what products these amazing artists were using, so I would flip through magazines and get inspired by beautiful makeup and hair looks and try to recreate that."
She ended up specializing in bridal hair and makeup because she finds the intricacies of the styles rewarding. Her interest increased after she started seeing brides in her community with the same beauty looks over and over again. "There was no differentiation between a natural bride or a dramatic bride," she says. It was all very one-dimensional. "I knew in my heart that I could make these brides look so much better." So, again, she did. She started with one bride, and it trickled down from there.
While getting her license and learning about the intricacies of bridal hair and makeup, Quhshi started working toward opening up her own women-only, hijab-friendly salon, something, she says, has always been in the back of her mind. "I sketched it out with a beauty supply store in the back, I had a clear vision of exactly what I wanted at a young age," she says. Everyone suggested she start small—get a space on a side street and see how that works out. "I was like, 'No, I'm going to go big or I'm not going to go at all,'" she says. And, as you might've guessed, she went big.
Le'Jemalik is situated on a busy Brooklyn street—you know, the kind where people double-park their cars to run into a store. The pink storefront is a stark contrast to its muted neighbors, and the front room is the only area you can see from the outside (it's also the only area where men are allowed). Walk past the swinging doors, and there are styling chairs to the left and sinks to the right. Toward the back, you'll find a private room for makeup and wedding hair; climb a couple of stairs, and there's an area for waxing services. The area downstairs is where Quhshi often holds pop-up shops and charity events. So, yeah, Quhshi went big.
"As a Muslim Yemeni woman who wears a hijab, I can't walk into any salon and just get my hair done," Quhshi explains, noting that she can't have her hair revealed in front of another man. "Typically, there will be guys either working there or guys walking in with their wives. Whether it's unisex or not, there will be a man there at one point." She would keep her hijab next to her so that, if someone did come in, she could throw it on quickly. "You're going to a salon to get pampered, right?" she asks rhetorically. "But instead we're there, and we're in panic mode."
There are salons out there that cater to Muslim women, Quhshi says, but often clients are forced to have their hair done in a separate room or in the basement. Additionally, a lot of the times, stylists rush through doing their hair because they want to be on the main floor, not hidden in the back. "You feel like a burden basically," Quhshi says. "And I don't want women feeling that way; I want them to have a luxury experience like everyone else." Which is where Le'Jemalik comes in. Though the salon's client base is primarily Muslim women (and they have Muslim-friendly services like hijab styling, halal eyebrow treatments, and henna available), Quhshi emphasizes that the salon is open to all women, regardless of background or religion.
The salon just celebrated its one-year anniversary and, in its honor, Quhshi released a chic set of brushes, labeled and numbered in order of use, to help make applying makeup easier. (She shares that a line of lipstick and lashes are also in the works.)
Reminiscing on the opening day last January, Quhshi notes that they were expecting "200 people tops." Instead, over 600 showed up, and there was a line around the block. She thinks part of the popularity had to do with the Women's March, which was the same week. "It happened to be in that time of women empowerment and encouraging each other and lifting one another up," she says. But a big part of its continued success is the fact that Quhshi created something from the heart, something that was intended to help other women. "I didn't have expectations, I didn't do this to get rewarded for it, I didn't do it for the fame or for people to find about it," she says. "I did it because I knew we needed it."
She also did it to inspire other young Yemeni women, she says; that's what she's most proud of. "I hope to open doors for all women, but Yemeni women have been closed in a box," she says. "They're so talented, but they're kept in this circle of 'Oh, I shouldn't be out there, people shouldn't see me, people shouldn't know me.'" She says that she receives messages all the time from girls who want to follow in her footsteps, but don't think their parents will let them. "And I say, 'You have to believe in yourself for them to believe in you. If you're not confident, then you're not going to get anywhere because you're always afraid.'" She also makes sure to tell them: "If I did it, you can."
Midway through my interview with Quhshi, we're interrupted by one of her employees. "There are some people from Canada who just stopped by and want to say hi," she tells Quhshi. "Do you mind?" Quhshi asks, turning to me. I don't.
This happens a lot, she tells me when she returns. People dropping by to thank her for the work she's done. It's a perfect segue into where she left off in our conversation, reflecting on how far she's come. "It's just nice to know that you've done something that people appreciate, you know?" she says, wiping away residual tears. "That's rewarding."