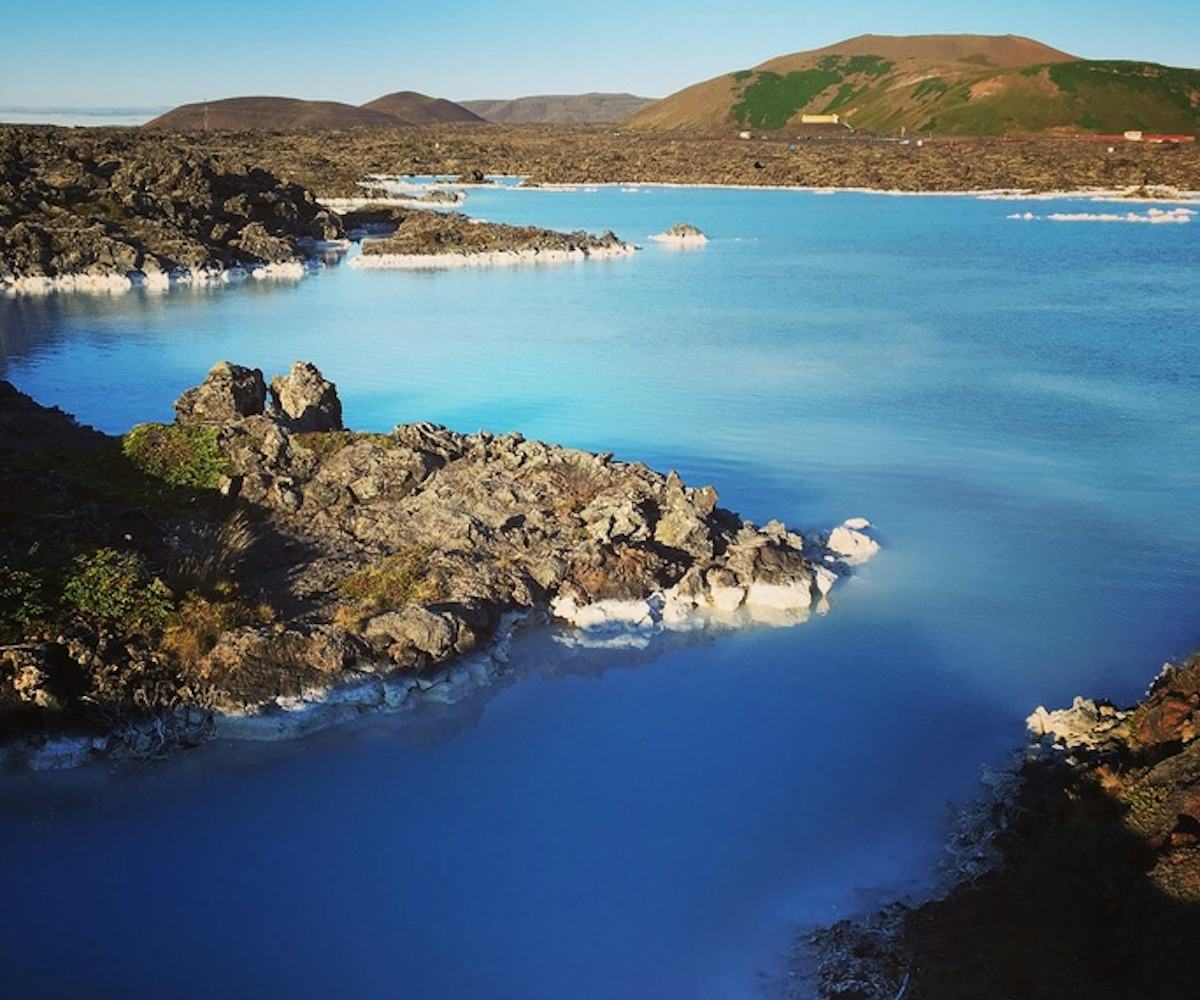 What To Do In Iceland, Before Everything Falls Apart
There's no better country to wait out the apocalypse
Upon sitting at my desk on my first day back at work after a nine-day break, five days of which I spent in Iceland, I found myself face-to-face with a stack of packages, all full of book galleys. (The U.S. Postal Service might be on its last legs, but surely the publishing industry will be responsible for its final laborious steps.) I don't mean to complain about this; for me, it's sort of like Christmas—that is if Christmas also meant opening up presents that were given to you by people who clearly had no idea what your interests are, as well as those who understand you almost too well.
But then also, I had a ton of email to catch up on, so I decided not to open all my packages in one fell swoop, and just see what was in the envelope on top, saving the rest for later, as a treat for getting through those emails. I was reluctant to emerge fully from my vacation cocoon. I had experienced a strange, clattering re-entry to America. I wasn't sure if I wanted to be here anymore, or at least right now. It felt like all the remaining, clinging wisps of the island country were being shaken loose, stirred into flight by the cacophony around me; those normal quotidian sounds of New York City were now almost too much to bear. 
The thing nobody tells you about Iceland before you go is how quiet it is. There are no crickets chirping, no croaking frogs; even in summer, during days that stretch long, like gum between your fingers, refusing to break, all is silent. There's limited chattering from the birds above; ravens merely stare before taking wing, dark splotches against skies that alternate between blues, pinks, oranges, a cement gray, a winter white—never fully black, not in August. It's the opposite of New York. It's possible in Iceland, more than anywhere else I've ever been, to forget that there's another reality, one full of animals, human and non-, and noise. So much noise.
And yet, I'd come back because I've always come back, and was at my desk again, allowing myself the diversion of opening one package, revealing for myself the gift of one book. But, of course, because this is just how things happen, the package I opened contained Hallgrímur Helgason's Woman at 1,000 Degrees. It is a novel, a deathbed recollection of a woman who's lived a long life in Iceland. Chapters have titles like "36: Womanhood," "19: The Icelandic Tradition of Silence," and "93: Escaping Postwar Iceland." It was hard not to laugh; it was hard not to think about who I wanted to tell about this absurd little gift I'd gotten, a souvenir after the fact, but there would be no telling him anything anymore. There would only be telling each person who stopped by my desk to ask how Iceland was, and if I had any recommendations as to what it was they should do when they inevitably head there (everyone, it seems, has either recently been to Iceland, is going to Iceland, or wants to go to Iceland). And so here is what I said.
But first: How do you recommend things to do in Iceland? By saying, "Do everything." By saying, "Make sure to get out of Reykjavik." By saying, "Rely on your former colleague and now friend, who has lived in Iceland for five years with his girlfriend who you thought might be a figment of his imagination, but turns out to be very real and very wonderful, for one excellent night out on the town, restaurant advice, and a hasty car ride to the bus station on the day you depart for New York." All to say, recommendations in Iceland are hard, because there is so much to do and yet also you can have a perfect time by doing nowhere near everything there is to do. So, this is an inherently imperfect list, but I will do my best.
Select a non-centrally located Airbnb, in which a cat lives: I suppose you could stay in the heart of downtown Reykjavik, and that would be fine. But if you stay toward Laugurdalur, as I did, which is just to the east of central Reykjavik, you will get to walk along the shore to get downtown, and get up close and personal with the gorgeous glass geometric wonder that is the Icelandic concert hall, Harpa. Plus, perhaps then, you will get to make friends with the cat who lives in your Airbnb, which I did and didn't do, because what cat really wants to make friends? The most you can ask for is that they sit with you for a moment before they flee.
Visit the Blue Lagoon: Okay, so you probably don't need this advice, because you probably want to do this anyway already. The Blue Lagoon is the most visited tourist attraction in Iceland, after all. But it's still worth visiting, particularly if you visit on the day of your arrival. Should you be coming from New York, as I was, you'll probably be on one of the more disorienting red eyes imaginable; even though it's barely a five-hour flight, there's a full four-hour time difference, after all. And if you arrive in summer, you will feel a strange energy specific to the sun never really setting, just bouncing itself off the horizon for a few short hours. A couple of hours in the silica-rich Blue Lagoon will help things; it will soothe your plane-stiff muscles, soften your dehydrated skin, and infuse you with a sense of well-being as you marvel at the fact that even the most touristy place in Iceland isn't as crowded as Central Park on a moderately nice Wednesday afternoon. Bonus points if you go on the night of a full moon. It's a vision you'll never forget.
Things to do in Reykjavik: Everyone will tell you to get out of the city, like a chorus of Balki Bartokomouses, and you should! You really should. But while you are there, here's some things you should do: Eat a bowl of restorative lobster chowder and a perfectly grilled seafood skewer or two at the Sea Baron, where the food is simple but delicious (and relatively reasonably priced, which is saying something for Iceland, where food, more than anything else, provides an enormous amount of sticker shock). While there, don't be stingy with the condiments. Icelanders love condiments, and the chili mayo and dill pickle sauce are particularly delicious. For coffee, head to Stofán Cafe, which offers unlimited refills and a charming atmosphere, replete with charmingly battered wooden tables and chairs and a cozy couch upon which you can catch up with old friends. If you're in the mood for beer, hit up Mikkeller and Friends for excellent Danish beers (beloved Copenhagen brands Brus and Tøol are represented here) and go to the restaurant, Hverfisgata 12, downstairs for disco fries and a potato, cream cheese, and arugula pizza. Also, you know, just walk around. Pop into the Art Museum, as I did to see the Ragnar Kjartansson exhibit (running through September 24). And if possible, after your friends steer you into the Twin Peaks-esque lobby of Hotel Holt for a glimpse of the unfortunately closed bar (what? it was late; there's always a next time, though), go grab a beer elsewhere and watch as the mayor of Reykjavik, a man in possession of a very good head of hair, walks down the street with his lovely girlfriend. See? There are things to do in Reykjavik, after all.
Things to do outside Reykjavik: Everything? Do everything there is to do outside Reykjavik. You kind of can't go wrong; the only thing limiting you is time, that monster. Since I only really spent two days roaming Iceland as freely as its 800,000 sheep do in the summer, I can't give totally thorough advice, but I can recommend wholeheartedly to do the following things. 
1) Rent a car and visit the Snaefellsnes peninsula. Here is a handy driving map, courtesy of I Heart Reykjavik, which I found to be a super-helpful website. Snaefellsnes (which is not, I learned, pronounced "snay-full-sneeze," but rather "sny-fil-snehs," with the emphasis on the first syllable) is full of natural wonders. The can't-miss spots are the Berserkjahrun, which, loosely translated, means the Berserker lava fields. It's an area full of volcanic rock covered in thick, spongy moss. It looks otherworldly, and you can kind of imagine Viking warriors hiding behind the cairns, ready to toss enormous boulders at anyone passing by. There's also Djúpalónssandur Black Sand Beach, which is a hidden cove with truly spectacular geological formations. Make sure you climb through the diamond-shaped hole in the rock wall that will be on your right side as you descend to the beach; on its other side is a babbling brook and a small boulder, perfect for perching on and pretending you're an elf. The town of Hellnar is also beautiful to visit, and it has a spectacular natural harbor worth exploring. Budakirkja is a minimalist black church in the middle of a spare field; it's a beautiful photo opportunity on clear days, when you can see the Snaefellsjokull glaciar looming in the background. On your drive back to Reykjavik, stop by the Lysuholl Swimming Pool, which is full of mineral water that just has to be good for you. It just has to, right?
2) While you've still got that car, drive the southern route and go to Vík: So, I also used this guide for my drive to Vík, and probably you should, too, because it's pretty great. First stop should be the Seljalandfoss Waterfall, which is as much of a tourist attraction as I saw driving, but fully worth it, because you can not only walk behind its thundering waters, but you can also—if you look very carefully for the not-marked path—climb up to its top and have a truly spectacular view. Just a little bit down the road from this waterfall (like, literally, only a few hundred meters) is the Gljúfabúi Waterfall, which is also beautiful, because it's a waterfall, so... Then check out the Seljavallalaug pool, which is a hidden gem, fed by a natural hot spring. Take a break from your drive and dive on in. Also, check out Reynisdrangar, a beautiful black sea beach with towering basalt towers in the background; it's particularly breathtaking on a mist-filled day.
3) Horseback Riding: One thing you'll notice in Iceland is that there are only two land animals (other than domestic cats and dogs) that you're likely to see: sheep and horses. And while the sheep are cute (I guess??), it's the horses that are really worth checking out. Icelandic horses are their own special breed; yes, they're small, but what they lack in size, they make up for in grace, athleticism, friendliness, and the fact that they're in possession of a very cool fifth gait called the tølt. If you have any interest in horses, make sure you get the chance to ride one of these beauties. I went for a ride with Viking Horses, which was really convenient because they will pick you up from Reykjavik and drive you back home after. My horse was named Ronja, and I miss her. I do! She had a smooth gait and all she wanted to do was fly (probably she has a little Sleipnir in her), but she settled for tølting up the hills we rode on. Other than visiting the Blue Lagoon, riding horses like this was easily the most "touristy" thing I did, but it was also totally worth it, because it's a very "only in Iceland" experience, and also I'm always going to be a 13-year-old who really loves horses at heart.
So, those are my tips when it comes to enjoying Iceland before the world ends. (Not that it's definitely ending soon, but it's also not not definitely ending soon, you know?) If you do everything I did when you go to Iceland, you will have a time that can fairly be described as magical. But, you know, no promises on what will happen when you get back. There never are.