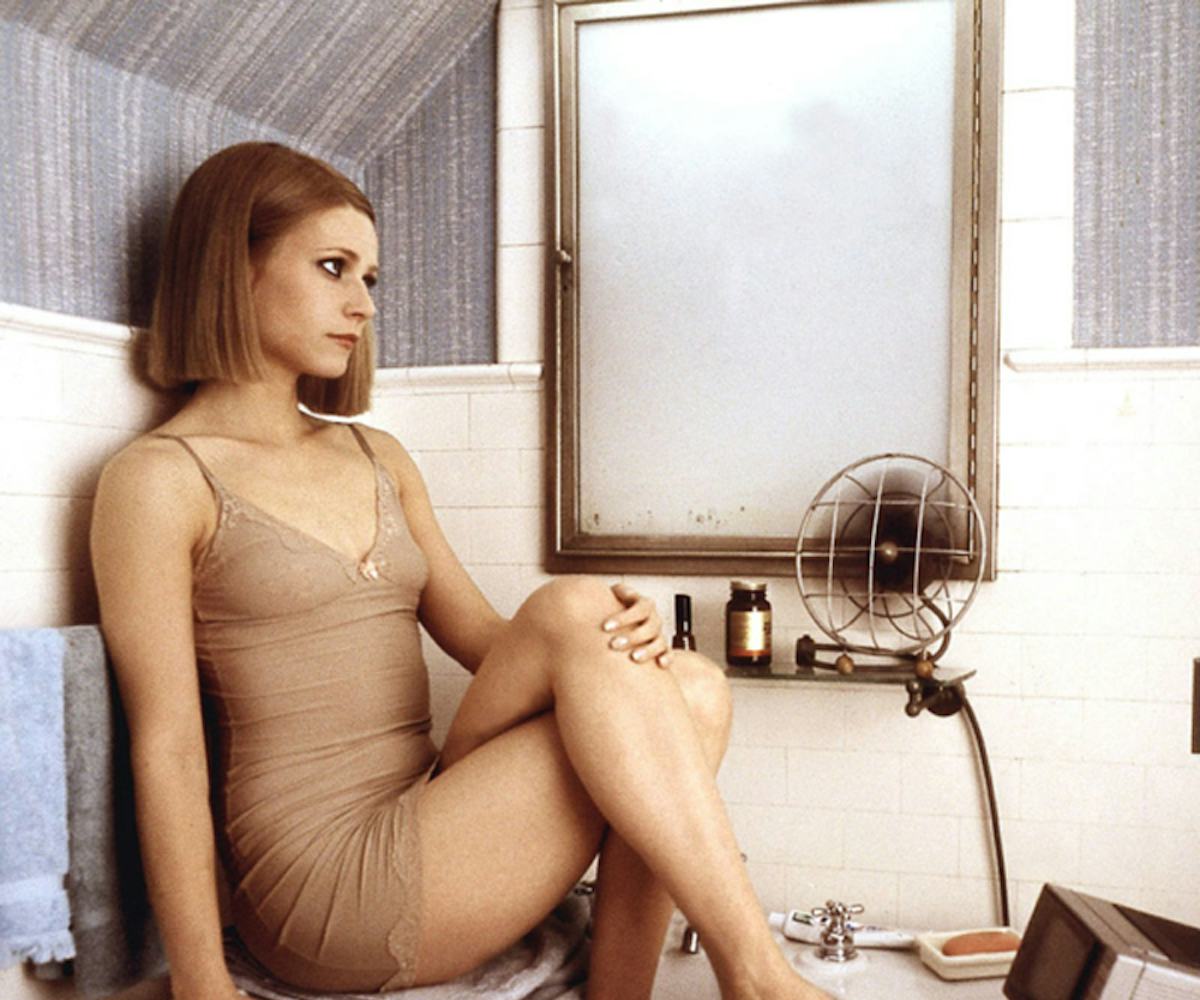 11 Of The Most Iconic Fashion Girls On Film
From our friends at The Zoe Report
Curated by Rachel Zoe and her team of editors and stylists, The Zoe Report is not only your stop for all things fashion and beauty but all-around lifestyle as well. Check out their site for everything from shopping tips to dating advice, to the latest in celebrity news.
Every so often, a major fashion moment is caught on film and forever after etched into the collective sartorial subconscious. Years (and sometimes years and years) later, the iconic wardrobes in question are spotted on it girls all over the world, worn on Halloween or at other costumed events, replicated on the red carpet, or otherwise emulated on an everyday basis. Here, 11 of the most influential fashion girls to ever grace the silver screen and, in doing so, set some of the most unforgettable trends.
[RELATED: What To Wear To Summer Events When The Dress Code Isn't Casual]
Gwyneth Paltrow in The Royal Tenenbaums
The iconic style of Gwyneth's character Margot Tenenbaum in The Royal Tenenbaums has inspired innumerable Halloween costumes, several designer collections (including the most recent output from Gucci), and too many Instagram dedications to count. Costume designer Karen Patch had each and every piece in Margot's wardrobe custom made, including that unforgettable Fendi mink coat. Margot's Lacoste dresses were also made exclusively for the film, as director Wes Anderson was insistent upon the Lacoste label but the brand didn't yet make the striped dresses Patch envisioned for the character. The costume designer has said that she designed Margot's preppy style of dress to contrast with her bad girl attitude, and this counterintuitive approach created magic that will forever live on in fashion history.
Alicia Silverstone in Clueless
At the time of its release, The New York Times stated that Clueless was "best enjoyed as an extended fashion show," and we still get outfit envy every time we revisit the film. If imitation is the sincerest form of flattery, costume designer Mona May ought to feel giddy that Karl Lagerfeld once made actual Chanel versions of the Chanel-esque water bottle holders carried by Dion and Cher and sent them down the runway, or that Wildfox went so far as to make an entire collection in homage to the film's costuming back in 2013. Though May and writer/director Amy Heckerling invented the style portrayed in the film after deciding their lead wouldn't be caught dead in the fashionable flannel of the era, the oft over-the-top looks somehow still manage to feel modern in 2016, and we'd shop Cher's closet over Kim Kardashian's any day. (Saint's, however, is another story...) We'd also still like to wear over-the-knee socks with every outfit though they're no longer age appropriate, and for that desire, we blame Cher.
Diane Keaton in Annie Hall
Most of us know by now that Annie Hall's wardrobe was supplied by the actress who played her. According to some, the film's costume designer actively tried to dissuade Diane Keaton from wearing her everyday attire in the film, which was drastically different from that worn by most women of the era. Annie Hall, and Diane Keaton by proxy, can now be credited for bringing menswear to the mainstream, and the actress has remained true to her iconic personal style to this day.
Ali McGraw in Love Story
Those who can see through their tears long enough to make note of Ali McGraw's wardrobe in Love Story are always instantly smitten. Calvin Klein has said of Love Story-era McGraw, "she exemplified this great American style," and that assessment holds up nearly fifty years after the film was first released. With the continued resurgence of '70s fashion, none of Ali's outfits would look out of place on a 20-something strolling the streets of New York in 2016, but they likely wouldn't have made it this far without first reaching icon status through this film.
Audrey Hepburn in Breakfast at Tiffanys
It would be hard for even Carrie Bradshaw to compete with Holly Golightly in terms of iconic ensembles. Givenchy custom made Hepburn's iconic black dress for the film, and after her death it was auctioned off for around $900,000. Even more iconic than that dress, however, were Holly's oversized sunnies. You can buy them here.
Faye Dunaway in Bonnie & Clyde
The costuming in this 1967 film won costume designer Theodora van Runkle an Oscar, and inspired a '30s throwback trend (the era in which the story was set). The berets she put on Faye Dunaway were absolutely everything.
Elizabeth Taylor in Cleopatra
We're betting you didn't know that Elizabeth Taylor ended up having to do her own makeup for this film, and the resultant looks sparked a global trend. Also popularized by the film were the Bulgari snake rings and arm cuffs worn by Taylor—similar styles sell out for Bulgari to this day.
Michelle Pfeiffer in Scarface
Scarface came out in 1983, but its influence is still felt to this day—the silky slip dresses and blunt bangs worn by Pfeiffer's character Elvira Hancock's are timeless. In 2012, Rihanna wore an Armani gown to the Grammys she claimed was inspired by Michelle Pfeiffer's costuming in the film. The same year, Jonathan Saunders cited Scarface as the inspiration behind his SS collection.
Molly Ringwald in Pretty In Pink
Even though Molly Ringwald hated the prom dress worn by her character in Pretty in Pink, costume designer Marilyn Vance was adamant that the dress should fit her character Andie's offbeat, unique-minded persona. The rest of Andie's wardrobe was thrifted—Vance avoided dressing Andie in the exact fashions of the day because she feared they would quickly appear dated. Ironically, the result is quintessentially '80s.
Gwyneth Paltrow in The Talented Mr. Ripley
If you're looking for style inspiration for your summer travels, you may want to start by re-watching this 1999 film. Costume designers Gary Jones and Ann Roth won an Oscar for their efforts dressing the blue-blooded 1950s-era world in which the story takes places, the highlights of which were definitely the ensembles created for Gwyneth's character, socialite Marge Sherwood. Her printed bikinis are specifically envy-inducing, and we'll be channeling her retro-chic glamour all summer long.
Madonna in Desperately Seeking Susan
When this film was made, the then little-known Madonna was cast because director Susan Seidelman wanted the character to feel authentic to downtown Manhattan which, at the time, Madonna happened to be. Costume designer Santo Loquasto looked to the performer's own closet for inspiration, which is probably why the character now looks so iconically "Madonna."