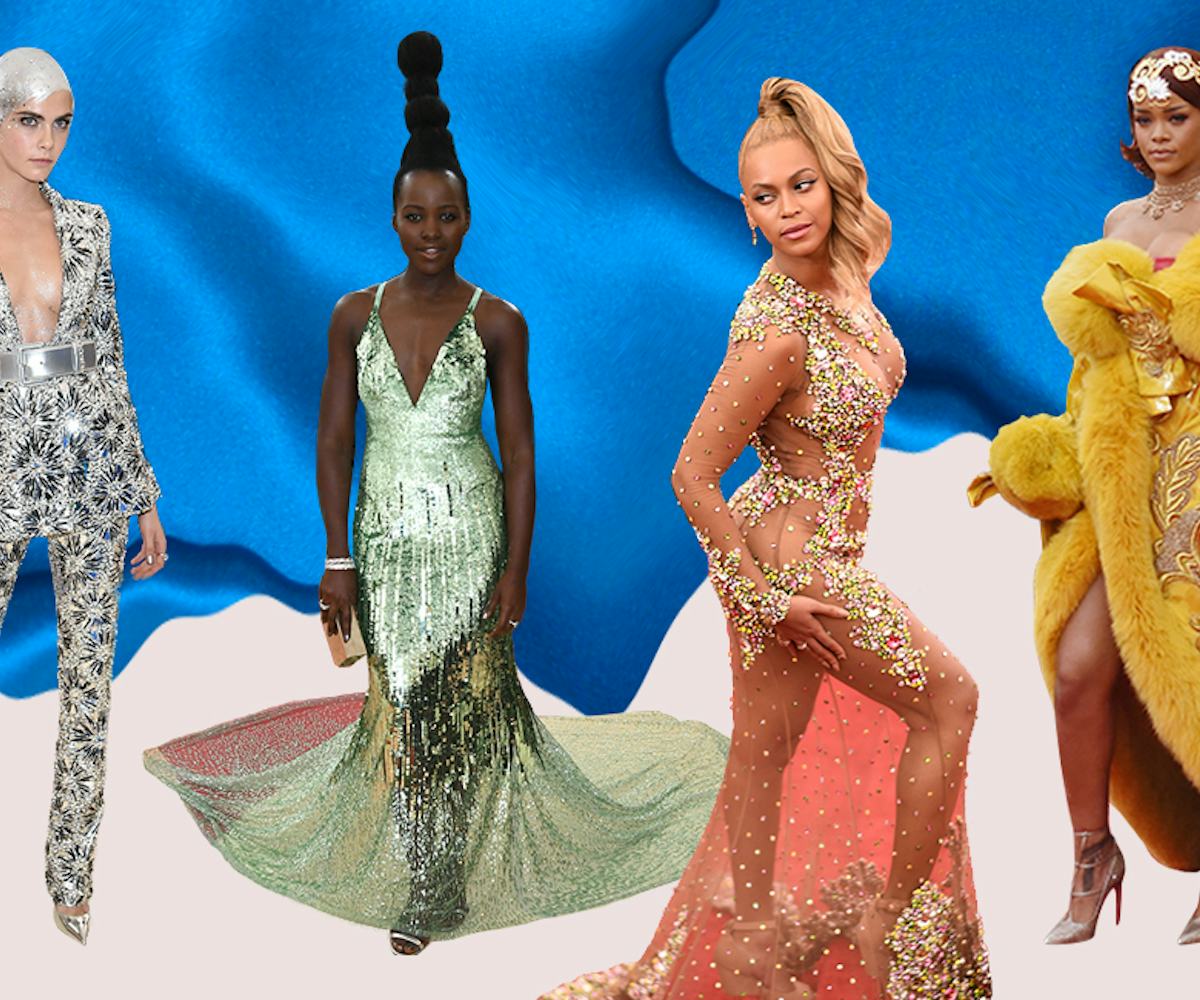 The Most Head-Turning Met Gala Looks Of All Time
The good, the bad, and the daring
The first Monday in May is quickly approaching, which means the most exciting red carpet event of the year—the Met Gala—is only days away.
More than most red carpets, the Met Gala has a history of serving up some pretty head-turning looks, from sculptural works of art to naked dresses of all kinds. This year's theme is "Heavenly Bodies: Fashion and the Catholic Imagination," so things are bound to get a bit controversial, too. However, with our queen Rihanna co-hosting alongside Amal Clooney and Donatella Versace, there's no doubt about it, the red carpet is going to be on fire.
In honor of this year's Gala, we rounded up some of the most iconic looks of all time—beginning with, of course, Miss RiRi herself.
Rihanna, 2017
This won't be the first time Rihanna appears on this list, but, obviously, we needed to kick off this roundup with the time that Rihanna literally (okay, not literally) won the Met Gala last year when she wore a Rei Kawakubo design to the Rei Kawakubo-themed soiree.
Cara Delevingne, 2017
Cara Delevingne had to shave her head for a movie role around the time of last year's Met Gala, but rather than rock a completely bald 'do, she decided to paint on her hair instead. Pairing her silver scalp with a bedazzled Chanel pantsuit, she was the true definition of alien-chic.
Katy Perry, 2017
Katy Perry's Maison Margiela getup for last year's Gala got mixed reviews on the internet, but we think it's pretty iconic.
Solange, 2017
Leave it to Solange to pull off wearing a Thom Browne puffer coat dress and ice skate heels to the Met Gala.
Beyonce, 2016
The internet exploded when Queen Bey showed up to the 2016 Gala in this Latex number designed by Riccardo Tisci for Givenchy. Though she was compared to both a condom and the endoplasmic reticulum, we can appreciate a floral, pearl-dotted masterpiece when we see one.
Claire Danes, 2016
In daylight, Claire Danes' Zac Posen dress looked like your run-of-the-mill Cinderella-esque princess gown. But when the lights went off, it became a magical fiber-optic glow-in-the-dark masterpiece.
Madonna, 2016
Madonna, 57 at the time, proved that the naked dress is ageless, baring her butt in Givenchy on the 2016 Met Gala carpet.
Lupita Nyong'o, 2016
While we swooned over Lupita Nyong'o's sparkly Calvin Klein gown in 2016, it was her gravity-defying hair that made this look truly unforgettable.
Rihanna, 2015
Ri's 2015 yellow embroidered, fur-trimmed Guo Pei cape was forever immortalized as a meme and compared to everything from eggs and pizza to the Yellow Brick Road. We're not gonna lie, most of the memes are pretty spot on, but they don't detract from the fact that this look is perfection.
Beyonce, 2015
Bey once again graces our roundup with her iconic naked Givenchy dress from 2015. This dress even inspired one fan so much that she recreated it for her prom look the following year.
Mary-Kate and Ashley Olsen, 2015
The ever-fashionable Olsen twins are always our favorite duo to look out for on the Met Gala red carpet, but the vintage Dior by John Galliano gowns they wore in 2015 might just be our favorites of all time.
Anne Hathaway, 2013
All eyes were on Anne Hathway when she rolled up to the 2013 "PUNK: Chaos To Couture" event looking like a high fashion (punk) goddess, debuting a brand-new bleach blonde 'do with her sleek Valentino gown.
Miley Cyrus, 2013
This look is considered pretty tame by Miley Cyrus standards, but still, her spiked hair and floor-length mesh Marc Jacobs dress for 2013's punk fashion theme is pretty iconic.
Christina Ricci, 2011
Christina Ricci was the goth queen of our dreams when she wore this intricate Zac Posen gown to the "Alexander McQueen: Savage Beauty" Met Gala red carpet.
Daphne Guinness, 2011
Daphne Guinness wore this absolutely breathtaking feathered Alexander McQueen gown to honor the late designer in 2011.
Sarah Jessica Parker and Alexander McQueen, 2006
Before that, in 2006, Sarah Jessica Parker showed up with Alexander McQueen in matching tartan getups to celebrate the "AngloMania: Tradition and Transgression" theme. Name a more iconic duo. I'll wait.
Amber Valletta, 2004
Amber Valletta took the 18th-century theme quite literally in 2004 when she wore this Maggie Norris corset and John Galliano skirt (and that hair!).
Diana Ross, 2003
Diana Ross is a goddess in this red Gucci look from 2003's Gala.
Naomi Campbell and Iman, 2001
The theme of 2001's Gala may have been Jackie O, but Naomi Campbell decided to channel Madonna instead. Showing up with model Iman, alongside Stefano Gabbana and Domenico Dolce, the two definitely turned heads.
Liv Tyler and Stella McCartney, 1999
1999's Met Gala theme was "Rock Style," and Liv Tyler and designer Stella McCartney rolled up to the carpet like true rockstars (or, you know, the daughters of some). In true late-'90s fashion, the two wore matching one-shoulder, lace-up tank tops that read "Rock Royalty" and—gasp—pants.